Featured Reviews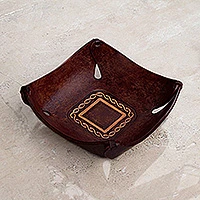 By Sam Rosen
Perfect place my car keys that I always can't find
This item is excellent. Perfect craftsmanship. I am very glad I can help even in a small way. I check your website every day for more items I can use. Please include items not very expensive. My wife was sick with cancer and I spent most of my money taking care of her. I think I have to order another one for a gift. Thanks, Sam Rosen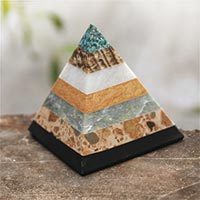 By Maudy
Good vibes for a new house
I love gemstones. I was hoping my gemstone pyramid would be as pretty as the picture, and it is! Lovely colors are perfect for any decor, and who couldn't use some positivity these days! I bought it for myself, but would buy it again as a gift. Thanks Cesar. Thanks Novica. I love your website too.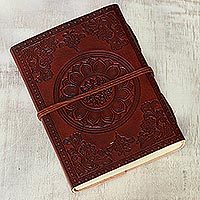 By Rachel
Lovely well made journal
Thank you so much for creating this jou, it?s so lovely, a piece of art. I love and cherish it way more then you could probably realize. I am getting back into art after a long hiatus, using this as my daily sketch book.My first sketch was of the profile photo of you to pay a little tribute to you and your craft.. As well as to my luck to find this beautiful little book I can put my drawings and thoughts in. I would be more then happy to share my portrait of you with you if you provide me a way to. Thanks so much for this quality piece I will cherish for years to come.. To anyone who is considering buying this book or any she and her crew make.. It?s very well made.. I?m thoroughly impressed by the craftsmanship.. The leather is beautifully embossed and the paper is thick. In my brief experience it takes pencil, ink and charcoal very well. Very well made, quality work. Buy a book for yourself and your thoughts or works.. or for someone you know who would appreciate this piece of art
Featured Artist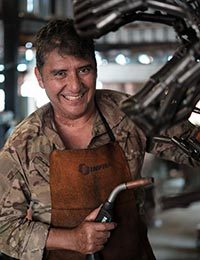 Video
"As a child I enjoyed inventing toys, and soon yearned to create a unique style of art. Environmentally enamored, I now transform recycled goods."
"Hi, I'm Armando Ramírez. All my life, I've lived in a town of artisans, and this has motivated me to create new art. As a child I enjoyed inventing toys, and soon yearned to create a unique style of art. Environmentally enamored, I now transform recycled goods."

"At first, little by little, I began to craft figures from scraps and discarded mechanical parts – mostly from cars and bicycles. And so I began to create sculptures, soldering the pieces together and giving them shape as I imagined they should look.

"The process involves selecting recycled items that can be used. I separate them and soak them in a cleaning solution to remove any impurities. I solder them together until I achieve my design, then I give it a protective coat of glossy varnish.

"My sculptures are so successful that today I sell only my own works. They are rustic in nature, designed to recycle discarded objects by converting them into art. Thanks to the creativity that God gave me, today I have an enjoyable and better way of life.

"I've been working with Novica now since 2002 and I consider the team as part of my own family. I had the privilege of having one of the directors explain the project to me.

"When I first set up my workshop, sales were slow. But every member of the Novica team showed me an incredible support and I found strength and faith in knowing that my work was being shared.

"The changes were obvious – we had to train the people who assist me and pay them better to overcome the challenges that arose along the way. My workshop became a formal and well-organized place to create and we improved the quality of our work as well as the tools to craft each of our designs.

"We're still working in the same workshop where we began but we've expanded the work space and are growing as needed to keep up with the demands for our sculptures, chess sets and decor accents.

"We've faced significant challenges over these years. One I remember most was the supply of our materials. Once I was about to replenish designs for Novica and the pieces I used as the base of my sculptures were out of stock. I looked in a number of other places but wasn't able to find what I needed. I was told these pieces sold out easily here in the state, so I began seeking out suppliers from all over Mexico.

"In addition to the automotive and bicycle parts and scraps from die-cut metal, I've begun using pieces from suppliers that dismantle firearms. Our standardizing of each sculpture is much better organized. I'm very pleased to have definitively formalized my workshop.

"Today, I'm studying fine arts in the University of Guadalajara. My idea is that this will let me greatly expand my creativity."
Popular Business & Office Graduation Gifts