Featured Reviews
By Carrie
Beautiful Bronze Design
I used this as a grave marker for my late kitty cat. Just the perfect size. For a general size comparison, I was able to fit this in the palm of my hand comfortably. The quality of my particular statuette had less inclusions and imperfections than the pictures that list the item, which was strange but fine. I intend on using it outside so it will probably gain a patina over time which is expected from bronze. Overall, a nice piece.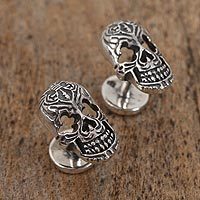 By Molly
So perfect!
I bought these for my husband?s birthday and wasn?t sure they would look exactly right. After opening them, they looked perfect!! Very classy and detailed design. They turned out to be better than I could have expected and my husband absolutely loves them!!! Thank you for such a great product!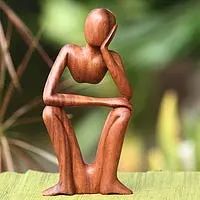 By Maria
Surprisingly more beautiful than I thought.
Thinking of You sculpture was soo much beautiful than shown,. Yes, it has become my most cherished art piece! The gift wrapping made it almost to beautiful to open, saving that also :-). Thank You! Made Wirata you where able to capture the ?power of the mind?at rest.
Featured Artist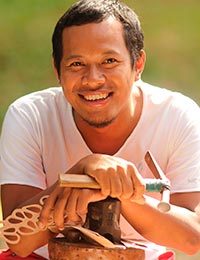 "My designs are born from a love of world cultures; they blur the lines between art, nature, fashion and lifestyle."
Hariyono was born in 1976, in East Java. His first contact with tooled leatherwork came through his father, Supardi, who worked as a shoemaker. He spent his childhood and early teenage years in Java, while learning the tooled-leather trade, as well as the basics of working with silver and gold. At the age of 17, his curiosity and need for adventure took him to the beautiful island of Bali.

While Hariyono was learning to survive and earn a living on his own, he worked as a designer as well as a gold and silversmith. After some time, Hariyono took up again his family legacy of leatherwork, and began designing and producing shoes. His designs were sold throughout Europe, Asia and North America. His style was influenced by tourists from around the world as he combined rugged materials to produce refined wearable designs.

After seven years as a shoemaker, Hariyono began to explore the creative expression of leather through jewelry, along with other natural materials such as wood, cow bone and bull horn.

"My diverse collection now includes necklaces, earrings, bracelets, belts and, most recently, leather wall art," the artist explains.

"My artistic creativity is constantly finding new and different forms of expression. I prefer to work with raw, rugged, natural elements, and to find new methods through which to convert them into polished pieces of art. My designs are born from a love of world cultures; they blur the lines between art, nature, fashion and lifestyle."
Popular Business & Office Gifts Under $60