Details
Songbirds twitter softly on leafy branches in an idyllic Andean portrait. Embossed on burnished leather, the cheery motifs grace a handmade magazine rack. Oscar Pastor crafts the piece from wood with two handy compartments to organize reading material. A handle of turned mohena wood carries it from room to room.

06/16/2016
Verified Buyer
Share
"Beautiful craftsmanship"
It is really difficult to rate this product a 4, because it is quite amazing, although I still can't figure out how it has any leather in the design, it appears & feels all wood (excuse my ignorance if there is something I'm not understanding); but, it is a very, very small piece, thus I caution you to pay close attention to the dimensions versus the language that it is a magazine rack...larger magazines (think wine spectator) will not fit.
Was This Review Helpful?
Yes(0) No(0)

07/21/2017
Verified Buyer
Share
The design was beautiful, but it's not for magazine it's more like to put mail. Disappointed.
Was This Review Helpful?
Yes(0) No(0)
Meet the Artist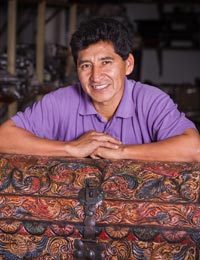 "…my work… excites me. It fulfills me. And so each day I renew and perfect my designs…."
Oscar José Pastor Yauris, was born July 11, 1972. His father died when the boy was ten and, without the head of the family to work and support them, young Pastor was forced to work at different jobs such as bill collecting and as a gardener. When he was 12, a friend told Pastor about a carpentry shop that needed personnel, and he didn't think twice about it. He needed a job.

As time went by, Pastor realized he enjoyed working with wood and leather but, since he had little experience, they had assigned him to the finishing touches on a piece. Disappointed because it didn't turn out well, he resolved to master the craft. And he did so on his own, learning each step and improving every detail. He went back to the shop with a piece he had crafted himself, and his employers were amazed by its beauty and refined technique. Thus his vocation was born.

Pastor has had his own workshop since 1998, and this makes him very happy. He began in a corner of the house but struggled day after day to make it grow.

His greatest challenge has been to help his family get ahead all by himself. Now married with two daughters he adores, he finds the strength to continue. Pastor sees his work as an art form, not just something to be sold, and his work fills his life in a way he cannot explain. Eventually, he was able to build a home through the fruits of his labor.

To the clients of Novica, Pastor says, "Although my work is what sustains my family, it excites me. It fulfills me. And so each day I renew and perfect my designs so that, through them, I will be recognized as an artisan."
10 Testimonials for Oscar Pastor

The Mahogany and Tooled Leather ""Songbirds"" magazine rack is sturdily made and is both beautiful and practical.

I just received my ""HANDCRAFTED TOOLED LEATHER DECORATIVE BOX"" and am extatic!!!! IT IS SPECTACULAR! I hope to own many of Mr. Pastor's creations.... I purchased this box to seat a precious little container holding the cremated remains of our precious kitty who passed away recently and there is room for our other little girls ashes when it comes her time. Perhaps some would find this morbid, but I chose this beautiful box with the birds which our kitty used to watch for hours. When i look at this box it will forever remind me of the beauty known when we dare to open our hearts to love.... THANK YOU SO MUCH! From the email updates to the packaging...This has been positive experience; of which I hope to repeat often. SHALOM

Oakville, Ontario, CANADA
I recently purchased the ""Exotic Birds' jewllery box. I was so happy with this large size jewellery box. The detail of the design was so beautiful. It was unique and very reasonably priced. I hope you will be making many more wonderful treasures. Best wishes.