Details
This Peruvian-crafted poncho from artisan Alfredo Falcon combines traditional textile work and modern design. The poncho features a V-neck and a flattering drape. Creamy tan is accented with a wide navy blue neckline and a bold stripe across the poncho's front and back. This poncho will keep you warm and in style all winter long!
One size fits most: 99.1 cm L x 114.3 cm W
One size fits most: 39" L x 45" W
Your Purchase Makes a Difference!
Alfredo's sales have more than tripled since he started with Novica. He began with a few assistants and now has grown to employ full-time employees and several other women who help fulfill his orders. Many of the women who work for him are able to provide essentials for their homes like mattresses, refrigerators, and other appliances.
Over twenty years ago, Alfredo was infected with tuberculosis at just 22 years of age. For nine months, he was bedridden and unable to work. Tuberculosis is a deadly disease with more than 5,000 people per day passing away from the disease. Alfredo survived and was able to become healthy again.
Alfredo currently provides full-time jobs to a single mother, a man trying to fund his education, and several women who are bringing income to their households.
Alfredo currently supports English studies for his four nephews, with the hope that it will help them achieve a better future.
Alfredo was recognized by the city hall for his excellent work.

From Tijuana, Baja California.
12/14/2016
Verified Buyer
Share
This poncho is truly beautiful and super soft, made with the highest quality materials. The only reason I'm giving 4 stars out of 5 is because maybe I am too small and the poncho's neck is very wide for me. The length and weight of the fabric are perfect, true rich colours, everything is perfect except for the wide neck that, as a matter of fact, looks pretty sexy if showing neck and shoulders LOL! It came beautifully wrapped, I didn't want to open it :) Thank you so much, Alfredo!
Was This Review Helpful?
Yes(0) No(0)

09/30/2017
Verified Buyer
Share
"LARGE NECKLINE, LONG LENGTH, HARD TO KEEP IN PLACE"
I was very excited to get this poncho, I haven't had one since I was a child, but this did not meet my expectations at all. I put it on and noticed it was very hard to keep this thin of a fabric in place and on my neckline and shoulders especially. I went and looked at the model's picture and did what I could to look like her but the length much longer than hers, and my fingers don't even come out of it. The neckline is so deep and wide it's like it was made for a giant and I am an average 5'5" size 8 woman. I feel as though to wear it I would have to be very careful and have someone adjust me all the time because it moves around so the symmetric of the line of blue is not right when this happens. I want to have a poncho for this fall but this fell short or rather long. I can't wear this it is far to large and too much movement of the fabric when you try to do anything in it. Very disappointed. My 6' girlfriend might like it but it would probably move too much for her also. Help!
Was This Review Helpful?
Yes(1) No(0)
Meet the Artist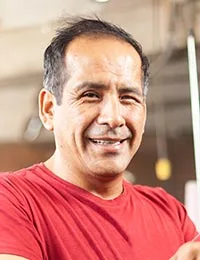 Alfredo Falcon
Alpaca apparel and accessories
"This makes us a family entirely devoted to the world of textiles, and we have been for generations."
"I was born in the capital of Peru on August 7, 1968. When I was but a small child I learned from my parents the best weaving techniques – like me, they had learned them from their own parents. This makes us a family entirely devoted to the world of textiles, and we have been for generations.

"Nowadays I combine weaving by hand and on classic machinery, remaining true to Inca and colonial motifs. I would like for the world to receive through my work high quality products, with modern colors and traditional motifs.

"I hope you enjoy them!

"I have been working with Novica for seven years. My workshop is located in the district of Huaycan, a place of refuge for many immigrants who fled central Peru during the times of terrorism. Before collaborating with Novica, I had a small workshop in an industrial park that the government gave me on credit, a place where small producers could work with dignity. It wasn't properly roofed, and its production capacity was limited. I designed and made clothing.

"My market was limited to a few local shops, and to a single small foreign client who purchased my work from time to time. After joining Novica, my sales increased significantly, and my workshop began to undergo an enormous change. I purchased better tools and materials. My production capacity has grown tremendously, and my work has gained considerable popularity. This recognition has permitted me to promote my work in new markets, as well. But Novica will always remain my preferred customer.

"Thank you very much my friends."
155 Testimonials for Alfredo Falcon

The creative and artisanal gifts of this artist produced one of the most gorgeous pieces of clothing I have ever owned.

This is the most beautiful poncho, I get compliments every time I wear it, just love it!!

Hello Alfredo, I am so happy with my woven alpaca wrap. It's so extremely soft, warm and wonderful to wear. I have only worn it once out to date, and it received several compliments. I think you will be getting more orders from here soon ! I should also mention that the delivery was extremely fast. Less than ten days to Melbourne Australia. Regards and Thanks again.