Details
With this painting, Ghanaian artist Alex Mensah offers a symbolic interpretation of life. A young woman and "prospective millionaire" stares into an empty bucket, symbolizing the challenges of life. Mensah imagines that his subject is determined to fill the bucket, saying "No matter the challenges that life brings, with God and determination, you can make it."
33 cm W x 50.5 cm H
13" W x 20" H
Gift Info
Free Gift Wrap? No
Premium Gift Wrap? Yes
Meet the Artist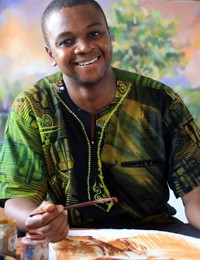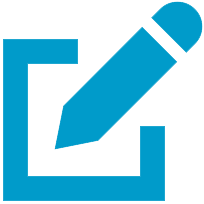 Write a review
"I paint on any kind of theme which appeals to me regardless of the challenges involved. My philosophy is to paint on whatever thing that motivates me."
"I consider myself to be a cool, quiet and unassuming gentleman. A man who is very patient and is not easily angered, someone who takes his time to do an excellent work on anything assigned to him. I am Alex Mensah, a.k.a Lexis.

"My interest for arts was building up while growing up -- seeing my older brother's drawings and sketches amused me so much that I picked pieces of papers and sometimes tried hard to copy some of the compositions that fascinated me most.

"I became more fascinated growing up as I wondered how a three dimensional form could be solidly and so realistically represented on a common flat surface. This awesome feeling triggered off my curious instincts. That is how something which was to be my profession all began.

"I love to see colors and how they play along with other colors, I like holding a brush and the palette to express my innermost thoughts and feelings.

"Once the interest was there, pursuing art courses in secondary school and furthering my studies at university became an enjoyable and pleasurable journey. I learned on my own as well as gaining knowledge from schooling to improve on my skills.

"I use acrylic paints and canvas. I sometimes use aciduro a type of pigment I make from soaking rusted nails. Other times I would rather combine materials, it all depends on the composition and what I want to express. I prepare the local pigments myself. The materials are easy to use.

"My themes span across still life, abstract and realistic representations. That is to say, I paint on any kind of theme which appeals to me regardless of the challenges involved. My philosophy is to paint on whatever thing that motivates me. However, most of my works are based on landscape and musical compositions. Being musically inclined – I am a guitarist – I use color to depict the various sol-fa's and pitches, and then texture to control the tempo of the song I am painting. I also enjoy the use of vibrant colors with bold textures which always bring life in my works.

"My favorite thing about this art is the unique nature of every work I have done. Each work has its own unique taste of appeal and sometimes the way I pour out my heart unto the canvas even makes it difficult to let go… i.e., sell it. I get my inspiration from nature. Music also provides a good atmosphere to move with the flow.

"Some of the main challenges I have faced is getting a proper and reliable outlet to exhibit and sell my works. It has not been easy at all getting started but God has been faithful. At the initial stages there were uncertainties – whether the world would accept or like what I do, whether I would be able to sell any works at all, especially when you live in a society where the majority of the people do not really understand art nor its value and so on and on...

"I have been in a few exhibitions including a group exhibition at the Alliance Francais in Accra and at the exhibition hall of the Center for National Culture and Bubula & Niabu, all in Accra.

"I hope to grow in the artistic field, attain higher heights and be on top as I satisfy the world with my God given talent."