Details
Peruvian artist Maria Ramos Sanchez crafts a charming cosmetic bag whose scene transports us directly to the Andes on a calm, sunny day. Small homes nestled among trees and flowers accompany grazing alpacas, while a single cloud and a flock of birds float overhead. The applique case with embroidered details is lined in solid black, and the reverse side is black.

From Kansas City, MO, USA
06/23/2017
Verified Buyer
Share
"Bright Colors and Great Detail"
I found myself drawn to the meticulous detail in this zippered cosmetic bag by Maria Ramos Sanchez. I love the grazing Alpaca under a bright sun. I also appreciate that this case came with free gift wrap that includes a tiny worry doll adorning the ribbon bow. I now have a practical, attractive gift that I know will be appreciated by someone who is dear to me.
Was This Review Helpful?
Yes(0) No(0)
Meet the Artist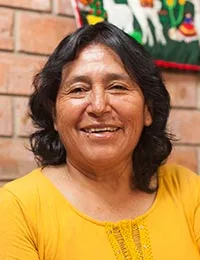 Ramos is particularly inspired by Andean landscapes and loves to depict her native picturesque Peruvian highlands.
Born in the southern Andes region of Peru in 1959, Maria Ramos Sánchez is a specialist in the creation of beautiful Andean shams, an art which she learned at the age of eight. Her pillow shams are made of cloth fragments that have been hand-sewn together. Ramos enjoys using a variety of bright, cheerful colors to give her art life and energy. She is particularly inspired by Andean landscapes and loves to depict her native picturesque Peruvian highlands. She also creates vests, pillowcases, wall hangings, and purses using this same technique. Ramos is a member of the Arpillera-makers community featured in the photojournalistic volume In Her Hands: Craftswomen Changing the World. The book chronicles the journey of Paola Gianturco and Toby Tuttle, who meet with and share the lives of craftswomen around the world - those women who create art to strengthen their cultures and improve their lives, and the lives of generations who follow.
19 Testimonials for Maria Ramos Sanchez

Yesterday I received the beautiful Christmas Tree skirt by Maria Ramos Sanchez. The workmanship on it is even more beautiful then the picture. I love that it has lots of little pieces plus a beutiful deep blue sky. Will look great with my Christmas Tree come christmas time.

Your tapestry ""HIllside and Jungle"" just arrived and it is beautiful! I love this piece with all its activity and colors. Thank you!

I just received the ""Tending Llamas"" wall hanging. I am going to put it in my son's room. It is really, really amazing. So unique and just gorgeous. Truly one of a kind and I'm very happy with it.