Video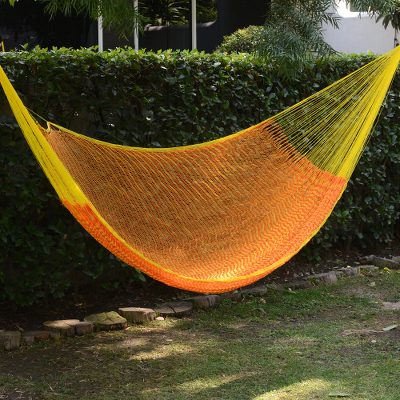 Curate
Details
The Maya Artists of the Yucatan carry on the ancient tradition of sleeping in hammocks, passionately hand-weaving this comfortable double hammock from nylon yarns in colors of daffodil and persimmon for a bright, beautiful look. For the ancient Maya, the hammock was compared to a mother's loving embrace, reflected in the loving care the artisans pour into this handcrafted accessory.
Bed size: 84 cm L x 185 cm W
Bed size: 33" L x 73" W
Total length: 410 cm L
Total length: 161" L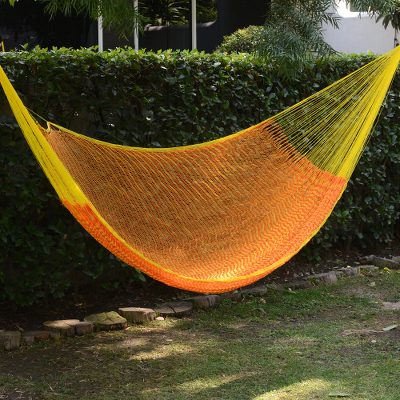 Meet the Artist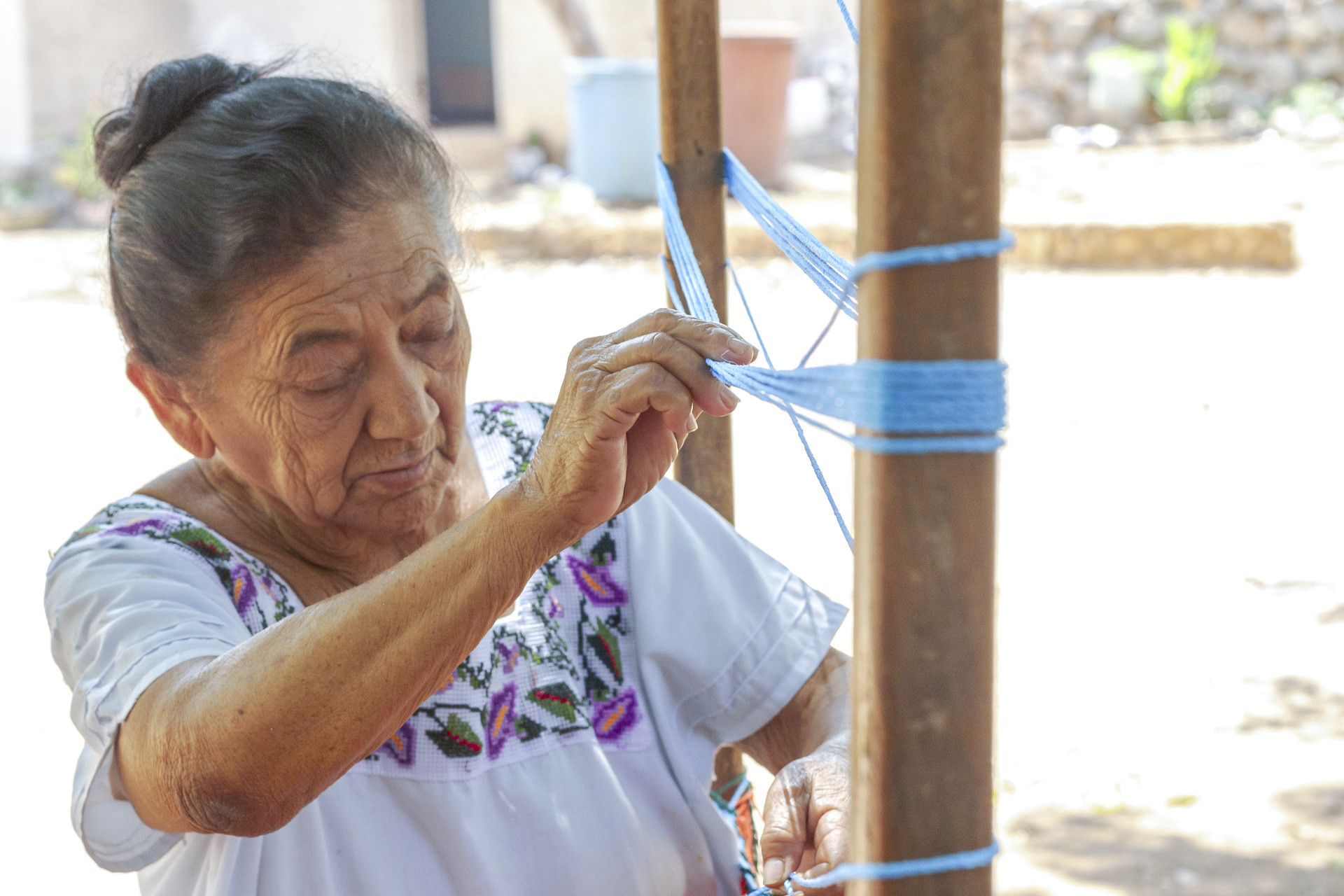 The Maya preferred to sleep and rest in hammocks. They considered the hammock to be like the loving embrace of a mother.
Long before the Spanish arrived upon the coasts of the Yucatan Peninsula, the Maya preferred to sleep and rest in hammocks. They considered the hammock to be like the loving embrace of a mother, due to the comfortable manner in which the body is held and swung within its cradle. Maya Artists of the Yucatan seek to preserve time-honored customs while also offering stylized versions of the original Maya hammock. For them, the hammock is a work of art. Their hammocks are incredibly comfortable, easy to maintain, and may be stored just about anywhere.

"Both men and women hand-weave magnificent and unique hammocks with colors and patterns created by our design department. This way we are able to fulfill our objective: to make a decorative article that will also provide a comfortable rest. Hammocks are now offered in a wide variety of colors and textures thanks to the advent of new fibers. We use both cotton and nylon, as these are soft, cool fibers - ideal for the garden. We also use nylon because it is a very resistant fiber. Another option is 'cotton crochet,' the finest fiber used in the production of hammocks in Yucatan."

The Maya Artists of the Yucatan have decided to diversify their products. They have ingeniously applied the same weaving techniques they use in the creation of their hammocks, to create original shawls. They refer to them as hamachales, referring to hammock and shawls in Spanish. Woven in bright colors, these shawls offer a warm hug.
25 Testimonials for Maya Artists of the Yucatan

I purchased the double ""Maya celebration"" hammock. It is absolutely beautiful, vibrant colors, perfectly handmade, the best quality. I am so grateful have a hammock made from talented artists! These would make excellent gifts as well, so Im looking forward to buying again in the future.

I sent your ""White Sands (single) to a friend for a birthday this week. She has not opened it yet but I'm sure she will love this hammock. It appears to be very beautiful and well made of natural fibers. I hope to be able to order another hammock from the Maya Artists of the Yucatan very soon. Thank you!

I bought my husband a hammock for our cotton anniversary - and he absolutely loved it! It is very comfortable and the design is beautiful. The hammock is very well made - I would definitely recommend!