Video


Curate
Details
Shimmering shades of blue and cream cover this elegant scarf. Yuni Kristina recreates the parang raja. One of many traditional batik motifs, it symbolizes the ancient Javanese kingdom in general. She stamps the blue patterns in pure silk and adds the red blossoms with the batik motif.
Your Purchase Makes a Difference!
Yuni uses traditional batik processes such as canting and stamping to create her unique designs. These techniques have been handed down for generations and are among the characteristics that distinguish the art of batik. The importance of this traditional Indonesian art was acknowledge with the 2009 inclusion of Indonesian Batik on the Unesco Representative List of the Intangible Cultural Heritage of Humanity.
Since joining Novica, Yuni has seen steady growth in her workshop. She now provides work to other batik artisans to help produce her range of scarves and shawls.
Yuni has seen continuous growth in her textile project. She is now able to give jobs other batik artisans in her community.
The Women's Empowerment badge is awarded to female artisans or artisan groups that are led by women.
Yuni is proud to be able to educate her children and wants them to have a great future.
Yuni has three young children and provides for their care.
Meet the Artist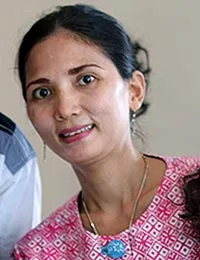 Yuni Kristina
Silk batik shawls and scarves
"My mother is my inspiration. She and I still design together, especially the floral and bird motifs that are typical in Pekalongan batik."
"I learned the art of batik when I was very young, since my mother is a batik artist in Java. She has been making batik at home for 23 years, while waiting each day for my father – a fisherman – to come home from the sea. As you can imagine, batik is a part of my life. I started experimenting with the technique when I was 13 years old, with mori textiles. Now I've learned to create different motifs and to work with other materials, such as silk. My mother still helps me a lot.

"My mother is my inspiration. She and I still design together, especially the floral and bird motifs that are typical in Pekalongan batik. My husband Rieckey also helps me a lot because he knows what people like abroad, and then I can focus on creating. I would like the batik of Bali to become well known around the world, since its beauty is outstanding."
75 Testimonials for Yuni Kristina

Both scarves are lovely. Unique and beautiful.

The Java Starlight shawl in silk is just gorgeous! It is a feast for the eyes with the deep blues and intricate design. Made in a soft, luxurious silk, it truly dazzles. It is at least as beautiful as the picture shows it and everything I had hoped it would be. Many thanks for this amazing piece of art. I will wear it often!

Loved the shawl!Outstanding quality and attention to detail. Colors are beautiful and vibrant without being too ""loud"". Packaging was equally beautiful and actually can be used for storing the shawl.