Video


Curate
Details
For a flowering companion in your office, this pencil holder features hand-painted floral designs in the style of reverse-painted glass. Felicita Espinoza designs the pencil holder, giving it gold-tone trim.

12/19/2017
Verified Buyer
Share
"Elegance for a ladies office."
Sadly, I didn't get to see finished product. So beautifully wrapped I didn't want to spoil it! So I'll have to wait for picture. (And very well protected). Have bought reversed glass painting before, so know how lovely. Will most likely be getting some more from this artist.
Was This Review Helpful?
Yes(0) No(0)
Gift Occasion:
This was a gift for: Friend
Occasion: Hanukkah
Meet the Artist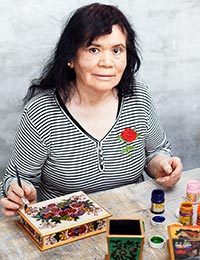 "It took a lot of effort to learn and discover that I could actually face all of my responsibilities on my own."
"I'm Felicita Espinoza La Rosa, born in Peru on November 23, 1945. I never took any formal classes in art, and I truly am a self-taught artist. Some time ago, when I was already married, I was working in a shop that sold gilded frames. I became enamored with this art form, and my husband shared my interest. Together we decided to start down this artistic path.

"We learned through experience, and with each piece we crafted, we honed and perfected our skills. Our goal is to ensure you are satisfied with our work. Then, in 2001, my husband passed away and I was faced with the biggest challenge in my life, supporting our family and continuing the work we started together.

"It took a lot of effort to learn and discover that I could actually face all of my responsibilities on my own. My four sons, Juan, Dino Andres, and Miguel Angel, as well as my only daughter, Milagros, have been very supportive. The boys are married now and have their own families. Milagros has stayed with me and has helped me pull through.

"I love being able to create things with my hands - that's why I describe my work as something visible, innovative and original. A funny thing happened once, when I went to Chile to visit some friends. I took them presents I had made, and planned to stay for only a few days. Well, in the end I stayed three months because they were so impressed with the presents I made, that they convinced me to stay and teach them!

"One of the biggest orders I was challenged to make was a large frame: 2.30 x 1.90 meters. It was difficult to finish it, but in the end it was amazing!

"Now I'm offering you my art through Novica. Each item expresses my inspiration, dedication and creativity. They express this God-given skill that I treasure."
1 Testimonial for Felicita Espinoza
I am in receipt of a beautiful hand-painted jewelry box called ""Butterfly Court"" by Felicita Espinoza. It arrive in perfect condition all the way from Peru. I am very impressed with the quick and convenient service provided by Novica. But I am even more impressed by the quality of the piece that I received. I must say that this piece, ""Butterfly Court"", has touched my heart. It is so beautiful. And it is very obvious that this artist takes great pride in the quality and detail of her work. I was able to read her story at Novica.com ,and, I realized that her story is very similar to my mother's story. I think that ""Butterfly Court"" represents the changes that the artist and my mother have both gone through after the loss of their husbands. I intend to give this piece to my mother as a Christmas gift this year. I believe it will touch her heart even more than mine. One of the things I love about Novica is that I can print the story of the artist and include it with the gift to my mother. Thank you Ms. Espinoza. And thank you, Novica, for providing a way for me to find such unique and meaningful works of art. April Robinson Marietta, Georgia, USA