Details
Carmen Ruiz uses natural dyes to capture the clear blue hues of the Oaxacan sky. Working on a traditional pedal loom, she adorns the cotton bedspread with Zapotec motifs in beige and hand-knotted tassels on the border.
Bedspread: 260 cm L x 220 cm W
Bedspread: 102" L x 87" W
Fringe: 2.57 cm L
Fringe: 1" L
100% cotton
Dry clean only
All natural dyes
Hand-crafted item -- color, size and/or motif may vary slightly
Free Gift Wrap? No
Premium Gift Wrap? No
Made in Mexico.
Ships fast from USA.
Meet the Artist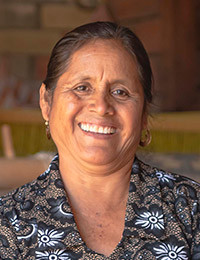 Carmen Ruiz
Zapotec woven cotton apparel and accessories
"My parents taught me how to weave when I was 15 years old, and the first piece I worked on was a rebozo shawl, which I gave to my mom as a Mother's Day gift."
"Born in the weaving village of Teotitlan del Valle, I specialize in creating accessories on the traditional loom. I speak in Zapotec, and I speak very little Spanish. My husband Alberto is a Novica featured artist who specializes in Zapotec rugs and weaves.

"My childhood was a happy one, growing up with parents who specialize in the chicote (whip loom), which was introduced in Oaxaca by Spanish religious orders during colonial times. What is unique about this loom is that it is completely built out of wood.

"My parents taught me how to weave when I was 15 years old, and the first piece I worked on was a rebozo shawl, which I gave to my mom as a Mother's Day gift.

"The fact that this is an art form that we have inherited from our ancestors made me decide to preserve it by continuing to weave.

"I work with virgin wool, which I dye with natural plants and seeds, such as indigo for blue, cochineal for red and orange hues, and a flower we call pericon for yellow. I also use the cempasúchitl flower and for black, I use the thorns of the huizache plant.

"I've been weaving since the 1980's, and in 2002 I started my own workshop where I specialize in shawls and bedspreads. The most challenging aspect of starting on my own was having a place where I could exhibit my creations. I do not speak Spanish very well, and I struggle understanding it, so there were moments when I felt exasperated by it all. However, this is something I've been overcoming little by little, and thanks to my husband and children I understand Spanish better.

"Being associated with Novica means that now I have a place where I can display my work, and for that I thanks you."
7 Testimonials for Carmen Ruiz

the rugs you make are so beautiful but most are so small I only wish they were larger

Hi Carmen....I want to let you know that the Sunny Fields blanket I received from you brightens all of my mornings. It is beautiful! Also the yellow matches perfectly to a Napotec rug I bought from Mario. Thank you so much.

Absolutely fantastic! Except... The king size bedspread only fits a king bed if you put it on sideways, so you have tassels in your face when you sleep. Beautifully made, but the king size is just too small for a standard king size bed, if you want the tassels on the three sides and the sewn edge at the head of the bed as it was intended to be.