Details
Depicting a Mayan myth from ancient times, this ceramic mask from Mexico features hand-painted designs that are full of life, presented by Angel Ceron. Included in the mask is the myth of the tortoise, which says that during the destruction of the world, the sun and the moon both fled beneath the shell of a tortoise, which saved their lives. In much of Mayan imagery, the sun and the moon are often associated with the tortoise, shown here on the surface of this beautiful mask that brings a touch of pre-Hispanic culture to any home.
Your Purchase Makes a Difference!
Angel Ceron has received 3 microcredit loans with 0% interest from Kiva and Novica, the first for $2700 and the most recent for $2850.
Meet the Artist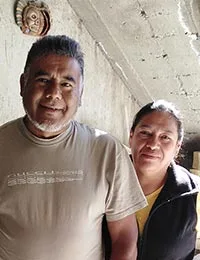 Angel Ceron
Ceramic replicas and figurines
"Now that I'm retired, I can dedicate my time to my great passion – representing my pre-Hispanic cultural heritage."
Angel Cerón comes from a family with generations of artisan experience. He learned the family ceramic techniques from his father, Antonio Cerón Orta, a renowned artisan. Angel began a long study of Mexico's pre-Hispanic cultures and learned the Nahuatl language spoken in ancient Mesoamerica.

First the proper materials must be acquired. Cerón uses clay from northern Oaxaca state, the only clay of this kind in Mexico and perhaps in the world. The unique characteristics of this yellow clay make it ideal for molding. It dries evenly and is especially hard, thus it is resistant to impact and can withstand very high temperatures.

The clay is ground in a mill, deposited in tubs of water and stirred constantly until it acquires a homogenous consistency. This step can take hours. Left to stand for three days, it remains a thick liquid. Cerón strains it and lets it repose one more day, although during the winter this is hard work, performed in the open air. The blocks are divided into smaller portions and dried in the sun for several hours. Only a qualified artisan can determine when the clay has reached the proper consistency. Then it is kneaded by hand, much as one kneads bread dough, and again it is the skilled artisan who can tell when it is ready to be worked.

Cerón then begins to shape his sculptures, some more complex than others. The details are created totally by hand and some figures are so complicated that they are absolutely unique or part of limited editions. Each piece is modeled by hand and the artisan's talent is a crucial factor.

Once shaped, the sculptures dry as long as needed, some for as long as a week. They must dry in the shade because the clay might split and crack in the sun. Once dry, they are adorned with mineral pigments and high-fired at temperatures of up to 2,327º F for eight to twelve hours, depending on the season (the kilns are located outdoors). After firing, the pieces need to stand for six hours, cooling gradually.

Finally, they receive a "bath" of earth to give them their unique antique effect, which features slight cracks.

"Now that I'm retired, I can dedicate my time to my great passion – representing my pre-Hispanic cultural heritage," Cerón says.
35 Testimonials for Angel Ceron

ANGEL CERON IS A WONDERFUL ARTIST! HIS PASSION IS PRE-HISPANIC CULTURAL HERITAGE! THIS MOTHER DOG IS SO CHARMING WITH HER WRIGGLING PUPPIES! I LOOK FORWARD TO PURCHASING MORE PIECES OF HIS WORK! WARM REGARDS, GLORIA WOLPER

I ordered a statute of the Maya rain god Chaac, as he was by far my favorite deity I learned of while studying the Maya. The statue is absolutely stunning. I would highly recommend Angel Cerón's work to anyone!

Very satisfied with my "Coatlicue", definitely an astonishing piece. Thank you a lot Angel!