Details
Warm travertine makes a neutral background for dramatic black and rose marble. Skillfully combining the colors of natural stone, the Sierra Family crafts a backgammon set sure to provide hours of retos (challenges). The playing pieces are sculpted from rose and black marble, and the game set includes three dice; the numbers on the betting die are traced by hand.
Because each piece is crafted of natural stone, there may be slight variations in color and grain from that pictured.
3 cm H x 32.5 cm W x 22.5 cm D
1.2" H x 12.75" W x 8.75" D
Your Purchase Makes a Difference!
Sierra was diagnosed with polyneuropathy when she was 40 years old, which is a condition in which a person's peripheral nerves are damaged. She had experienced 15 years of suffering, yet through her struggle she never gave up and always found a way to rise above her diagnosis. She has astounded everyone that had the opportunity to be in her presence because even though she had been paralyzed, she exemplified strength and the healing that comes from remaining positive through misfortune. She calls her recovery, "a miracle of God."
Odette's sales represent a majority of her income. Each purchase makes a profound impact on her life and the lives of the artisans that collaborate in her workshop.
Odette has left a profound impact in her community and has successfully tripled the growth of her workshop from her first six months at NOVICA.
Odette has provided work for incredible people to aid in creating the art in her workshop.
Odette's income supports and provides for the education of her two children.
Odette learned her craft from community members in her home town.
Meet the Artist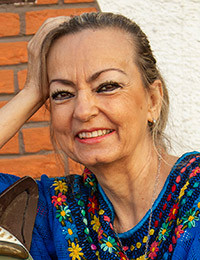 Odette Sierra is from the beautiful Mexican state of Puebla. Her father Edgar Sierra first opened their workshop 30 years ago.
Odette Sierra is from the beautiful Mexican state of Puebla. Her father Edgar Sierra first opened their workshop 30 years ago. Their town is renowned throughout Mexico for its carvings in onyx and marble. Submerged in this artistic heritage, the Sierras began crafting parquet tables in onyx and marble. During the history of their workshop they have come to perfect the fabrication of innumerable items, including chess sets, game sets, vases, sculptures, bathroom fixtures, and jewelry boxes.

The principal materials of the Sierra Family, onyx and marble, are mined in the Mexican states of Puebla and Oaxaca. A diamond disk is used to sculpt the stone, accompanied by large quantities of water. Once the desired shape is achieved the artisans finish the surface with emery board and a polisher.

The art of sculpting marble and onyx demands patience and virtue, both of which have been cultivated over time in the Sierra Family workshop.
21 Testimonials for Sierra Family

We received our Chinese Checkers marble board and it is gorgeous!!! ¡Muy bonito trabajo y excelente calidad! Muchas gracias.

I purchased the lamp ""Puebla Moon"" both for it's own beauty but also to subtly illuminate a Georgia O'Keefe print on my mantle. Long story short, it worked, they compliment each other beautifully. I stepped down to a 15w bulb which magnifies the natural beauty of the onyx without being too bright. Beautiful as a lamp and a piece of art.

I received the Rose Marble chess set today. Just Beautiful!!