Details
Multicolor stripes adorn the flap of this forest green cotton toiletry bag from Indonesia. Known as lurik, this traditional striped pattern originates in Jogjakarta and is woven by hand. From Lawe Lurik Community, the bag is fully lined in black polyester and features a mesh net to keep items in place.
Features a black ring under the top flap so that the open bag can be hung on a door or wall hook for convenience.
Bag: 17 cm H x 17 cm W x 5.5 cm D
Bag: 6.75" H x 6.75" W x 2.2" D
Strap: 12 cm L x 1 cm W
Strap: 4.7" L x 0.4" W
Gift Info
Free Gift Wrap? Yes
Premium Gift Wrap? Yes
Meet the Artist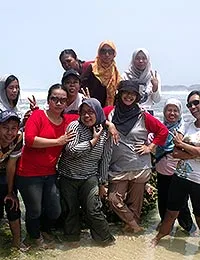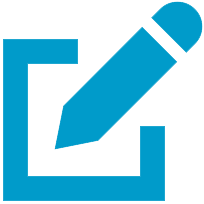 Write a review
"The Lawe Luric Community seeks to preserve the hand-weaving traditions of Indonesia and simultaneously empower women, encouraging them to contribute improving their livelihood..."
"Lawe Lurik Community was formed by five women, Adinindyah, Westiani Agustin, Rina Anita, Ita Natalia and Paramita Iswari group of people concerned with our cultural heritage, especially our hand-weaving traditions. They want to transform traditional fabrics into something useful in daily life, so that people will recognize and appreciate our traditional fabrics better than before.

"In Javanese, lawe means 'thread' while Lurik means 'stripe.' The Lawe Luric Community seeks to preserve the hand-weaving traditions of Indonesia and simultaneously empower women, encouraging them to contribute improving their livelihood, and be a part of our country's prosperity.

"At first we used traditional fabrics from Jogjakarta called Lurik, which are mostly dark colored but customers didn't really like it because they felt it was not attractive and felt gloomy. We informed the weavers and suggested they try weaving brighter Lurik fabrics, but they weren't sure about customers liking it and they were afraid to lose. Then at Lawe Lurik Community we received an order of approximately 30 meters of Lurik fabric in bright shades of yellow, blue, white, green and orange, and that convinced them.

"We have some competitors that try to imitate our products at lower prices, but their quality is below our standard. Our commitment is to make good quality products with reasonable prices. It takes time to ensure our customers that our products are unique and different. Some think hand-woven fabrics are just the same as mass produced fabrics from factories so we need to explain to them that we continue to use traditional methods, there is no machine work, and this can be reflected in our prices.

"We offer women new opportunities to increase their income and thus their bargaining power in their families. We also give opportunities to people with disabilities to intern at Lawe Lurik Community.

"The positive response to our products motivates artisans, most of them homemakers, to continue working, thus ensuring their livelihood.

"In 2009 we received the Wanita Wirausaha Femina (Women Entrepreneurship Magazine) for third place.

"There used to be only one Lurik workshop in Jogjakarta that made good quality fabrics, but the earthquake of 2006 severely damaged it, and it seemed that they would not be able to continue their work. Lawe Lurik Community bought all the remaining fabric and transformed it into some useful items that were then sold them to raise funds for a program called 'Weaving Hope.' We gave back the profits we received to the weavers, who used it to build temporary shelters for those who lost their homes, as well as to support their daily needs during the recovery process.

"Lawe Lurik Community consists of 13 people in management, and we collaborate with more than 30 artisans weavers. We'd like to preserve the hand-weaving tradition so that it doesn't get extinct by designing handbags that showcase the beauty of hand-woven Lurik. By joining Novica we hope to take our products worldwide."