Details
Hammock Artisans of Ceará develop the traditional shape of a hammock into an inviting swing hanging from a eucalyptus wood rod. Woven of sturdy cotton and finished by hand, the cozy blue swing evokes the Atlantic beaches of Copacabana. Cotton ropes for hanging accompany the piece.
Chair swing: 190 cm H x 120 cm W x 120 cm D
Chair swing: 75" H x 47" W x 47" D

07/01/2018
Verified Buyer
Share
"Beautiful hammock swing "Copacabana""
Such a beautiful piece of handcraft. The swing hammock is the new preferred hideaway of my son. The color is a wonderful "azul". Simply perfect and much loved. Thanks also for the lovely and handwritten postcard.
Was This Review Helpful?
Yes(0) No(0)
Meet the Artist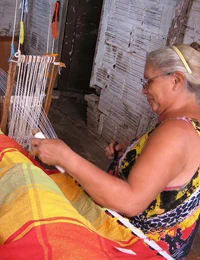 Many of the women have taught their techniques to their daughters and granddaughters, thus ensuring the hammock-making tradition is kept alive.
Hammocks have been in use in Brazil for centuries, even before the Portuguese landed on their shores in the 15th century. Not only were hammocks used for sleeping, but they were also used for transporting goods.

The people of northeastern Brazil still prefer to sleep in hammocks, whereas throughout the country they served a decorative function that offers enviable relaxation. Therefore, a hammock must be woven with special care; its elaboration includes various steps and the conjoint work of several artisans.

The hammock's main body is woven on a loom, traditional or mechanical, and then it is distributed among groups of women to finish. Some may use pedal looms known as mucamba, whereas others may finish the hammock with crocheted details, all made by hand. Usually the women work from home so they may continue looking after their children.

Antonio José has been working in this way for over 20 years, which has allowed him to offer work to over 100 women in the state of Ceará. Many of the women have taught their techniques to their daughters and granddaughters, thus ensuring the hammock-making tradition is kept alive. It is not an easy task, for many of the younger generations seem to prefer more modern activities. However, as interest grows and demands for hammocks increases, they are starting to return to work on them.

The women in the older generations have confided that it is their hope that through Novica's support, the younger ones will become more interested in making hammocks, and take great pride in doing so.
3 Testimonials for Hammock Artisans of Ceará

Thank you for the beautiful hammock you made. You have a very true talent ad gift.

Just received my hammock, & I am very pleased. The material is sturdy, but not scratchy, & the vibrant colors bring to mind the tropical paradise I long for. Each end of the hammock is embellished with delightful macrame and strong rope for hanging. Thanks, dear Brazilian artisan, for this true work of art wrought by your talented hands. I look forward to many pleasant hours of relaxation in your creation.
Olá, recebi a minha cama de rede Brasilian Beach, é muito bonita e muito confortável. Muito obrigada pelo vosso lindo trabalho e votos de muito sucesso.