Details
Flocks of doves soar in stylized flocks, hand-woven of colorful wool. Alternating with bands of abstract motifs, they form an exquisite floor runner. Faustino Maldonado combines soft pastel hues with black and burgundy tinted with natural dyes. Masterfully recreating pre-Hispanic designs, he demonstrates his vast talent with this rug.
Titled "Bandada de palomas" in Spanish.
Runner: 0.48 m W x 1.35 m H
Runner: 1.6 ft. W x 4.4 ft. H
Pile height: 0.3 cm H
Pile height: 0.1" H

09/01/2016
Verified Buyer
Share
I love this beautiful little wool rug. It's the perfect size for the side of my bed, and so soft under my feet in the morning. The colors are so fresh and bright, and it's very well made.
Was This Review Helpful?
Yes(1) No(0)

09/02/2017
Verified Buyer
Share
This is such a special woven piece that there was no way it was going to be on the floor. The colors are deep and vibrant, and the wool so soft. Feet would ruin it too easily! This could also be wonderful as a table runner, or on the head board of a bed.
Was This Review Helpful?
Yes(0) No(0)

06/04/2019
Verified Buyer
Share
I am blown away by the quality of this rug. I would actually feel so bad even stepping on it so I am debating on buying a quilt/rug hanger to make this a wall hanging instead.
Was This Review Helpful?
Yes(0) No(0)
Meet the Artist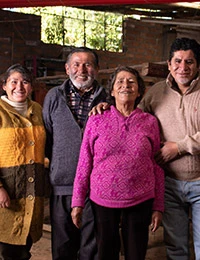 "I will never let go of either my grandfather or my grandson's hands, for what I have learned from the elders, I will teach to the young."
Faustino Maldonado's artistry has been featured in Sunset magazine.

Faustino Maldonado was born in Hualhuas. Because his parents and grandparents were artisans, he learned at an early age to weave on rustic looms, to prepare the warp using the pushca, and spin on the rueca.

Since he first started weaving, Maldonado has mastered the art and has immensely improved the quality of his textiles. Maldonado's work is a representation of the art that has been passed down from generation to generation within his family. The family motto has been, "I will never let go of either my grandfather or grandson's hands, for what I have learned from the elders, I will teach to the young."

Based on this family philosophy, Maldonado and his relatives have been making large bedspreads in high relief without any stitching. They also proudly craft sheep wool and alpaca tapestries, purses, backpacks, cushions, and vests.

The Maldonado family's works have become increasingly popular.
36 Testimonials for Maldonado Family

Jackson, Mississippi, United States
I have now purchased four Maldonado ponchos. And the fourth will certainly not be the last. The quality of the alpaca is excellent, the weaving is flawless, and you can tell that someone put thought and care into its production. If you are on the market for a one-hundred percent alpaca poncho, brother let me tell you, THESE are the cadillac of the breed. Bless you Maldonado Family! I wish you many more years of success and health. I would love to come and visit. -D.H. Douglass

I ordered both a poncho and a twin sized throw. They are absolutely beautiful - colors, softness and workmanship. The only thing that disappointed me was that my husband wanted my new poncho as soon as he saw it. Right now, I am sharing mine with him. He gets to wear it tonight. Sounds like I need to order a birthday present. Thank you very much, Mr Maldonado and family. You are gifted.

I ordered the Andean Desert poncho with hood from Lima, Peru and less than 48 hours later, it arrived in Vancouver, B.C. There is something very special about owning something that is hand made. Each of the three buttons are individually carved from gourds, discernible by the very slight differences in detail. The poncho itself is a work of art, with beautifully even weave on the inside and a slight felting to the outside. The poncho remains lightweight, however, the tight weave ensures the poncho is windproof, warm and comfortable..The stitching around the pockets looks durable enough to last for many, many years. I am absolutely delighted with my purchase and will have no hesitation in making further purchases from the Maldonado family or any of the fine artisans under the umbrella of Novica. My wife is itching to get her orders in as I write, as she was completely bowled over with my purchase.