Featured Reviews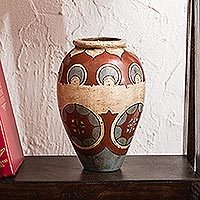 By Mark
Beautiful Piece
I liked it when I saw it on the site, but I absolutely love it in person. It is much more vibrant and colorful that it appears in the photo and the gloss finish really makes it pop. Its also thicker and much more substantial than I expected it to be. Its a really, really beautiful piece that is now being displayed in a prominent spot in my library.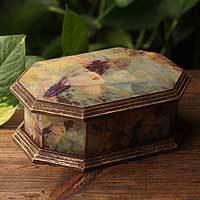 By paw1948
Beautiful and So Unique!
The box is lovely. One of the fashionistas looks eerily like my late mother when she was younger. I lined the box with purple velvet and use it for jewelry I inherited from her. It is very special to me.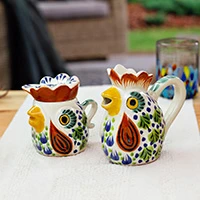 By Judy
Very FUN creamer and sugar set!
I bought these for my daughter-in-law (and son) for their new house. She picked out several rooster gifts from which I could choose. This was MY pick. I have a creamer like it myself and love it. The rooster set does look rather fun in their kitchen - right at home.
Featured Artist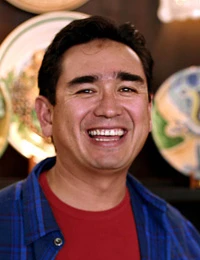 In 1992, Mexico's then president awarded Gorky Gonzalez with the National Award of Sciences and Art. "My main interest was always the rescue of traditional Majolica pottery."
Update (July, 2019)

"I learned at the hands of my father, who was also named Gorky; it is curious how parents ask you to carry on the family legacy, down to their own names. It is a legacy that greatly impassions me.

"I have learned how to create distinct colorations in ceramic for 25 years, knowing that I could make designs that were more original, distinguishing us as a family. From the beginning, this has been our mission and our trademark as a family.

"Over the years, we have worked hand in hand with NOVICA to generate an export channel that is very fixed and secure, which has given us the opportunity to get to know the international market. In this way, we can share this familial tradition.

"We have managed to increase our staff and in this way create a beautiful atmosphere of trust and family. It was not always like this. When you work with artists and artisans, inspiration governs each of your activities. When it comes to quality assurance, developing a process that could be repeated on a daily basis was challenging. For us, quality is the most important.

"We have been able to improve our sales, which has allowed us to create more models for pieces that we use on a daily basis. Color is the principal focus. We create pieces that are pretty and filled with color.

"We are very happy and blessed to have the opportunity to export our pieces with NOVICA's great support. With all our hearts, we want to continue being a part of this project that has inspired us so much and made us believe in ourselves and in the legacy that we want to share. We have only one direction; forward."

Original Artisan Story

Among his many, many awards, Gorky Gonzalez received the Premio Nacional de Ciencias y Artes in the area of Popular Arts and Traditions, from the hands of Mexico's president in 1992. "I was born in Morelia on September 27, 1939. My father was the sculptor Rodolfo González, with whom I worked and studied sculpture, metal casting and the lost wax process.

"In 1962, at the age of 23, I worked in the School of Arts and also the Instituto Allende in San Miguel de Allende. There, I set up a metal casting workshop for sculpture and it was used by both students and teachers. Later on, I founded a small ceramics workshop where I reproduced Jean Byron's designs in terracotta.

"However, my main interest was always the rescue of traditional Majolica pottery. I studied ceramics in Guanajuato, and this certainly let me see the need to rescue this lost craft, so representative of the region. "It was through this interest that I met Hisato Murayama, a very well educated young Japanese man who was here studying Spanish, philosophy and Mexican history. He had a deep knowledge of ceramic techniques and lent me a number of books on Japanese art. He encouraged me to continue my studies in his country, and I received a two-year scholarship to study in Japan. While there, I not only learned new ceramic techniques, but I also met Toshiko, the woman who became my wife.

"I first studied in Tokyo with the master Tsuji Seimei; he taught me the shigaraki technique. Then I moved to Bizen where I studied with Kei Fijiwara, who is considered a living national treasure. With him, I learned the technique known as Bizen-yaki. My last teachers were Kato Kobe and Kioske Fujiwara, who taught me the ten-Mocu, karatzu and Shino techniques. All of these are very ancient techniques, which require special effort and attention in the elaboration of ceramics.

"From that time on, I dedicated myself to the rescue and preservation of the Majolica technique in Mexico, maintaining the original designs used during the colonial period. This is why my workshop has become the most important one dedicated to traditional Majolica in Mexico." Gorky González has exhibited his work throughout Mexico as well as in the U.S., including New York (1965, 1986, 2002), the university of North Dakota (1985), San Antonio (1991), Atlanta (1995), New Orleans (2000), San Francisco (2003), and in Montreal, Canada (1968). His work has appeared in European venues such as Madrid (1979), Paris (1990, 1999), Savona (1990), Frankfurt (1991), Cologne (1996), and in Cairo, Egypt (1991). His Latin American expositions include San Jose (Costa Rica, 1989), Brasilia (1992), Montevideo (1993) and Lima (1993). He has also returned to Japan, exhibiting his work in Tokyo (1967, 1997) and Okayama (1968).