Featured Reviews
By Peggy
The perfect gift
This was a gift and The recipient really loved it. I loved the craftsmanship and all the details. I loved how they took special care in packaging the gift so it arrived totally protected. I will be purchasing more from Armando and Novica.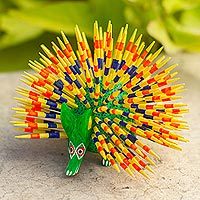 By Marie
Heirloom
These porcupines are beautiful. They were beautifully wrapped. These made awesome gifts. I bought four of these for student acupuncturist that I am seeing for some issues I am having. They are all gracious and compassionate and thought this would be a nice display for their future office. All four of them just loved them. Your art work is just beautiful.
By SALI
LOVE Catrina!
Excellent craftsmanship lends a certain whimsical quality to my Catrina. Very finely done!! The price, for this piece, is more than reasonable and I recommend this to anyone who enjoys the Day of the Dead. My only gripe was it took way to long to receive. But, I'm over it now that I see what I got!!
Featured Artist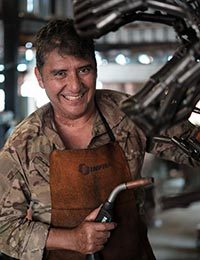 Video
"As a child I enjoyed inventing toys, and soon yearned to create a unique style of art. Environmentally enamored, I now transform recycled goods."
"Hi, I'm Armando Ramírez. All my life, I've lived in a town of artisans, and this has motivated me to create new art. As a child I enjoyed inventing toys, and soon yearned to create a unique style of art. Environmentally enamored, I now transform recycled goods."

"At first, little by little, I began to craft figures from scraps and discarded mechanical parts – mostly from cars and bicycles. And so I began to create sculptures, soldering the pieces together and giving them shape as I imagined they should look.

"The process involves selecting recycled items that can be used. I separate them and soak them in a cleaning solution to remove any impurities. I solder them together until I achieve my design, then I give it a protective coat of glossy varnish.

"My sculptures are so successful that today I sell only my own works. They are rustic in nature, designed to recycle discarded objects by converting them into art. Thanks to the creativity that God gave me, today I have an enjoyable and better way of life.

"Because I believed and I put my trust in Novica and the people working there, I was able to formalize my craft and give continuity to something that was becoming a dream too difficult to achieve. Great and significant changes came to my life! Novica helped me take the last steps towards consolidating my workshop. Now I can plan projects because I have the financial stability to do so as well as enlarge my workshop so I may offer people in my community safe employment opportunities.

"Most importantly, I can buy the little presents I had long promised my two daughters! The financial solvency and the self-assurance I have gained from knowing that people around the world have accepted my work, has inspired me to learn more about art. I have enrolled in an art school where I can learn more about design and materials, because I know I am capable of discovering new recycling techniques I can share with the world."
Popular Mexican Sculpture