Featured Reviews
By Diane C
Lovely gift
I purchased this for my sister & brother-in-law who enjoy traveling. It's beautifully made and it will be something that they will have probably forever.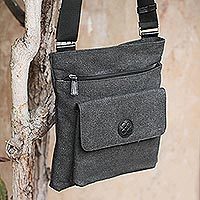 By Elizabeth
Best Bag I Have Had
This is the second messenger bag I have bought from Karina and Maybee, and I am going to buy a third as a gift for a dear friend. The bag is pretty much perfect--in size, in the quality of the construction, in beauty. It is a bag made by women who understand the things people carry.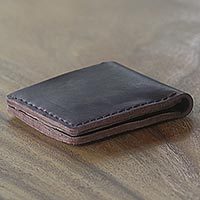 By Douglas
probably the best wallet i have ever owned
this designer has a strong understanding of minimalist design. Things i like most about this wallet: (i) the gorgeous even stitching (through six layers of leather!); (ii) the "rugged" aesthetic--ie, there is no stitching on the edges (as you can see, the individual layers that comprise the wallet are visible); what's more one of the four edges of the wallet (both sides) is not stitched; (iii) it is functional; putting bills in the main compartment doesn't require a shoehorn like it does with some low-profile wallets, and it's easy to put a card in one of the card slots and actually get it out and without worrying that it is held too loosely. In sum, this wallet will age very well i'm sure.
Featured Artist
"I believe one should always have to have the will to learn a new thing in order to make a difference."
"I was born in 1989 in Bangkok and I come from a warm, close family. During the long drives to school and back, I used to entertain myself by looking out the window and admiring people performing a variety of duties, the different houses, and our beautiful historic buildings untouched by the passing of time. Bangkok is so glamorous it attracts a lot of people from around the world.

"When I graduated it was difficult to get a good paying job because there was an economic crisis in Thailand. Meanwhile, I was assisting my brother making bags and I learned so many things – more than I could ever find in books. Without realizing it I fell in love with this craft. I always feel happy when I'm working on a bag, and I feel very proud of myself when I've finished the bag.

"I enjoyed learning every step of the process, from sourcing the leather, ironing (pressing), and sewing, to maintaining the leather's quality. My brother and his craftsmen were very good teachers. They were so nice and kind. They always took the time to assist me, even in the smallest of details.

"One day my bother asked me if I wanted to take over his workshop because he was going to open a tannery. I said yes right away! I was a little worried because I would have to take care of everything but he gave me some suggestions. Since I was new and styles keep varying and fashion keeps evolving, I focused on creating simple designs that look good and can be used in a variety of ways. My products are really neat and made from AAA leather quality, which makes it durable as well.

"It's really funny that when I was a child I was really shy and hid behind my mom when she selling at the market. Now I realize that selling is really fun and that I should be proud of myself, because I can take care of my family with my own money.

"My friends always said that I'm focused and responsible. When they have a problem they always come to me, and I always advice them to understand what they're going though, and that we have to love whatever we do. That way the result will be incredible and perfect. I believe one should always have to have the will to learn a new thing in order to make a difference.

"Now I'm planning to increase production by employing more people from the community. I will be introducing my own designs, which I hope will be very well received."
Popular Men's Handbags $60 to $100