Featured Reviews
By Paula
Great for shopping!
These baskets are exactly what I have been looking for. They help the environment, by using up plastic waste and they are roomy and sturdy enough to take shopping. I use them to put vegetables in, that would otherwise end up in store plastic bags. The first time I used them I had many nice complements. That's always fun! I told them were I bought them.
By Janet
These are Gorgeous and Amazing
Very well made, colorful, sturdy, and just GORGEOUS. I will use the smaller one to hold our housekeys, etc when we come home, and the other for something other... I'm so glad I found these lovely baskets!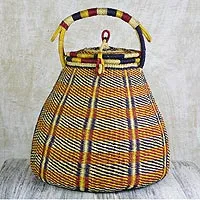 By Rochelle
FANTASTIC BASKET
I loved this unique basket after seeing it in the " new arrivals" section of your website. The workmanship is outstanding and the colors blend together perfectly. Thank you , Mr. Anaba, you are a true artisan and I hope to see more of your crafts via Novica. Rochelle, N.J. April 6, 2018
Featured Artist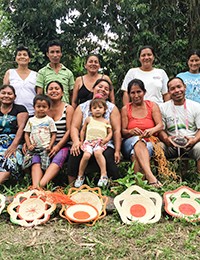 Hope of the Forest
Eco-friendly handwoven natural fiber baskets
"Many of the women of the Rio Tahuano basin knew how to weave baskets, bags, hammocks, fans and more. They realized that the baskets could be sold to help improve their quality of life."
"Our community was born in 2007 with nine artisans who called the group 'My Hope.' In August 2013, 38 artisans joined the cooperative, now known as 'Hope of the Forest.' This was the first and only such cooperative in all of Peru's Amazon region.

"Its location in the Peruvian Amazonian basin gives the town of Iquitos a natural landscape of vast biodiversity and its seasonal floodplain forest surrounds the city. As part of their natural cycle, these trees shed their leaves and other plant material, which becomes humus. The rain washes these nutrients toward the rivers and this cycle repeats to make nature flourish.

"Our mission is the protection and conservation of our biodiversity and Amazonian culture. As a team, we join our efforts and talents to create a sustainable market for eco-friendly handcrafts that respect our environment.

"Many of the women of the Rio Tahuano basin knew how to weave baskets, bags, hammocks, fans and more. The cooperative began to train them to become expert basket weavers and the women recognized a beautiful item that could be sold to help improve their quality of life.

"The women use the leaves of the cogollo palm. They separate the fibers and the first is the softest. These are used to decorate baskets while the inner fibers are more durable and are used to give shape to their designs.

"The fibers are then bleached in a solution of water and grapefruit juice, rinsed and dried in the sunlight. Then they are dyed with natural colors derived from plants. Finally, the baskets are woven by hand. We work with dedication, patience and love. The crafts made in these communities are associated with their traditions and how they used chambira fiber to make their clothing, fans, candles, hammocks and baskets.

"Our cooperative has also been able to positively impact the town in other areas like improving the quality of drinking water. We also participate on the Regional Conservation Management Committee, and the communal vigilance of natural resources and reforestation. In addition, we've installed solar panels in our communities.

"We're happy to work with Novica and show the world our talent with handicrafts that protect and preserve our Amazonian environment."
Popular Hand Woven Decor Accessories