Featured Reviews
By Marie
Gift to my brother
He is thrilled with this decorative, well-designed box, called a Sika Korkoo Kwrabia. Happy that I choose this item for him.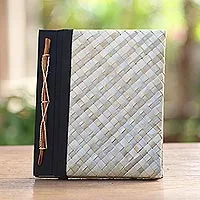 By Cynthia
Exquisite Gift
This book is a treasure! Far more impressive than the photograph for the quality of care in every aspect of its construction. I got it as a gift for my partner as he tells wonderful stories of his childhood. Though he does not journal, I encouraged him to use this beautiful book to write those stories that they may be enjoyed by his children and perhaps grandchildren some day. I am an artist in the US, graduated from a well known art college. Freshman year, the Calligraphy class required that we create a book from scratch, including end papers, binding, cover etc. It took a month of serious effort and I am proud of my creation, but easily admit that this book far exceeds my own. It is simply beautiful.
By Munay
My second one
I have two similar plates, this and the spider plate which I pair on the wall. These are my favorite of the plates I've bought, it makes a lovely addition to my décor.
Featured Artist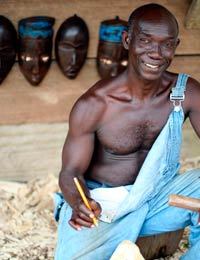 Paul Quaye
African masks and wood carvings
Sculpture by the Mac Raymonds Wood Works has been featured on the popular Bernie Mac Television Show.
Paul Quaye is the son of Mac, founder of Mac Raymonds Wood Works. At Novica we were saddened by the news of Mac's sudden demise in May 2011. He was laid to rest in July, as tradition dictates that family members must meet and decide on the date of the funeral, to allow for relatives and friends living faraway to return for a final goodbye. According to African beliefs, since the deceased is embarking on a journey to join their ancestors, the funeral must be befitting of such occasion.

Mac Raymonds Wood Works was a collaborative venture by brothers Mac and Raymond, founded in 1984. Mac had ventured solely into carving right out of school and Raymond, a commercial fruit plantation expert, later pooled his resources with Mac. These two great brains, Mac and Raymond, produce the best works, one as the carver, the other product finisher.



Originally Mac trained under one Dr. Oku Ampofo, a medical practitioner and gifted sculptor. Through his masterful guidance, Mac was able to hone his natural talent for the arts, perfecting his carving skills. Thus the creation of different lines of carvings came with enviable ease.

Raymond eventually left to follow other pursuits, and Mac continued to work at his workshop, achieving such renown that many have applied to be trained as apprentices under his guidance. Those that have graduated, have gone on to become successful carvers of their own right, but always appreciative of Mac's teachings.

Mac had once told us with pride he had taught his youngest son, Paul, to carve and was working with him. Paul has shared with us his commitment to preserve his father's wood carving legacy, and thus what was once Mac Raymonds Wood Works continues now under Paul Quaye's name.
Popular Earthtone Decor Accessories