Featured Review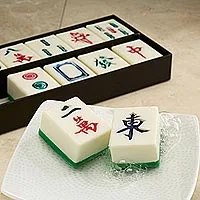 By Nancy
THIS IS A GREAT REMINDER OF AN IMPORTANT BIRTHDAY.
The MahJongg soaps are a birthday gift for my sister who plays man-jonng with a group of friends every week. They are beautiful and the back of the box very nicely explains what the symbols mean. Thanks a lot.
Featured Artist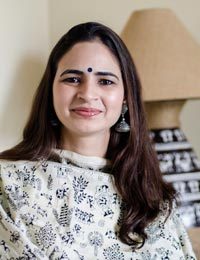 "There is a story and inspiration behind every piece of art an artisan creates."
"Hi, my name is Poonam and I was born in Haryana but brought up in Delhi.

"I have worked with arts and crafts since I was a child. Everywhere I went and whenever I had the chance, I'd learn about arts and crafts from my family, neighbors, friends and school. My skills improved a lot when I went to design college. I learned about the technical aspects and history behind different art forms through my teachers and books at college. This is where I became attracted to Indian textiles and arts.

"I studied fashion design and worked in the clothing industry for many years until I started my own venture a couple of years ago. I create home décor items like hand-painted boxes, coasters and trays. I also specialize in decoupage.

"After college, I got a job working at a clothing export house for almost eight years. Then I got married and moved to Bangalore. It took me some time to adapt to the change of place and atmosphere. I wasn't satisfied with my job, so I thought of doing something on my own. This gave me the chance to rekindle my love for arts and crafts, by putting more time into my passion.

"One day my husband and I were looking for lamps for our home and we couldn't find anything interesting in the market. I told my husband that I would like to design a few. Despite his hesitance, I was confident I would be able to create something interesting. When I finished, it came out so cool and everybody loved it including my husband! Slowly, my friends and family started ordering from me.

"My family and friends persuaded me to launch my line. Many of the designs in my collection are inspired by Indian textiles and crafts. It took me more than eight months to create my first collection. Being able to create what you envision and transforming it into a real piece feels amazing.

"It has been an incredible experience to start a venture on my own. My creations have been greatly appreciated by many, and that gave me a good feeling to keep going forward.

"There is a story and inspiration behind every piece of art an artisan creates. I really like Indian art and textiles because of their diversity and intricacy. There are different types of Indian art and textile designs but each one is beautiful and each has a story of its own. I am inspired by these different art forms and apply them into different materials to bring them back in our lives.

"Lately, I have started to teach some adults and children in my neighborhood who are interested in arts and crafts.

"When I don't work, I love cooking and spending time with my pets. I am also very fond of pets and have a soft spot for them."