CAUSE OF THE WEEK
The White Flag - Kindness Delivered
Kindness begets Kindness - during the COVID-19 crisis we are hearing many stories that bring tears of relief and joy - stories that let us believe that we will get through this. Stories that remind us we are all in this together. The White Flag is such a story, it begins a year ago in Guatemala...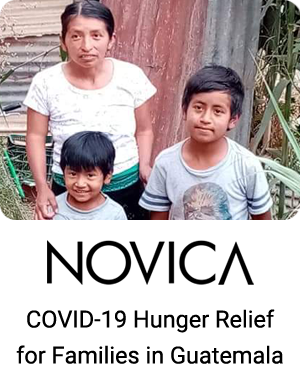 FEATURED TODAY
Saa paper parasol, 'Lily Wonderland'
This item is now sold out.
25% of your purchase goes directly to The White Flag - Kindness Delivered
NOVICA's Cause of the Week
In the coming weeks, NOVICA will partner with like-minded non-profit organizations to increase awareness of their efforts to respond to the COVID-19 virus and to help them raise vital funds for their work. During each organization's week-long event, proceeds from their curated collection will go directly to that organization.
Want to hold your own fundraiser?
Find out how