Often times, there are aspects of pop culture everyone recognizes, though very few know its true origins. Visiting any quirky, little boho-themed store will offer the opportunity to purchase any number of products with the likeness of a world-famous icon: Buddha. Clothing, paintings, wall hangings, jewelry, statues, and more, all offer a peaceful view of a culture that may not necessarily be our own.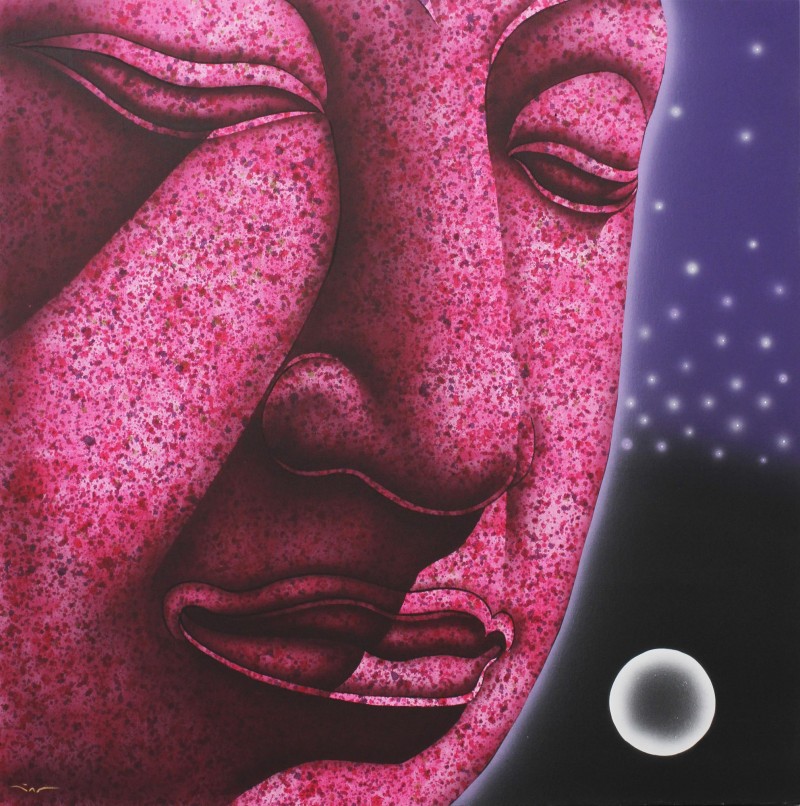 It's obvious that Buddha isn't a staple of every culture, so who, basically, was he? We know that his origins go back thousands of years. It may surprise some to know that the term "Buddha" can refer to one specific person, variously called Buddha Shakyamuni or Siddhartha Gautama OR it can be applied to any individual who has obtained enlightenment through the teachings of Buddhism. The fundamental belief of Buddhism is for every being to strive to live a life of happiness and one free from suffering. In Wayan Rendah's hand-carved version of the enlightened one, the example of meditation is obvious with Buddha seated in his traditional pose.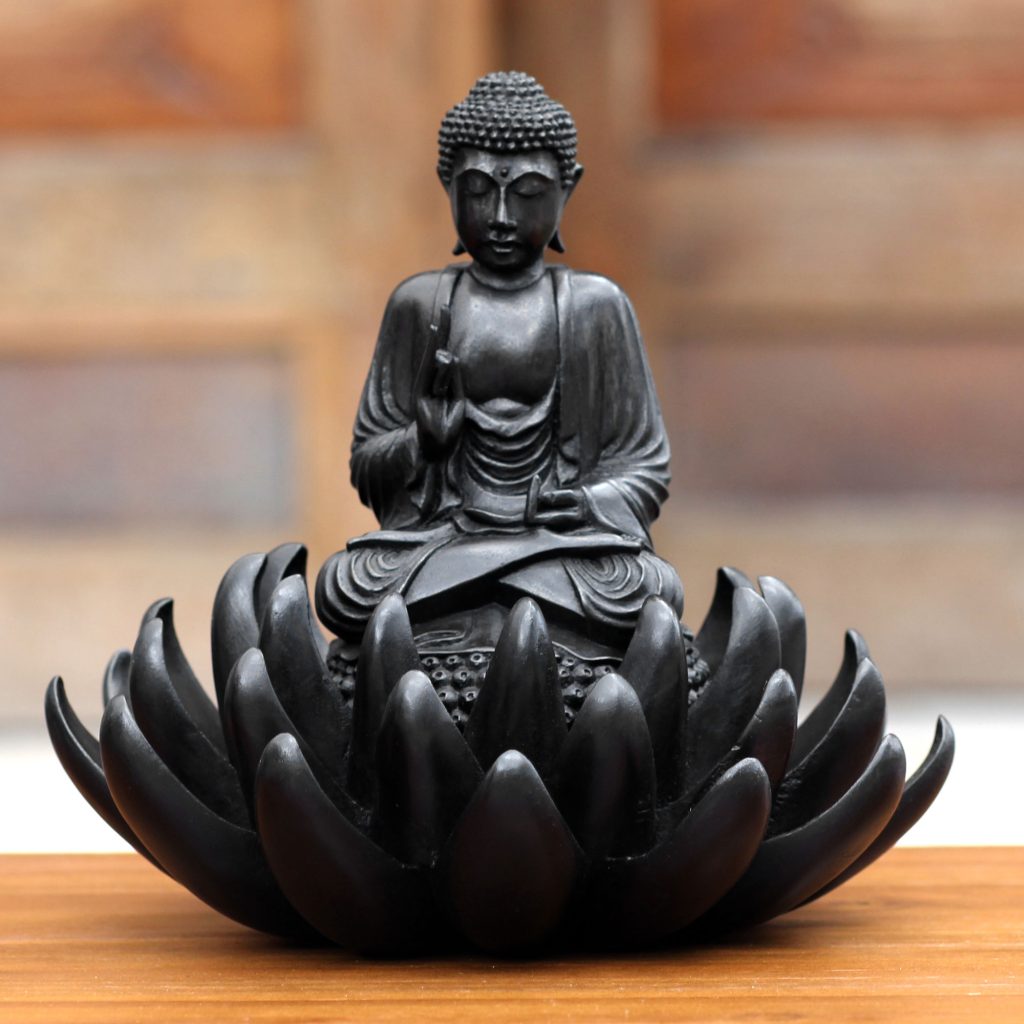 For that reason, the image of Buddha has come to represent peace, tranquility, and understanding, and has received a warm welcome into homes worldwide. This is done in several ways. For the purposes of this article, we'll examine a few ways to incorporate some zen in your living space with a few Buddha decor pieces. However, don't limit yourself to only these suggestions!
Wall Hangings
If you're limited on space, have pets or children running around, or want to fill a blank wall,  wall hangings  are a great option! These works of art offer a unique way to display any image, but the traditional, flat color field image of Buddha lends itself well to a (mostly) two-dimensional format.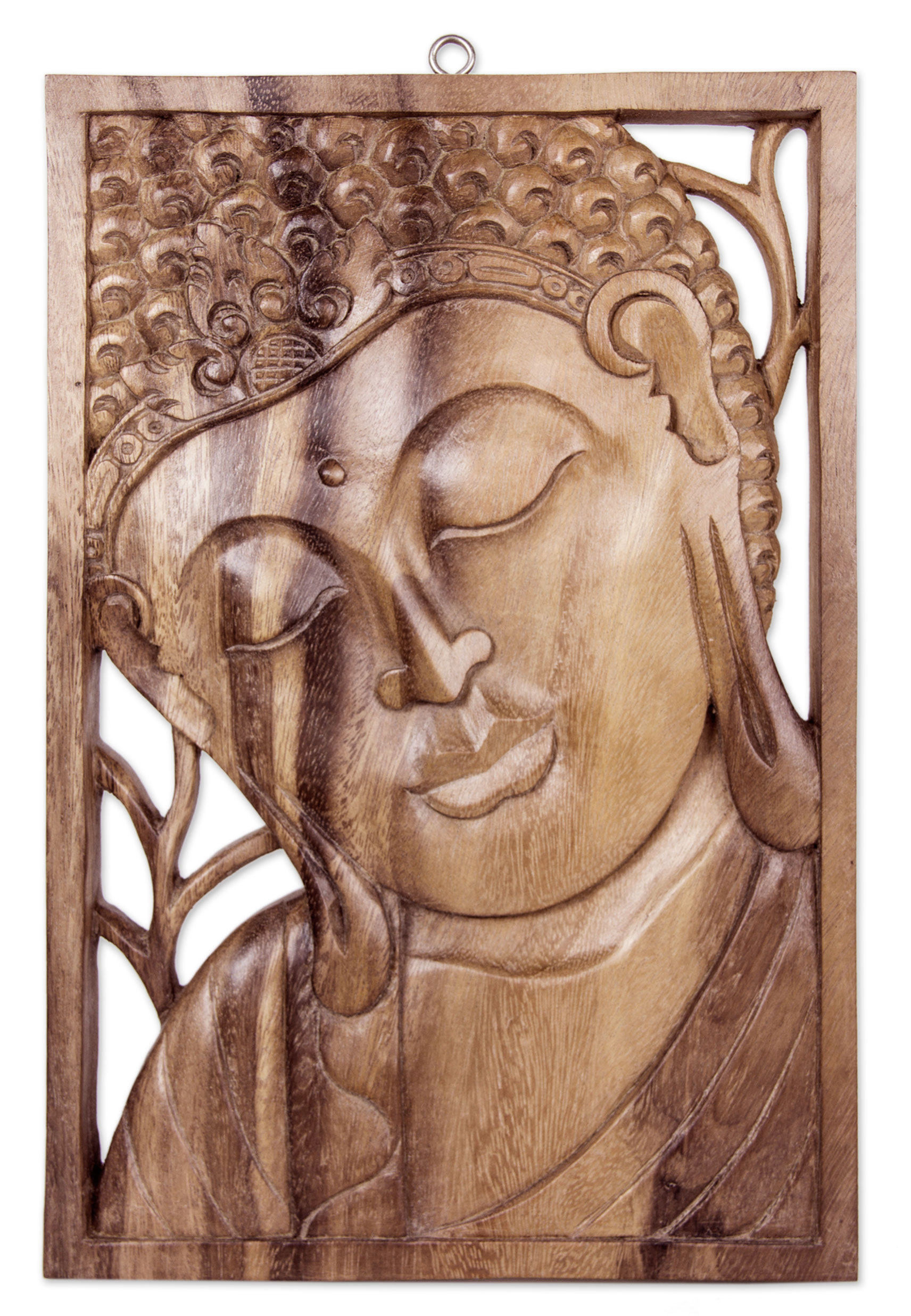 Seji Taram's depiction of Buddha in relief panel format is a beautiful example. The contours of the face, deep in meditation, seem to glow from more than just the polished wood. Three-dimensional "beads" in the headpiece are a nice contrast to the even sides and fine detail of the background.
NOVICA offers a beautiful variety of Buddha-themed wall hangings, whether you're looking for more natural options or brightly colored works of art,  such as the piece below by Shweta.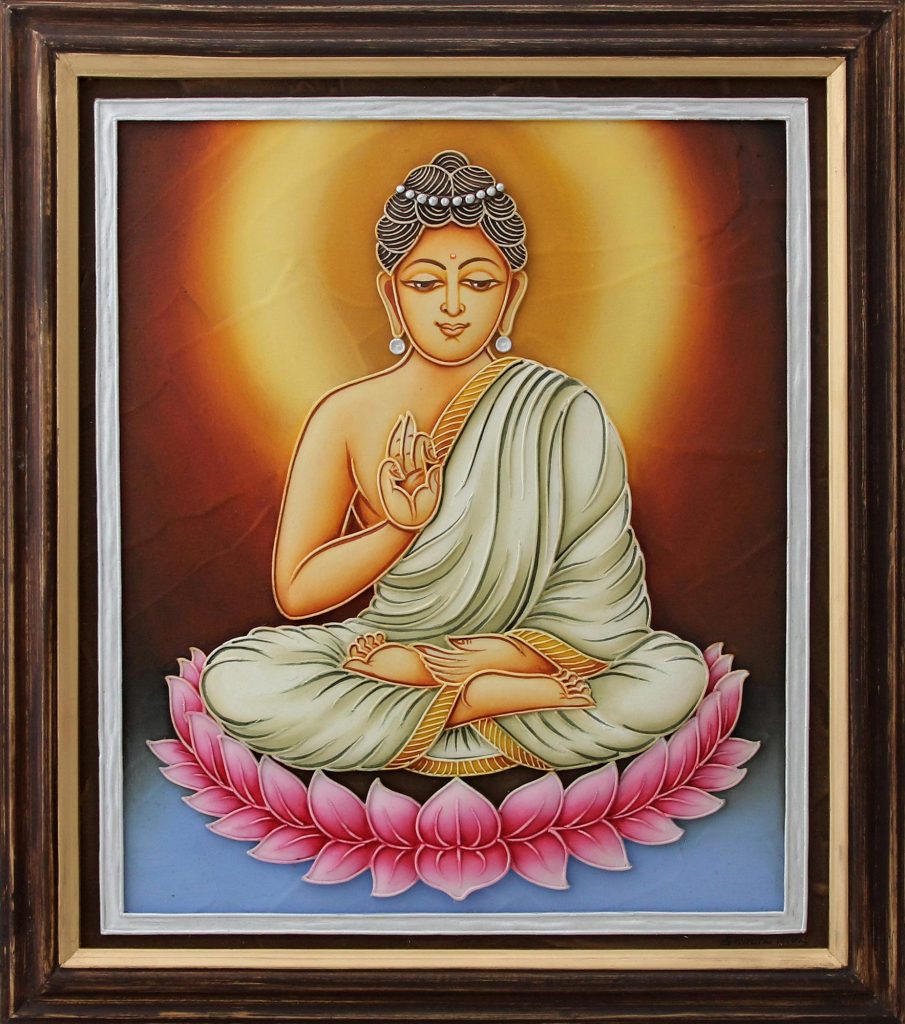 From tapestries or paintings to carvings that draw their inspiration from masks, there's something for anyone looking to bring peace and tranquility to a simple surface like a wall.
Buddah Sculpture
Sculpture is perhaps the most well-known form of representation for the image of Buddha. Small or large, marble, wood, or plaster, nearly every material has been graced by the image of the revered icon. A quick browse through NOVICA'S storefront will show a wide selection of sculptures, of which a large selection features – you guessed it! – Buddha sculptures.
A figurine or statuette is a nice way to enliven a mantle, an empty tabletop, or a bookshelf. A natural image, such as in our artisan, Eka's representation, is more common, as neutral tones complement essentially any room's color scheme.  The artisan's representation presents the theme of nature by incorporating lily pads and lotus blossoms. Hibiscus wood complements the goal of a Buddha who is "one" with nature.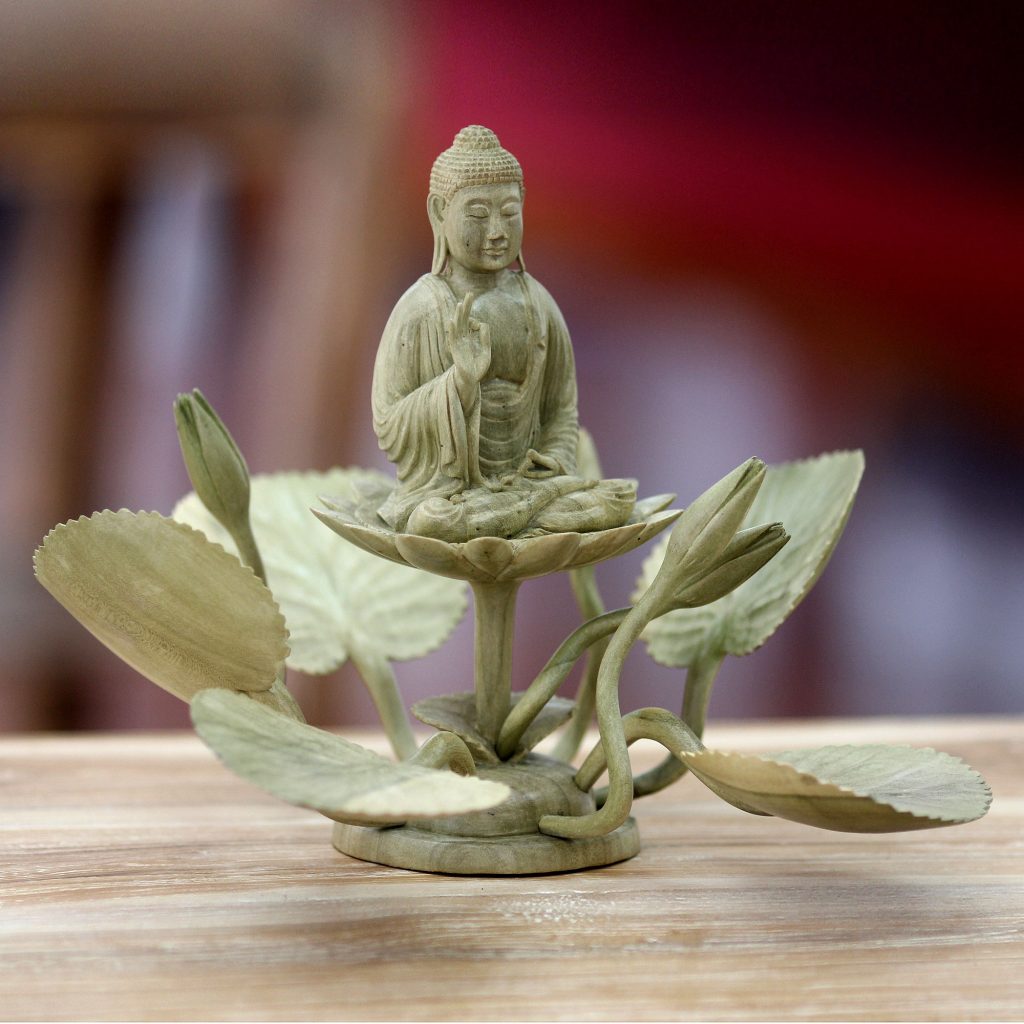 Other options for sculpture could be quite the opposite: bright, patterned, and in a non-traditional pose. Artisan Gung Gus sheds a different light on the icon through a vibrant, hand-carved statue. True to the theme of nature, this version of the enlightened one wears a robe adorned with flowers, birds, insects, and a river.  The relaxed, laid-out pose catches us off guard, as so often, Buddha is depicted in a specific, proper posture.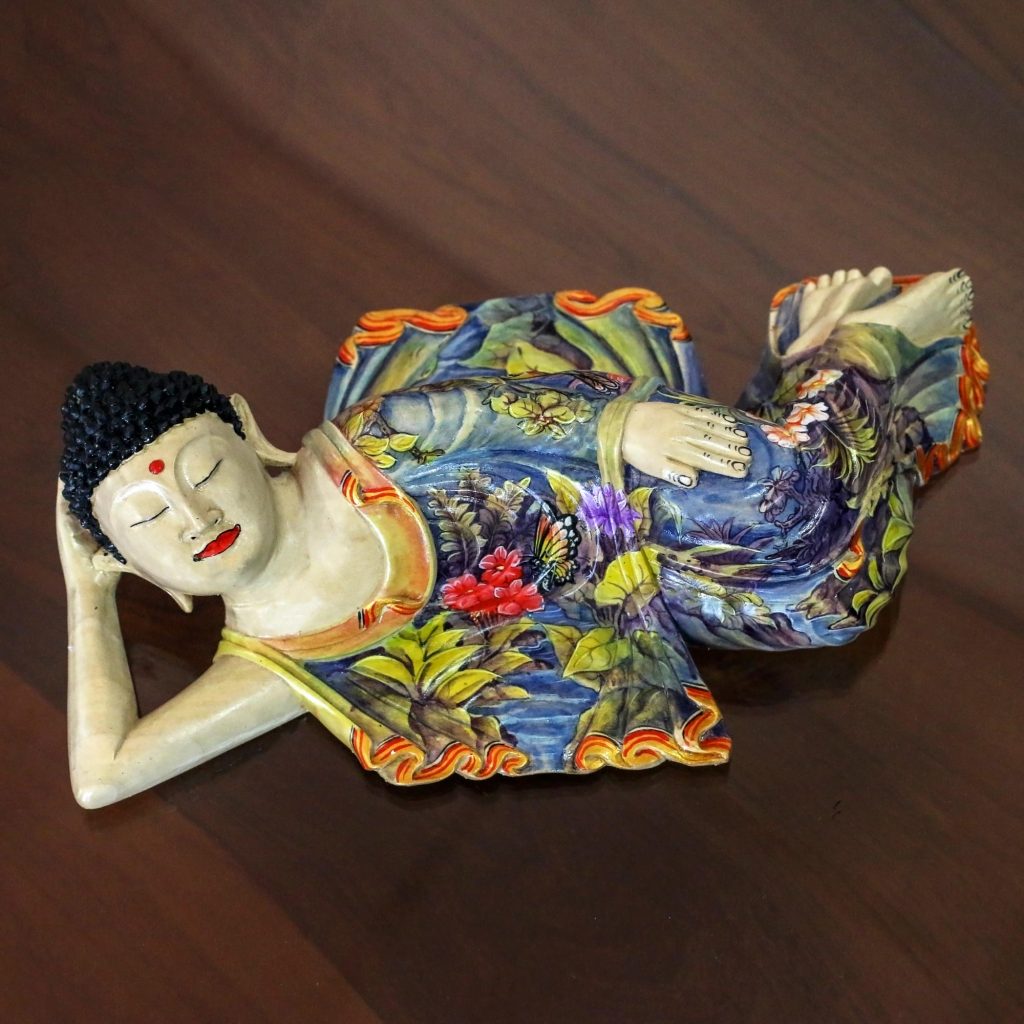 Whatever your preference, there's Buddha sculpture available of every size, color scheme, and material available from NOVICA'S wonderfully talented artisans.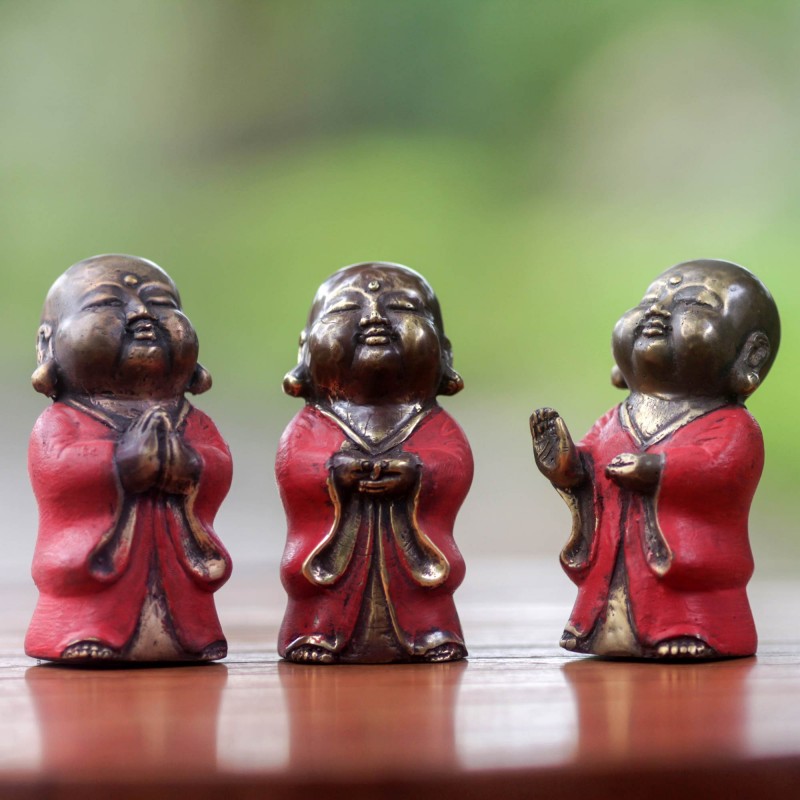 Cushion Covers
A home isn't really a home without cushions! They are fantastic for making a space more comfortable, brightening up otherwise dull color schemes, and easily change the feel of a room on a whim. When considering the image of Buddha, one can't forget the option of cushion covers. These allow beauty and culture to be casually infused into the room. NOVICA Artisan, Anil Khandelwal's work provides both of those elements! The contrast between the bright golden orange and the black texture of the detail/background is eye-catching on this handcrafted pillow.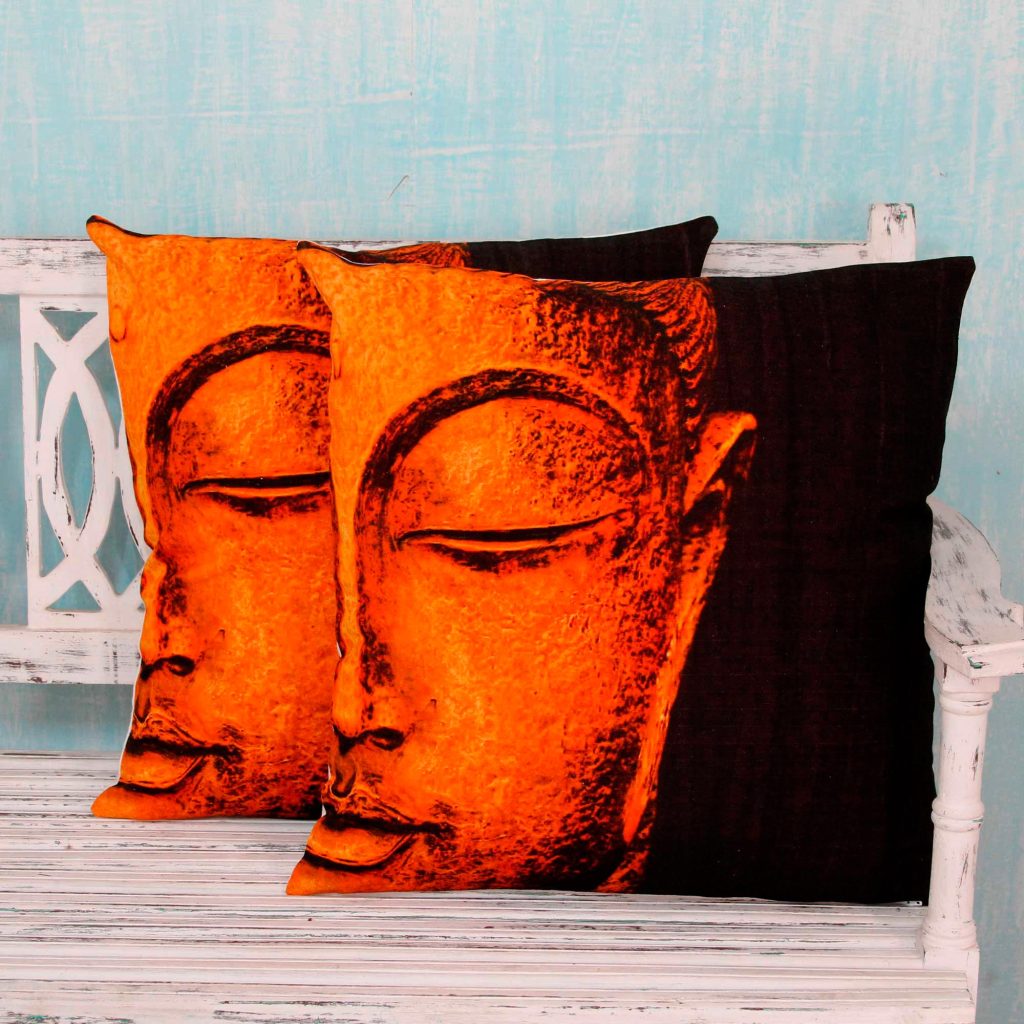 This beauty and quality are typical of NOVICA's expansive collection of pillows and cushion covers.  There are options from all around the world, utilizing different materials, and a wide array of subject matter!
No matter the type of space in your home to be embellished, there are many beautiful options for home décor featuring Buddha that will bring peace and tranquility to all who visit. From textiles to sculptures to paintings, there's something for everyone who seeks him!
Rate this post:
[Total:

0

Average:

0

]