Although I couldn't see his sweet face, I could hear the pride in his voice as he held up the brightly colored bunch of grocery store flowers and said "These are for you, mommy."
I scooped up my son in one and hand and the flowers in the other and together we set off to find a container that would properly display such a sweet gift. The truth is, I'm not really a flowers kind of girl, but I certainly appreciated the genuine love from my son. I searched the cabinets for a vase, but every cabinet I opened was a disappointment in the vase department. In a pinch, I placed my bunch of flowers in a tea pitcher, and although that was good enough for my son, I decided I needed to buy a proper vase for the next time.
I wanted something that would be casual enough for everyday use, but elegant enough to use as a centerpiece for special occasions. As I was searching for the perfect vase, I realized why all my vases were missing. Most vases are made of glass or ceramic, and are hard to keep intact in a home full of energetic boys. I decided that a wood vase or a vase made of another unbreakable material would be ideal. Of course, I also wanted a unique, statement piece, something that would be just as beautiful as the flowers that it would hold.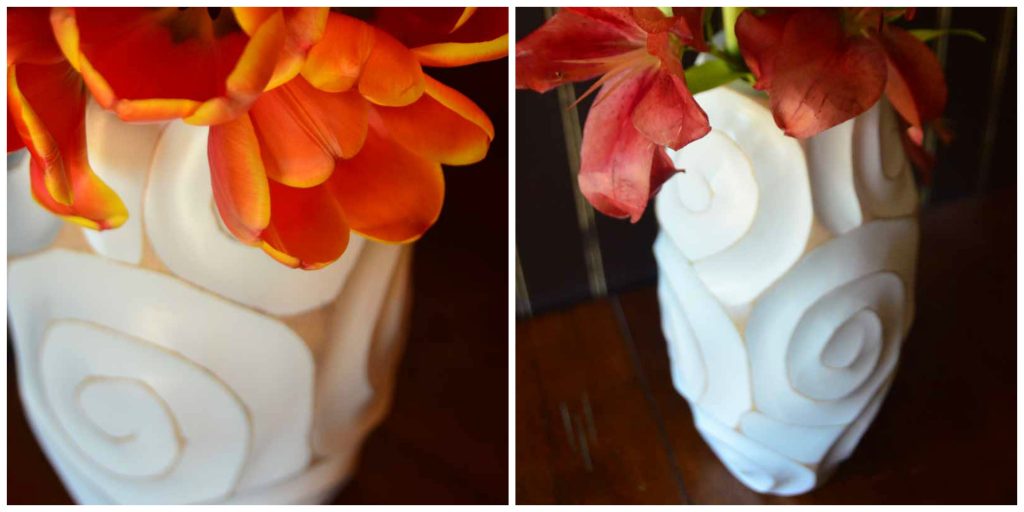 While browsing through home décor, my eye caught the romantic, white swirls of the White Melody of Art vase that is hand-sculpted from mango wood in Thailand. More than just a vase, this piece is truly a work of art. The white whorls flow like a gentle song with highlights of the natural wood peeking out from underneath. The hand carved marks create a rolling texture that add beauty to the piece and remind me that this piece is one of a kind.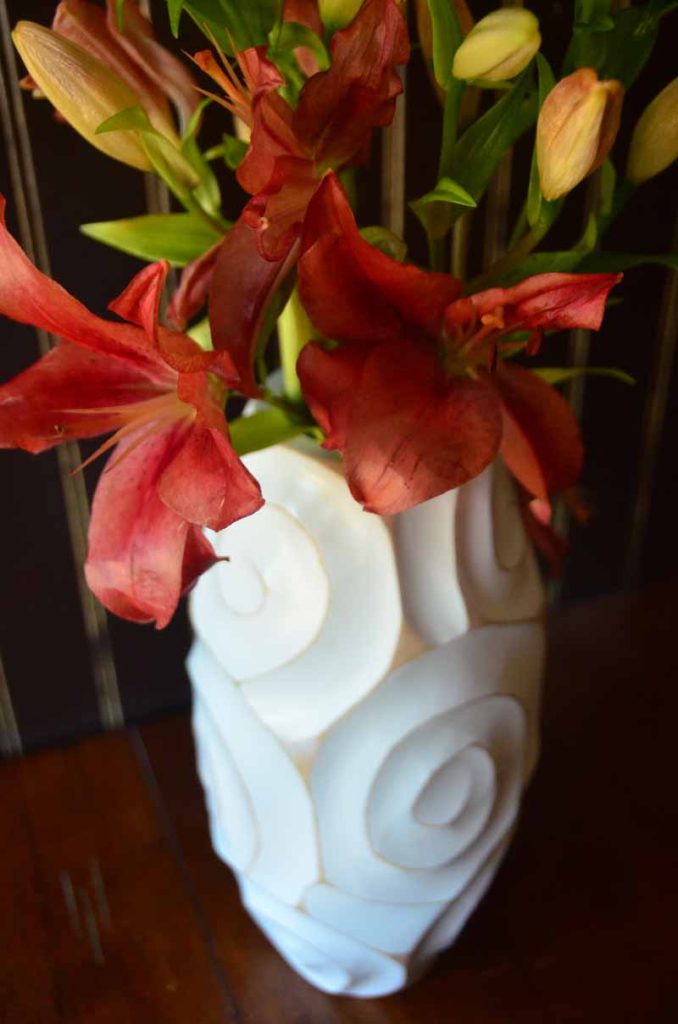 As I had hoped, the white vase adds beauty to my casual kitchen table or can even be used as a centerpiece for holidays.  The next time my son brings my flowers, I will be ready. In fact, I may just buy myself some flowers so I will have an excuse to display this elegant new vase. Perhaps, I will become a girl who loves flowers, after all.
Rate this post:
[Total:

0

Average:

0

]