Although many people immediately think of everything lovey-dovey and romantic for Valentine's Day, I truly believe that the holiday has a much more simple meaning: love. Whether that is with a spouse, sibling, child, parent or even a pet, as long as the day is spent celebrating the bond between you, it is a success!
However, when it comes to shopping for the perfect Valentine's Day gift, where do you look when you want something other than (generic) flowers and chocolates? Right here at NOVICA, of course! Plus, along with finding an amazing, unique handmade gift, there are options for just about everyone in your life. Looking to surprise your husband? There is an incredible selection for men. Want a beautiful token of your appreciation for your child's teacher? Look no further.
In my household, one of the most cherished relationships is mother-daughter and there is no shortage of stunning options to show love for both. But, being the helpful daughter that I am, here is a look at my top suggestions for wonderfully remarkable and special Valentine gifts for daughter…
OPTION 1 – An Attractive Yet Functional New Handbag
I firmly believe that a woman can never have too many handbags, so why not surprise your daughter with one for Valentine's Day that she can carry, use and love… while thinking of you each time she picks it up? From bright, bold colors and patterns to simple, modern designs, NOVICA offers every style, size and type imaginable, so you'll know that you're bringing a smile to her face with each and every handcrafted tote, purse, clutch and more.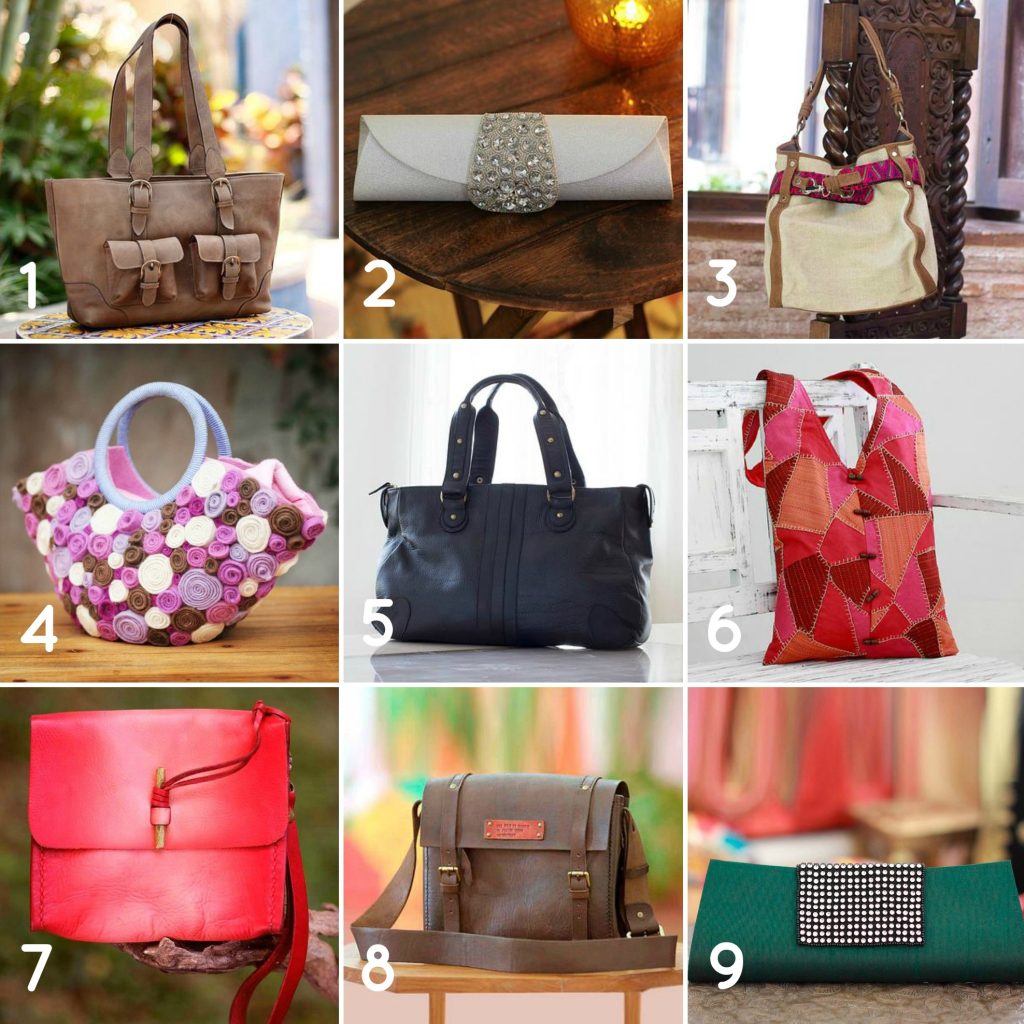 1. 'Honey Sierra' • 2. 'Twinkling Starlight' • 3. 'Santa Maria' • 4. 'Festival of Roses' • 5. 'Monterrey' • 6. 'Festive Triangulations' • 7. 'Bold Crimson' • 8. 'The Road to Success' • 9. 'Emerald Allure'
OPTION 2 – A Jewelry Box to Hold Family Treasures
Women amass jewelry throughout their lives, but there will always be a special place in her heart for those pieces that were passed down from generation to generation. If you've given your daughter necklaces, rings, bracelets, earrings and more over the years they are sure to be some of her most prized possessions, so now is the perfect time to give her a way to store them safely or display them for the world to see!
From modern to traditional, NOVICA has a gorgeous selection of handcrafted jewelry boxes that would easily express your love on Valentine's Day while matching your daughter's personality, style and decor.
1. 'Poppies' • 2. 'Precious Turquoise' • 3. 'Royal Legacy' • 4. 'Brown Chrysanthemum' • 5. 'Happy Flowers' • 6. 'Crimson Heart Flowers' • 7. 'Brown Jasmine' • 8. 'Mughal Romance' • 9. 'Ivy Cameo'
OPTION 3 – Brighten Her Table (and Invite Yourself to Dinner?) with Stunning Tableware
Whether your daughter is a constant hostess or spends more time making simple meals for herself and her family, holidays are often celebrated around the dinner table. So why not show your daughter how much you love and care for her by gifting her with stylish new glassware, serving pieces or accessories? She'll not only be able to use them for Valentine's Day, but she'll be reminded of you each and every time she pulls them out throughout the other 364 days of the year as well!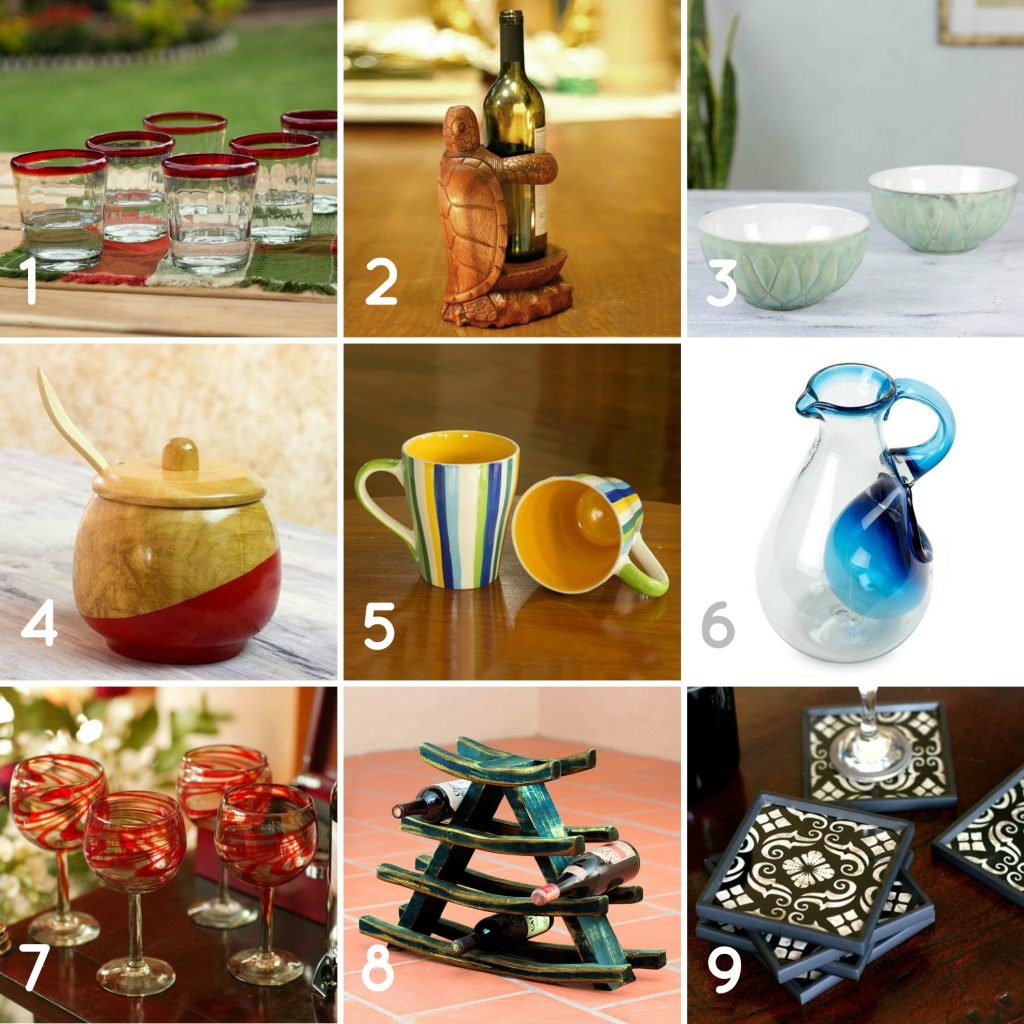 1. 'Short Ruby Groove' • 2. 'Gift from the Sea' • 3. 'Lotus' • 4. 'Sweet Red' • 5. 'Good Sunny Morning' • 6. 'Fresh Caribbean' • 7. 'Crimson Serpentines' • 8. 'Vintage Bottles' • 9. 'Floral Muse'
With so many incredible handmade gifts to choose from at NOVICA, you can't go wrong! I would be thrilled to receive any of these (and more!) from my own mother and can already picture all of the comments and compliments I would receive if I owned the Festival of Roses handbag, Poppies jewelry box or Vintage Bottles tableware! They're just so unique and beautiful!
This Valentine's Day, spread the love to your daughter (as well as the rest of your family and friends) while supporting hardworking artisans around the world!