Eladio Chiroy speaks about threads with the same expertise as he talks about solving equations with three unknowns. His personal story moves back and forth from weaving to mathematics, from yarns and colors. His art form has almost died out but Eladio welcomes us to his workshop with a smile.
His weavings begin at waist level, where the entire process begins. In front of him, the patterns of a new placemat design take shape. He works the pedals that change the height of the levels of yarn, grasps a piece of wood shaped like a boat, and slides it across the warp – the stationary, lengthwise threads held stationary on the loom. This piece holds the bobbin wound with colored threads that he interweaves with the white threads of the warp. He repeats this over and over, as many times as needed.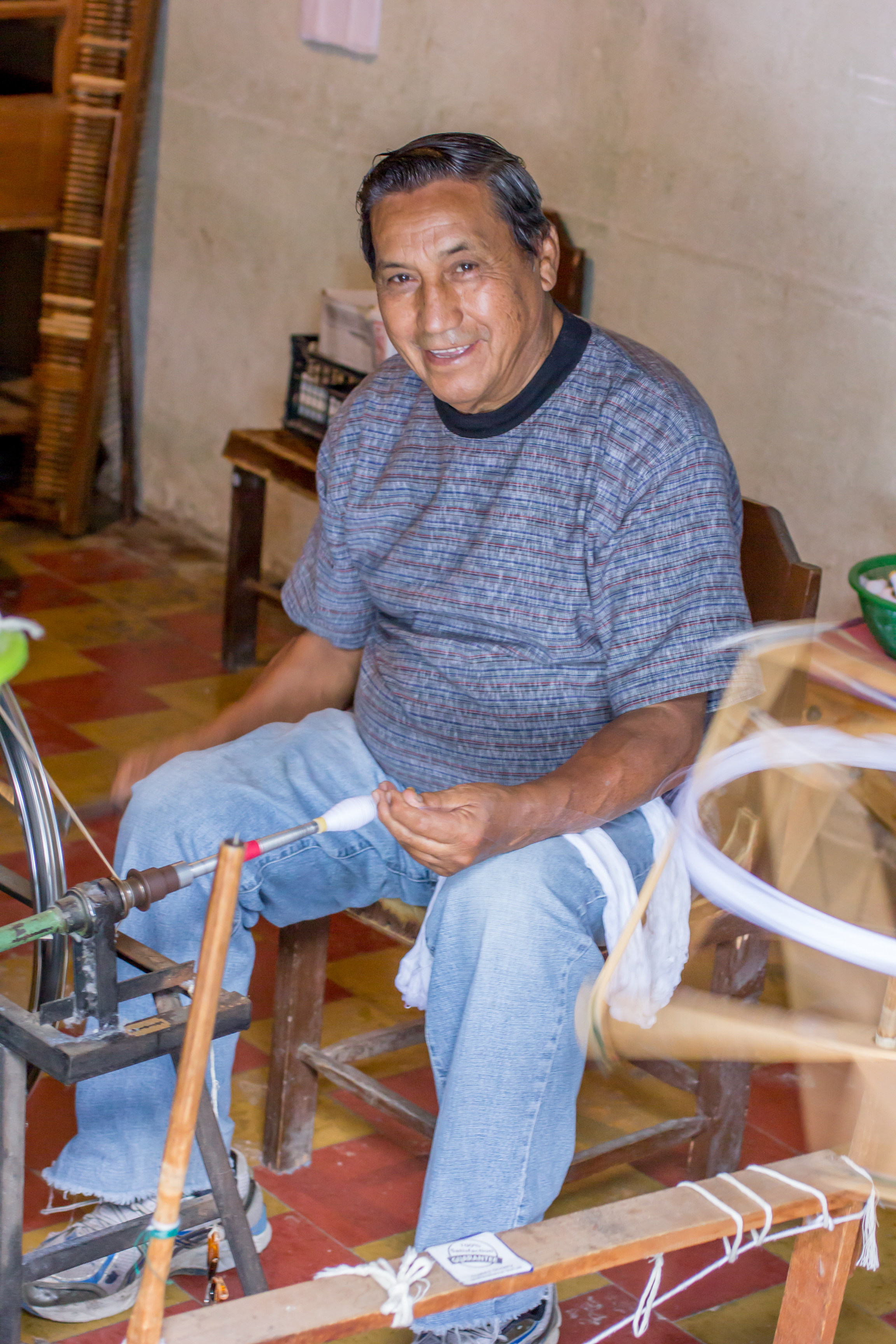 While he patiently explains the weaving process, mathematics come up. "The loom's comb is a number 28 because it holds 28 threads per inch. So, if a yard has 36 inches, it means we need 1008 threads."
Five other men work with Eladio. One prepares the warp on a circular rack that turns around and around. Others sit on benches and fill the bobbins. Two others work the treadles just as Eladio does to weave the fabrics.
The workspace is small but the sounds of the looms fill the air. It's a kind of synchronized clacking, like a heartbeat. The "pock, pock, pock" can be heard all along the cobblestone street of San Luquitas, a neighborhood hidden away in the colonial city of Antigua.
"No matter what I was doing in my life, I never left weaving. I always carried a backstrap loom with me and, if I had time, I'd weave a while wherever I was," Eladio says as he pauses in one of the corridors of his home. He's the heir of a centennial tradition.
For three hundred years, traditional regional clothing was worn in Guatemala. However, this practice was being lost, so Eladio's father made a special effort to not only teach his children weaving but also to give them a profession. Eladio chose to teach.
"It's that I've always liked math. When I was in school, if the teacher was showing us how to do equations with two unknowns, I'd read on ahead and start working on equations with three unknowns. When he saw my enthusiasm, he let me go to his house to learn more."
Young Eladio's dream was to teach adolescents and he was first sent to schools in distant communities. When he returned to Antigua, he decided to do what his teacher had done for him — offer free classes to reinforce his students' knowledge.
Even amid the numbers, when Eladio had a free moment, he'd weave. If he was traveling to a Guatemalan village and saw a color combination he liked, he'd take out his notebook and jot down the color pattern to reproduce it at home. He never stopped weaving and whatever he earned selling his work helped supplement his salary as a teacher. With this money, he began to provide for his children's future.
Because he didn't charge for the extra classes, his students' mothers sent him food and other gifts. He recalls that one day, one of the moms suggested he sell his weavings in Guatemala's biggest supermarket chain.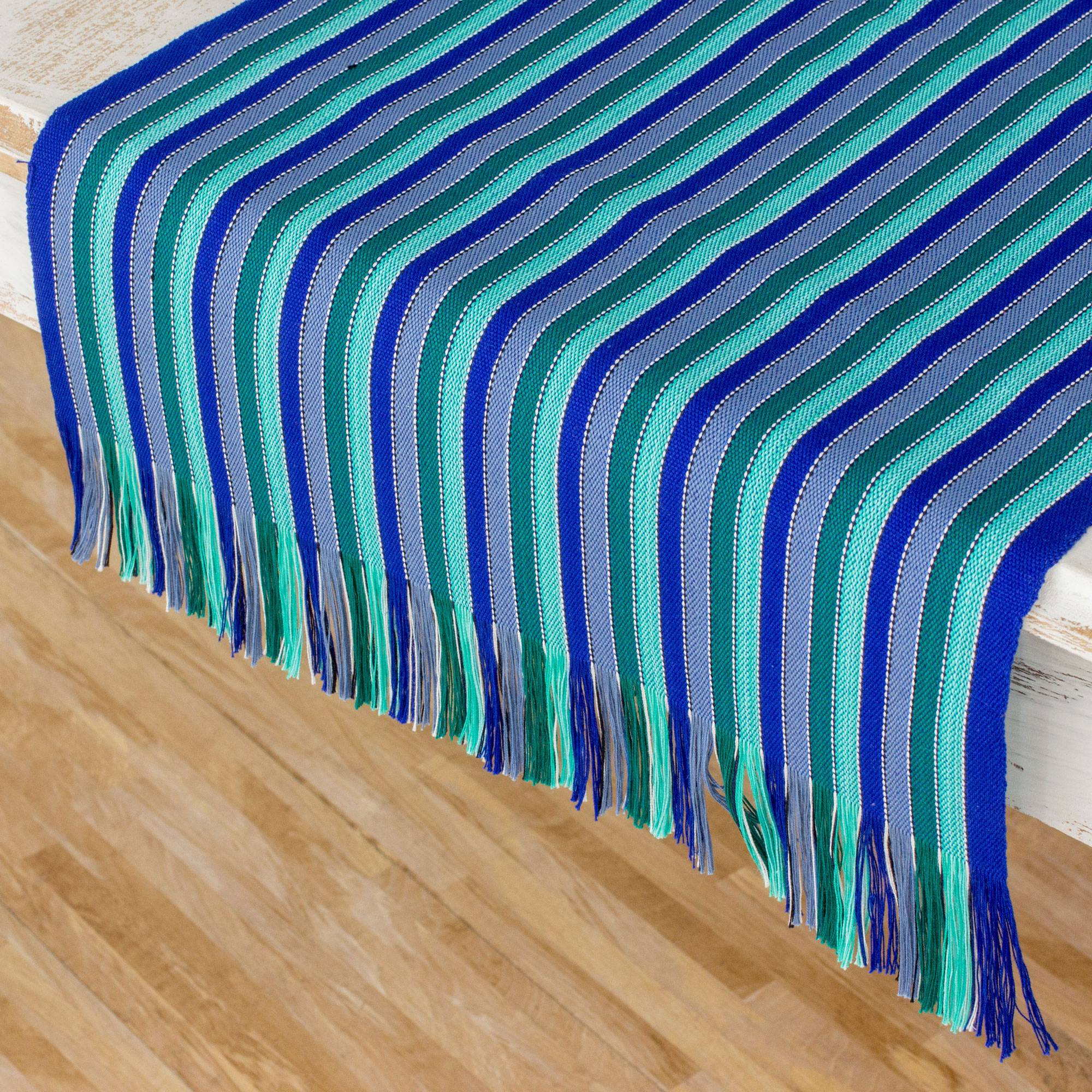 "But… how will I get them to take my work?" he asked.
"I'm in charge of buying," she replied.
With this, Eladio had more and more work so he left his math classes to concentrate on weaving. "This was a time of a real bonanza," he says. "Thanks to this retail chain, in those 15 years, I was able to give my children a house and an education."
He shows us his weavings; placemats, napkins, kitchen towels, and table runners, and tells us which colors he likes best. This takes place in a dark room that serves as both living room and showroom for sales while in the background, his collaborators ply the treadles of the looms that struggle to resist time and termites.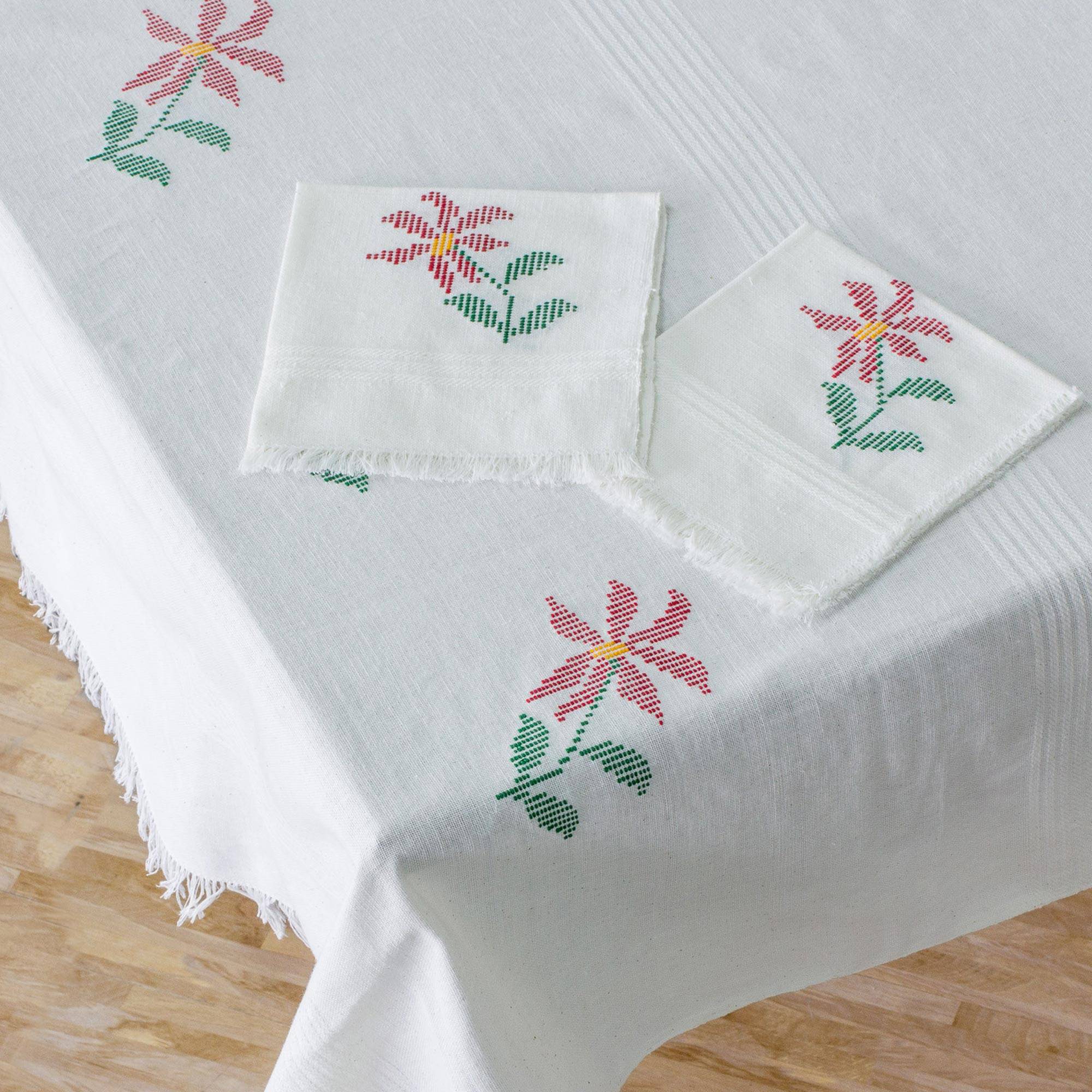 The artisan's sales bonanza ended when a multi-national company bought the Guatemalan supermarket chain.
"They only wanted things that sold quickly, and my table linens weren't something people purchase every day," Eladio tells us.
Eladio's weaving workshop survived because he was able to reach the international market. One of his grandsons discovered NOVICA and insisted that the artisan reach out to them. It's only in the international market that his weavings are appreciated for his effort and talent, and can be sold for what they're worth. Even so, Eladio continues working hard to maintain his workshop and preserve this ancestral tradition.
Eladio appears on the cover of the book "The Treadle Loom in Antigua Guatemala" (Ediciones Pensativo, 2018) written by Rosa Julia Chiroy. She wrote the book to help prevent the disappearance of the art her father has practiced for so long.
The artisan says he has also thought of returning to his former passion — teaching. He'd like to work in the schools that musician Ricardo Arjona opened in Guatemala.
"I always say I'm going to seek out the director and tell him what I know about mathematics and all the studies in education. I have been reading about the Montessori method. But then, I forget about it," he says with a smile.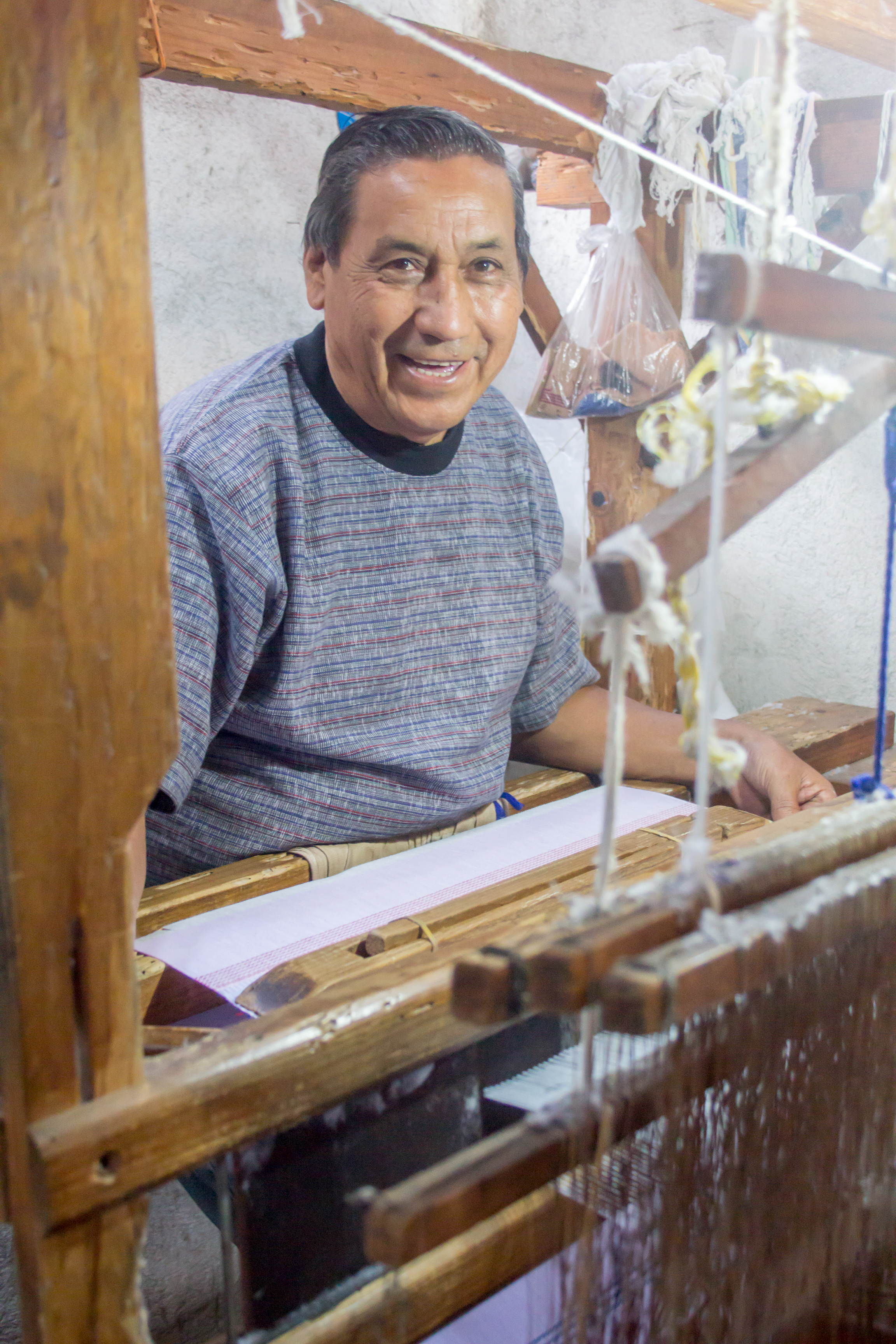 Until he decides on a change, Eladio will continue counting threads and working on the loom, or, in his own words, "I'll continue weaving until the day my eyes can no longer distinguish the colors."
Please visit Eladio's collection here: http://bit.ly/2T0cJTy