This week's Click List is devoted to providing more information about the various aid organizations that are on the ground in the Philippines, providing vital support amidst the devastation left by Typhoon Haiyan.  NOVICA Team members and artisans alike have close family ties to the Philippines, and we are keen to promote awareness for the ongoing aid effort, as the true scale of this disaster unfolds.
These are the latest facts and figures compiled by OCHA (The United Nations Office for the Coordination of Humanitarian Affairs) as from Nov 16 – which really illustrates the ongoing need for emergency aid and long term recovery assistance.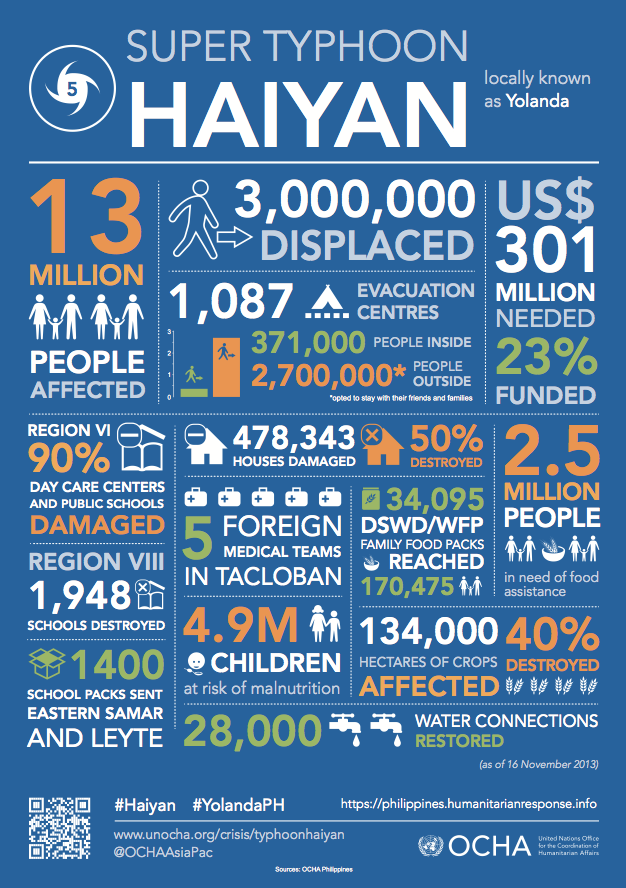 How can we help?
Here are some of the many organizations through which you can make a donation.
The UN estimate that 4.9million children are at risk of malnutrition, and Unicef is raising funds to deliver lifesaving medicines, clean water nutrition, and hygiene supplies to children and families in the Philippines.   Make a donation to Unicef.

Specialized emergency response teams from Red Cross societies across the globe are moving into the Philippines to assist the Philippine Red Cross. These include teams with expertise in logistics, disaster assessment, shelter, health, water and sanitation. Make a donation to The American Red Cross.

AmeriCares is a non-profit emergency response and global health organization. In times of epic disaster or daily struggle, they deliver medical and humanitarian aid to people in need worldwide.  AmeriCares aid has already reached some of the hardest-hit areas, including the city of Tacloban, and their relief team has supplied a military hospital in Cebu with aid for evacuees from Leyte and the island of Samar, where the typhoon made its catastrophic landfall. Make a donation to the AmeriCares Philippines relief fund. 

Architecture for Humanity provides development, design and construction services in response to natural disasters and conflict zones.  While they do not offer immediate aid in the few days after a disaster, their work is vital when it comes to the long term rebuilding process in affected communities, and better protecting them from future threats. With around 250,000 homes completely destroyed, the rebuilding process in the Philippines will need our ongoing support.  Make a donation to the Architecture for Humanity Philippines fund.
For the latest updates on this developing natural disaster, visit  OCHA (The United Nations Office for the Coordination of Humanitarian Affairs).
Rate this post:
[Total:

0

Average:

0

]