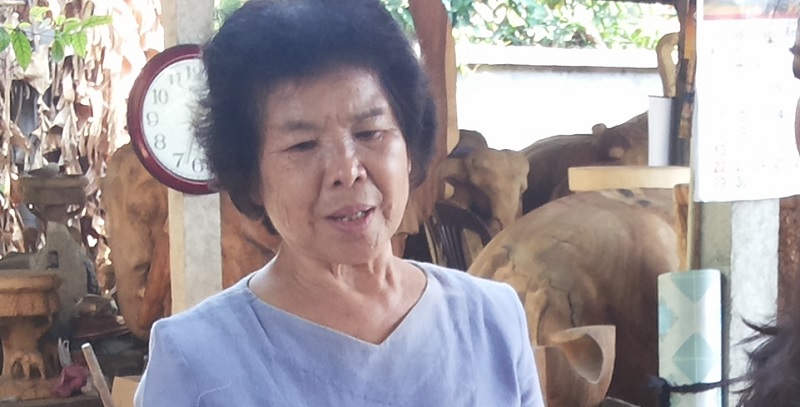 Nestled in the heart of "Lanna" (translated as "Land of a million rice fields'") lies a small village with an incredible display of nature, art, and passion. Entering the compound of Kiew Lae Noi Wood Carving Coordinating Center and Exhibition you are taken immediately into another world – the world of Thailand's "King of the Jungle" – elephants!
Owner, artist, wood-carver extraordinaire, Amporn, has a passion for her industry that is easily recognized.  Elephants – of all sizes, rest side-by-side as if standing at attention awaiting instructions from their creator and master.
Nestled among the eclectic assortment of elephants of all sizes and shapes, sit other artisans (mostly female) on bamboo mats carefully chipping away on projects in different phases of completion.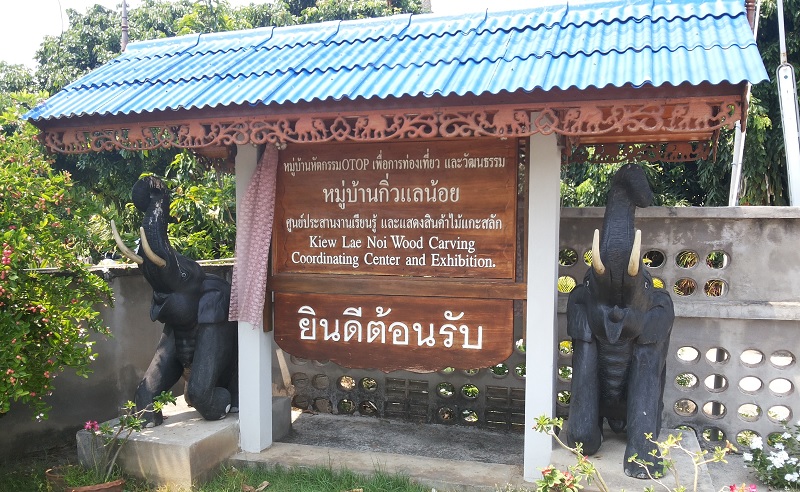 "Why so many elephants?" I ask Amporn, opening up our outdoor interview under a large banyan tree.
"Elephants are Thailand's national royal symbol and treasure, protected by the government, loved by the king and his people, and it happens to be our best seller," she answers.
Carved from Thai raintree wood (Mai-Cham-Cha,) the immense creatures take on a life of their own as each individual artisan carefully, gently, and skillfully pull these elegant beings from the depths of the wood. Gradually various poses and individual elephant characteristics take form, depending on the structure of the wood, its grain, and the overall size and shape of the wood medium.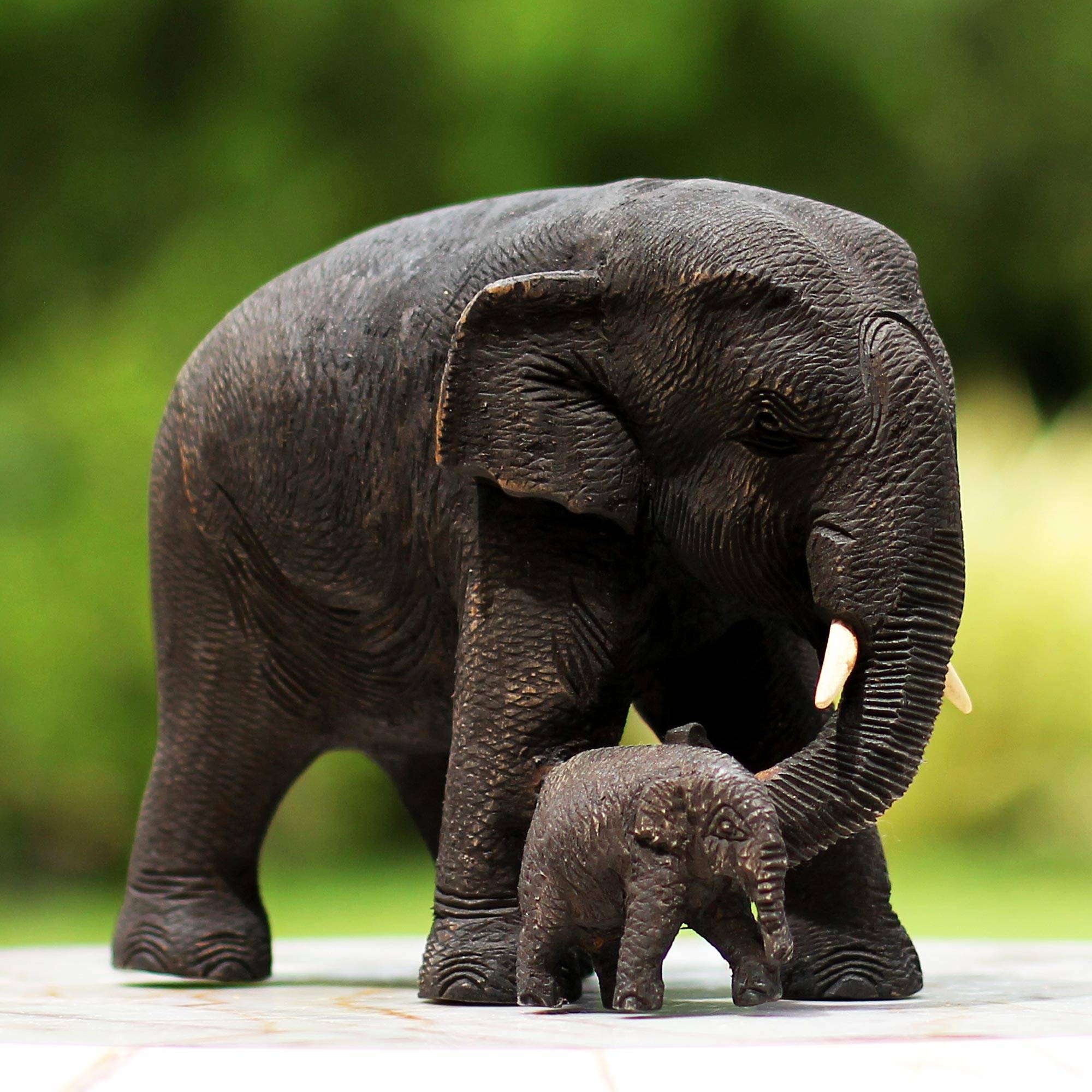 In the year B.E. 2498 (1955 in western years,) struggling to survive on five Thai baht per day (about 15 cents US,) Amporn worked in the local Tabasco Company plant. Since her village was agricultural, the choices for outside work were very scarce.  The local Paw-Gamnan (headman of the village) decided to introduce his skill of wood carving to a small group of young people, offering them six baht (about 18 cents US) per day. This simple act of wanting to improve the lifestyle of his village resulted in a skilled group of young people who over time have created an entire industry in their local community. Amporn was completely hooked after her first carving was completed and quickly purchased. This first generation of wood carvers and their skill and determination to build an industry survive to the present day.
"How does one learn the art and skill of wood carving?" I ask.
"Anyone can learn to master wood-carving skills, but real art is the result of passion and heart, and being able to visualize the finished product within the wood," she responds.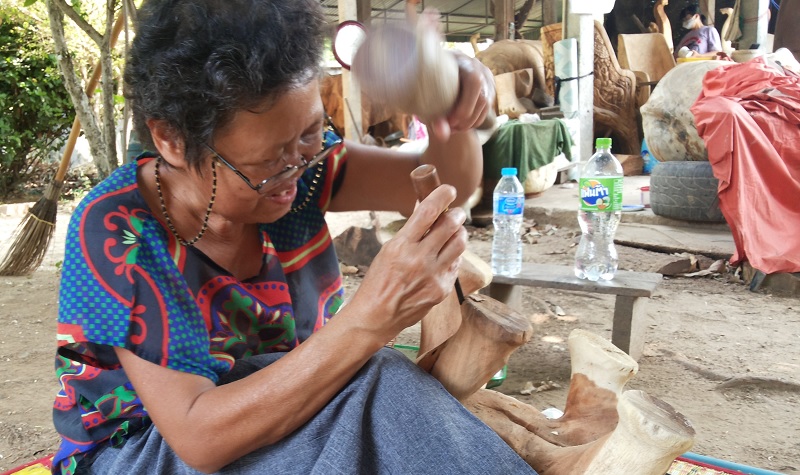 Over the years, the evolving Thai economy and trends in advancing sciences have drawn the attention of Thai youth away from developing artistic skills and entice them into modern technologies. 21st century youth are anxious to leave the village with its slower lifestyle and migrate to larger, more exciting city venues.
Facing a diminishing art and a narrowing pool of craftsman in this modern world is a challenge and Amporn accepts this challenge head-on.  Each week, Amporn and her fellow artisan carvers mentor young children in the local school to develop their artistic skills and abilities with woodcarving classes and projects. With hands-on projects and one-on-one mentoring, a small flame of interest can be fanned into a flame of passion, desire, and with time – skill and craftsmanship.
Curious, I continue in this line of thought. "In light of these challenges, is passing on your passion, skills, and abilities to a younger generation difficult?"
"No," she replies. "Kids learn fast! The younger generation brings in new skills, new technologies, and new creativity to an old art.  These children have good eyes, more tools, innovation and are not limited in what they want to do."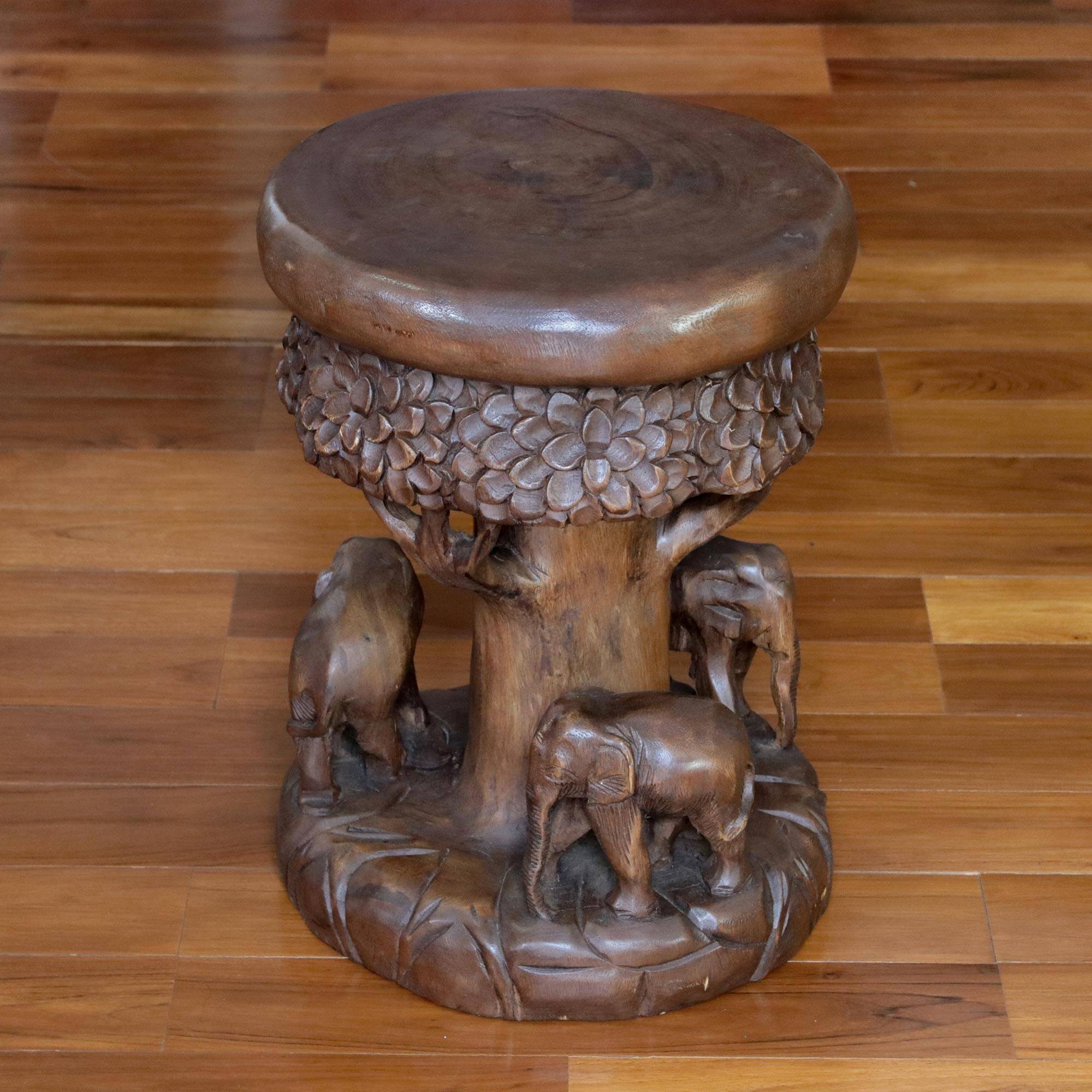 "Has partnering with NOVICA helped your business?" I query.
Brushing some stray hairs from her eyes she nods, "Chai laow! (Absolutely!) Before partnering with NOVICA our market was limited and localized. NOVICA opens new markets and exposure for our products.  We have a greater opportunity and access to marketing channels not previously available to our small village in northern Thailand. NOVICA's standard of quality helps our artisans put our products into the worldwide limelight while allowing us the freedom to set our own prices."
From my vantage point in the interview, I notice construction materials sitting among entangled strands of rebar rising from the ground 15 meters away. The new exhibition and sales hall will soon be done and rises as a witness to a passion for an ancient enterprise and a thankfulness for a modern relationship.
Waving goodbye and with calls of "Chok-dee!" (Good luck!) I return to modern reality, driving through gently waving fields of rice as the sun falls toward the western mountains.
Interview with Amporn conducted by Walter Nigh, August 2018.
NOVICA proudly invites you to explore Amporn's entire collection here.
Rate this post:
[Total:

0

Average:

0

]