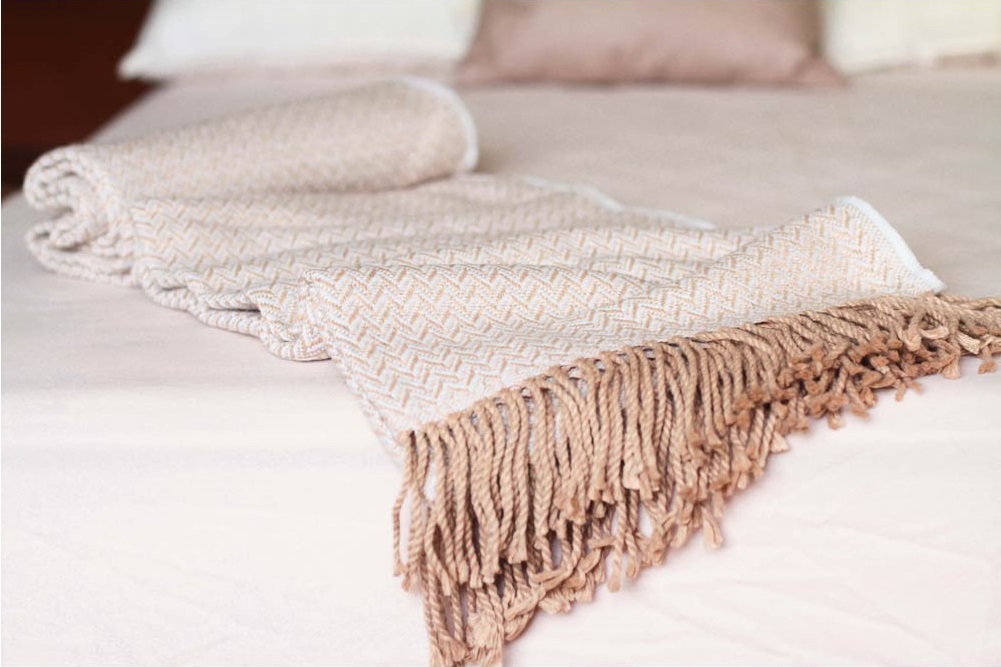 I don't know about you, but this holiday season has been terribly cold so far and as I consider my gifting options I have been keeping a particularly close eye on the warmest items that I can give this holiday season. Things like blankets, soft socks, candles, and hot chocolate that warm the body are my choice gifts this year.
I purchased the Alpaca Wool Blend Beige Throw Blanket designed by Peruvian artisan Jorge Priori. Immediately, I recognized the soft material of the throw.  Since this is made of alpaca wool, it's soft to the touch and on a cold winter night this is so nice to pull around your shoulders or over your legs to bundle up. I particularly like this throw on my couch because it's made of a light weight material so I don't feel as if I have such a heavy blanket out in the living room but it's warm enough so I feel it shuts away the chilly air that always manages to find it's way in.
It's also visually beautiful too. I wanted to purchase a throw that was large enough to work well as a blanket (and this is 72″ long by 53″ wide) yet not to be too obtrusive. I am happy with my color choice as well because the soft beige compliments my burgundy colored couch quite beautifully. There's such intricate detail to the design of the throw and the fine stitching gives it a special quality that makes it a perfect housewarming gift.
One of my favorite aspects of purchasing through Novica is you can read about the artist behind the gift. The artist Jorge Piori has been designing blankets, garments and accessories using alpaca wool since 2001 and I loved learning that using alpaca wool has changed his life. I wasn't surprised to read that alpaca wool is considered a luxury material either as this blanket is made with such great care and such fine materials. If you are seeking blankets to add to your living room, check out the blankets and throws made by these talented artisans.
Not to mention, take a look at these beautiful baskets that Novica has to offer if you need a place to carefully put your blanket throw (and maybe even a few throw pillows while you're at it).