This spring, an artisan who holds a special place in the hearts of co-founders Roberto Milk and Mina Olivera was featured by the Associated Press. His name is Johnny Chamba, and the story of how he became a NOVICA artisan is a good one.
In August 2014, Roberto and Mina were in Lima, Peru looking for the best, undiscovered Ekeko carver they could find. The Ekeko is a symbol of good fortune in Peru, and NOVICA had yet to feature this popular statue on the website.
In Lima, Ekekos are everywhere and vary widely in quality. Roberto and Mina were only interested in handcrafted wood Ekekos, and so they went to several local markets looking for one of exceptional quality. After squeezing out clues from a reluctant middleman, they figured out that a very talented Ekeko woodcarver lived in a dusty shanty-town about an hour outside of the city center.
Once Roberto and Mina arrived at the small village, they knocked on several doors, asking people if they knew who made this beautiful carving. Eventually, one resident recognized the Ekeko and pointed them to a home just down the block.
Johnny Chamba opened the door. Roberto and Mina held up the Ekeko they had bought at the local market and asked if he made it. Johnny proudly shook his head yes! After days of searching, Roberto and Mina had found the man behind the most beautiful Ekeko in all of Lima!
Johnny was suspicious at first; he thought that Roberto and Mina were more middlemen looking to take advantage of him. He told them that the middlemen who want to buy his work always try to cut the price lower and lower, leaving Johnny struggling to survive. He said his daughter is the center of his world, but he has trouble affording her schooling and cannot buy her new clothes or toys. He told Roberto and Mina that he takes great pride in carving such intricate details on his statues but gets disheartened sometimes by how little recognition and profit he gets.
Roberto and Mina quickly told him the simple way NOVICA works: the artisan sets the price. The artisan decides how many items to make and remains in complete control of his or her business. NOVICA checks for quality and gives advice if the artisan requests it.
Roberto and Mina then told Johnny that they loved his work so much, they wanted to go ahead and pre-order hundreds of dollars worth of his woodcarvings. Johnny was shocked and so happy, he cried.
Roberto and Mina were filled with emotions as they left.  Discovering living treasures like Johnny is their favorite part of NOVICA. Johnny's life is now changed! He will no longer be taken advantage of. Instead, he will be appreciated, celebrated and, in this case, even featured by the Associated Press!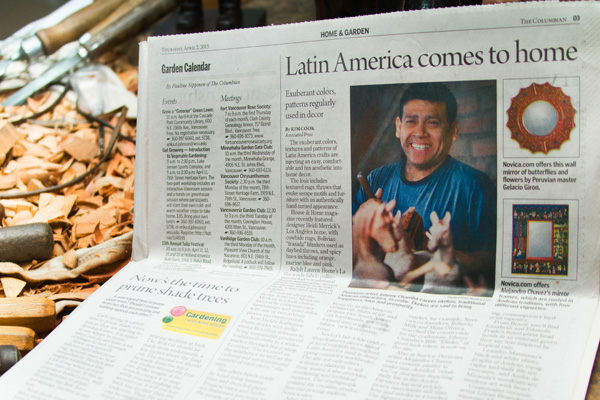 Thank you to all our customers who have bought Johnny's work. We are so proud to offer his amazing carvings. Know that each purchase makes a real difference in his life.
Rate this post:
[Total:

0

Average:

0

]