I love Nativity scenes. They call to me.  When I wanted to find a small one that I could keep on display all year long, I knew just where to look: Nativity Sets on Novica.
When I first discovered this amazingly beautiful, delicate, and superbly sculpted Nativity, I knew I had to have it. This small, simple, yet elegant, white stone sculpture reflects the innocence and purity at the very heart of the Holy Family.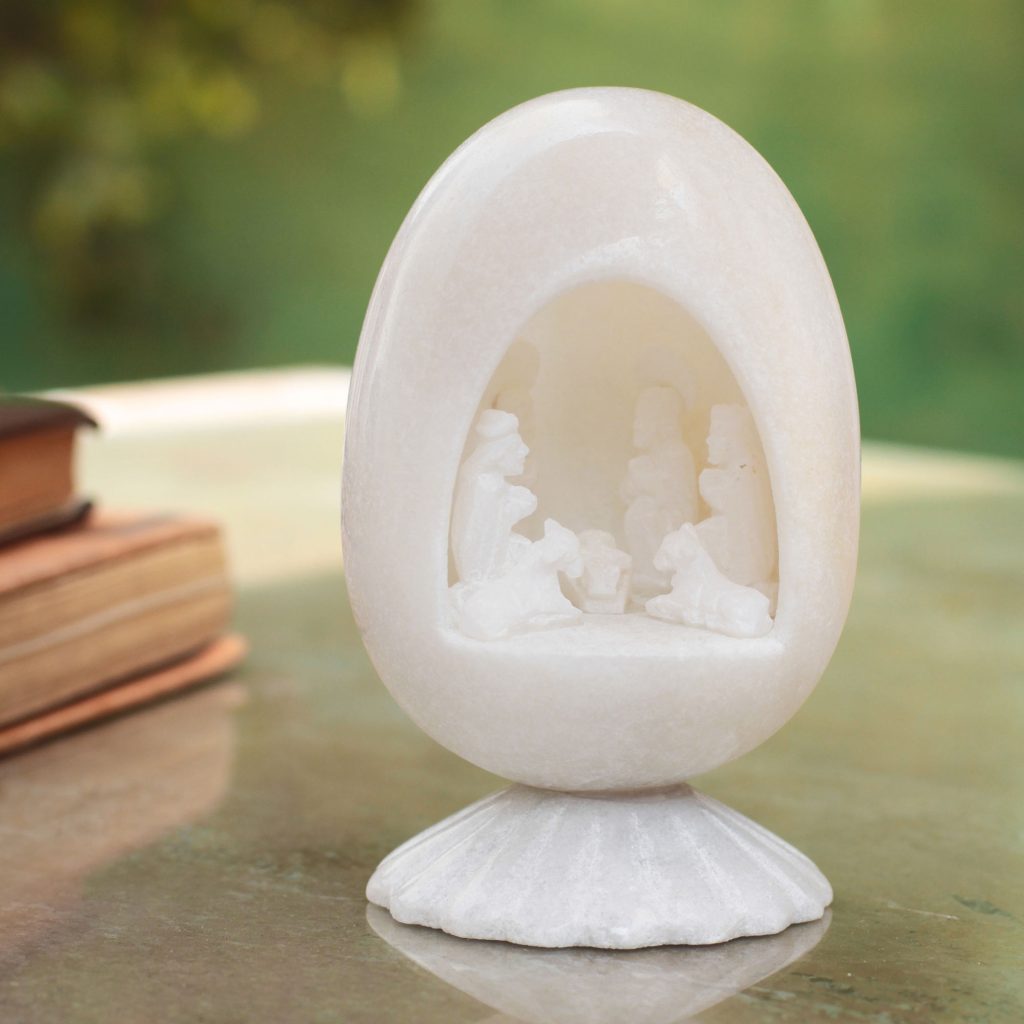 Egg-shaped to represent new life, the open sculpture features figurines of the Holy Family, Shepherd, Wise Men, Lamb, and Donkey. All are intricately carved inside the egg.  The base is carved with rays spreading out from the center to the edge. The open window of the sculpture allows us to look inside at new family as they silently reflect on the newborn King.
I keep the Nativity near me, on my desk, beside my rosary.  Each time I glance up, I see it.  It brings a smile to my face and peace to my heart.  It reminds me that I am never alone.
Juan Licas Coronado creates these beautiful sculptures from the delicate and fragile Huamanga Stone from the mines of central and southern Peru.  His other works include the Angel in Prayer, White Garden Jewelry Box, and nine-piece Birth in Huamanga Nativity sculpture.
Of course, as with most beautiful creations, one leads to another.  I have spent many happy hours gazing at the delightful Sculptures created by the talented artists featured here.Wood, Stone, Ceramic, Metals, Bronze, Glass, and more are crafted in to animals, religious-themes, abstracts, romance, music, folk art — any theme imaginable brought to life by the steady, sure hand of the sculptor.  It is a feast for the eyes.
For my daughters, I am always seeking unique pieces of wearable art in the form of hand-crafted Jewelry.   Jewelry is, in every sense, the most personal art. What one wears often defines that person's innermost self.  As a mother, I seek those special pieces that reflect my love and my respect for the two amazing young women that I love so dearly.
For Christmas this year, I gave my youngest daughter this hand-made silver Cross Pendant.
I am always so inspired by the treasures within Novica's pages.  There is something for everyone — imagination, curiosity, art, and design from every corner of the world.  It's all here!
Rate this post:
[Total:

0

Average:

0

]