When I saw the gorgeous gift box that the bracelet was tucked into, I knew it was going to be something special. The Moon Quadrants rose quartz bracelet is beautifully designed and crafted in timeless tradition. The quartz stone is quite large and very beautiful. The gemstone, with its gentle pink essence, is completely unique in color. It's accentuated with sterling silver and cultured pearls for an elegant and modern jewelry statement. Rose quartz is a stone of the heart, a crystal of unconditional love, and one of my favorites. The overall craftsmanship and attention to detail is wonderful. I'm over the moon with my purchase!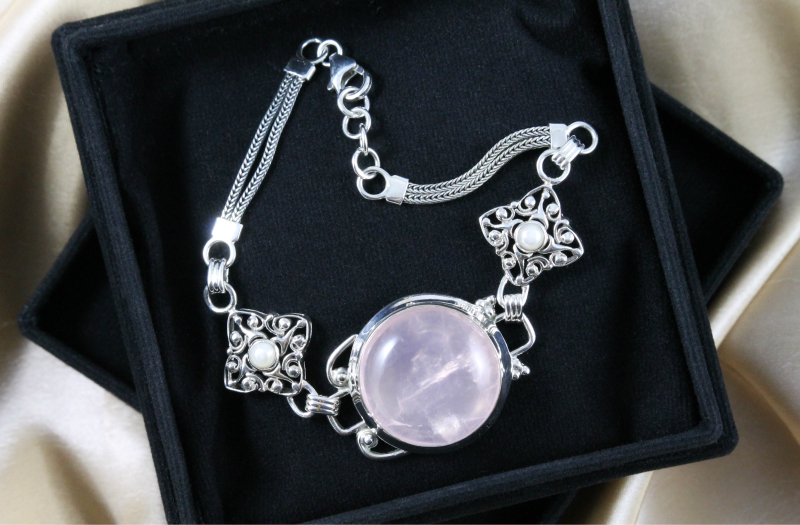 It only took one look to inspire me to purchase this stunning rose quartz bracelet. While browsing, I had a little jingle playing in the back of my mind: "Here comes Santa Claus, here comes Santa Claus/ right down Santa Claus Lane/ he's giving gifts from Novica – adorned with a candy cane." Yes – I was holiday shopping and this beautiful gem was sure to please. I like to purchase unique or handmade gifts for my family and friends at Christmas time and what better place to start! Did you know that Novica has the largest online collection of artisan-handcrafted jewelry and many items come with free gift packaging?
That is where I found Bhavesh, the jewelry craftsman behind the lovely bracelet. His ancestors were jewelers in the kingdom of Jaipur during ancient times. Since then, the tradition has been handed down from generation to generation. Bhavesh's designs feature precious stones along with gold and sterling silver, and were exhibited in Paris in 2003 and 2004 where he received an overwhelming response. I thought that was a great place to kick off my seasonal shopping.
There are so many wonderful pieces of handmade jewelry, but one in particular – another piece showcasing quartz, also grabbed my attention – the Star of Fire carnelian strand necklace (below). The translucent gems are a fiery orange-reddish color, and the sterling silver star adds a beautiful contrast. The color is perfect for fall and the upcoming holiday season. What a fabulous finishing touch when you're all decked out for a festive shindig! This elegant necklace is a must-have gift for myself!
FEATURED ITEMS:
Bracelet: Moon Quadrants Rose Quartz and Pearl Pendant Bracelet

Necklace: Star of Fire Carnelian Strand Necklace