All together now… reverse, reverse!
Often times in an artist's life, they can go through an experimental period in which they discover which mediums and techniques best suit their craft. One technique that is often overlooked, perhaps due to its rare and challenging nature, is reverse painting on glass.
Dating back to 18th century France, it is carried out by applying paint to a piece of glass and viewing the image by turning the glass over and looking through the glass at the image. Said to have helped shaped Italy's Renaissance art, reverse painting on glass is seen in numerous breathtaking masterpieces.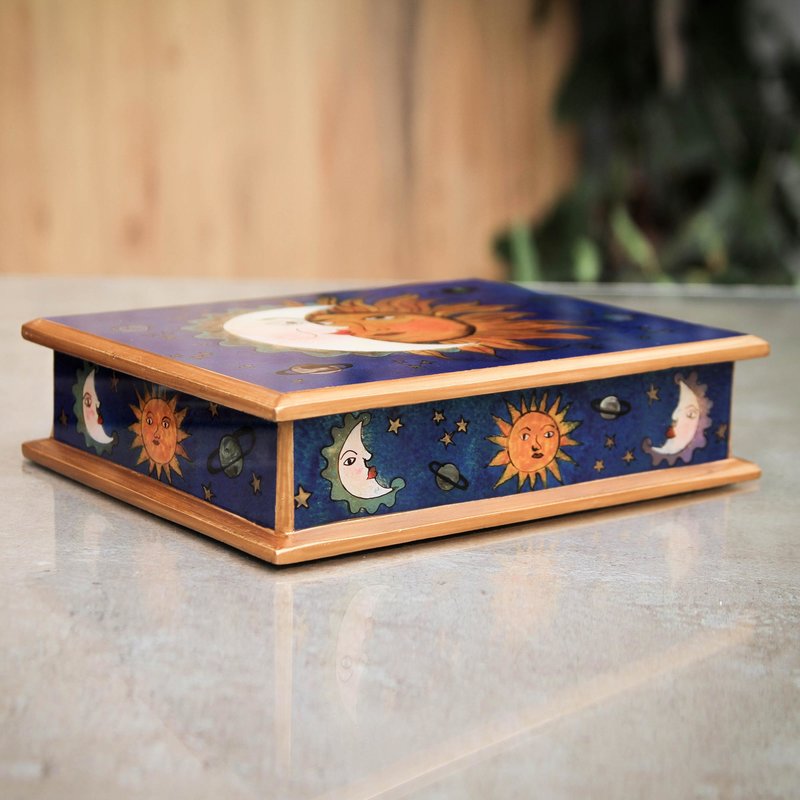 Eventually, reverse painted glass sailed overseas to the magical land of Peru, (merci beaucoup to the French.) Upon arrival, it secured itself as a staple in Cajamarca tradition. Due to the intricate details on most pieces, a dedicated artist with a patient mind is needed to master the form.
Three Peruvian artists that will 'wow' you with each their creations are Asunta Pelaez, Edmundo Contreras, and Gelacio Giron. Let's take a deeper look and see what each of these artists are workin' with!
Ladies first: Asunta Pelaez Ramos
Asunta Pelaez Ramos, a native to the Andes Mountains in Peru, has been dedicated to this art form since the tender age of  17… impressive! As mentioned, the process takes loads of practice and patience, both of which Pelaez Ramos exhibits with ease.  She says she "follows a meticulous process, carefully shaping the wood to give it a pleasing form."
The piece above boasts vibrant colors that will add a pop of happiness to whichever room it decorates! As well as being put to use in the traditional manner as a serving tray, it is perfect to hold your favorite candles or display your perfume bottle collection.
For her mirror pieces, Pelaez Ramos cuts the glass and outlines her intended design on the surface with India ink. The next step consists of filling the outline with beautiful Cajamarca patterns using paints and gilt. And the final step? She glues the glass to the wood and applies a rich golden paint to the borders of the frame. Voila! That is how the magic happens.
Next up: Edmundo Contreras
Born in Apurimac, Edmundo Contreras has a style that is known as the andahuaylino (Andahuaylas) style.
Contrary to other reverse painted glass artists, Contreras uses painted glass and crackled finishes in a way that is a cross between traditional and modern. His motifs range from "the pre-Hispanic, colonial, and ethnic to the beauty and culture of the Andean world and its wildlife."

From coasters to mirrors, Contreras covers all home décor bases, as seen below.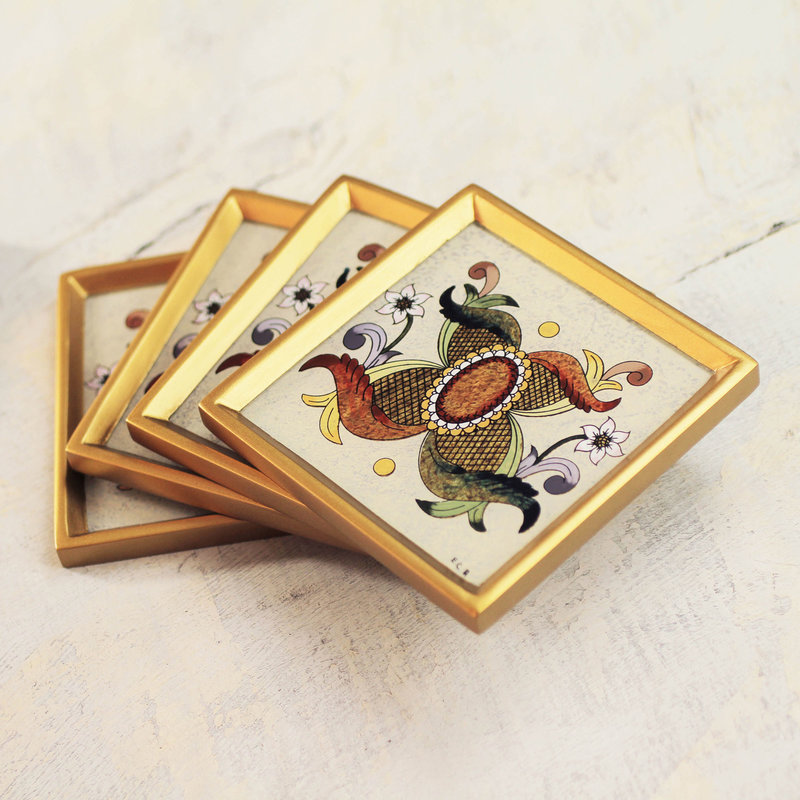 These gold coasters will surely be a hit at your next dinner party. Cheers to that!
Mirror, mirror on the wall, who is the fairest of them all? You, of course!
Last but not least: Gelacio Girón
The most seasoned artist of this bunch, Gelacio Girón has been serving up beautiful reverse painted glass pieces for decades. Girón said, "I feel very contented when I think of how my work is appreciated in people's homes both inside and outside Peru. I share this happiness with my family." It's easy to understand why people choose to adorn their homes with his pieces, all of which have a special personality of their own.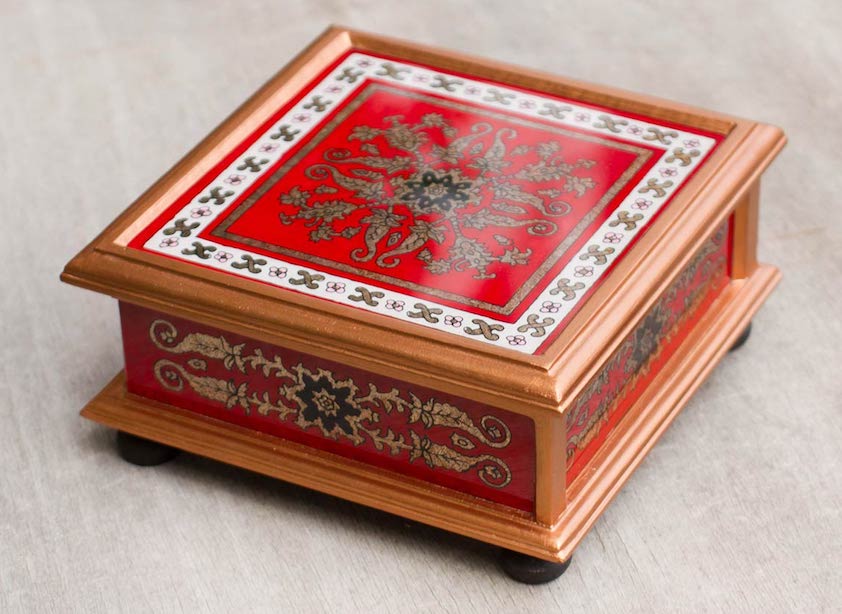 Store all of your most cherished jewels in this pretty little treasure box!
There is something very glamorous about a handheld mirror. The old Hollywood feel of the mirror itself mixed with the Peruvian motifs will have you gazing at yourself all day… we can't blame you for that.
Hopefully, I don't speak for myself when I say that I learned a whole lot about reverse painted glass. Although I've seen the technique in action before, I never took into consideration all the hard work and pure talent needed for proper execution.  The list of insanely talented artisans (and their creations) go on so why stop here? Check them out on our site and prepare to be mesmerized by the beauty that is reverse painted glass.