Of all hill-tribes located in northern Thailand, the Akha are the most notably expressive and flamboyant with their traditional wardrobe. Tightly woven black and dark blue cotton are garnished with beads, hammered silver medallions, buttons, and coins with tribal inscriptions and designs. Women adorn their heads with lavish head-pieces denoting hill-tribe associations, family crests, and colorful, artistic flair. Beads, bells, and baubles dangle from woven necklaces, hemlines, seams of long sleeves, and cuffs – an ostentatious display of bling-bling unmatched by other Thai tribal groups.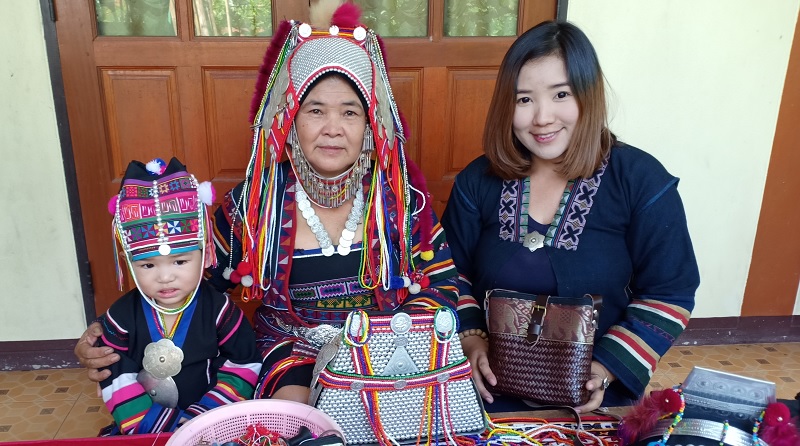 Tikaporn, a delightful conversationalist and very pregnant (7 months) is one of NOVICA's Chiangmai artisans. She joins me at a trendy coffee shop around the corner from her production center for her bustling business. In Asian custom, her production center is also the home of her parents. She is dressed in a toned-down version of her Akha fashion and is accompanied by her daughter, SeeSun, whose name is also the name of Tikaporn's business.
"How do you balance care for your 2-year-old daughter, being an expectant mother, and running your business?" I ask, sipping on my iced cappuccino coffee.
"I am fortunate to have very supportive parents, who understand the pressures of child-raising and overseeing a product-based business. As a close family, they willingly step in, help with management, production, and make deliveries. My husband, a teacher, helps by lifting boxes for me and running errands in his spare time."
Heritage is huge among the Akha, and Tikaporns' family element is no different. With an enterprising father; market-wise artisan and street vendor, and her charming and hospitable mother, Tikaporn incorporates these elements into her management, oversight, and artistic control of all her products.
Tikaporns parents, veteran vendors at Bangkok's famous Chatuchak market, sold a variety of generic, woven-bamboo items. When the family moved to Chiangmai, sedge was discovered to be a much better weaving medium, softer, and more malleable. Therefore, their product line was increased to include upscale bags and handbags. Adding their hill-tribe Akha signature and artistic design has made them a best seller.
Moving into the leadership and management role of the family business was a smooth transition for Tikaporn as her father wanted to slow down and retire. Her artistic talents and management skills have forged a solid niche in local and international markets.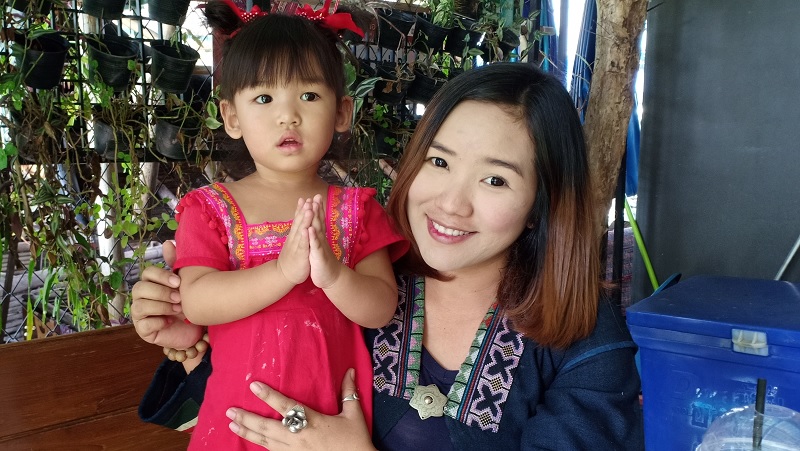 Handbags; artistically created with Akha intrinsic colors and designs, along with colorful, animal ornaments are Tikaporn's mainstay products presented by NOVICA. Each product is skillfully handmade by Akha workers, eager and willing to preserve and improve their tribal lifestyle.
"In sourcing the base elements for your products are you challenged in any way?"
"Not at all! The fundamental element in our bags is Krajute, or sedge. Our sedge comes from southern Thailand where it grows very prolifically and is readily available.  The remaining elements of our products are sourced here locally."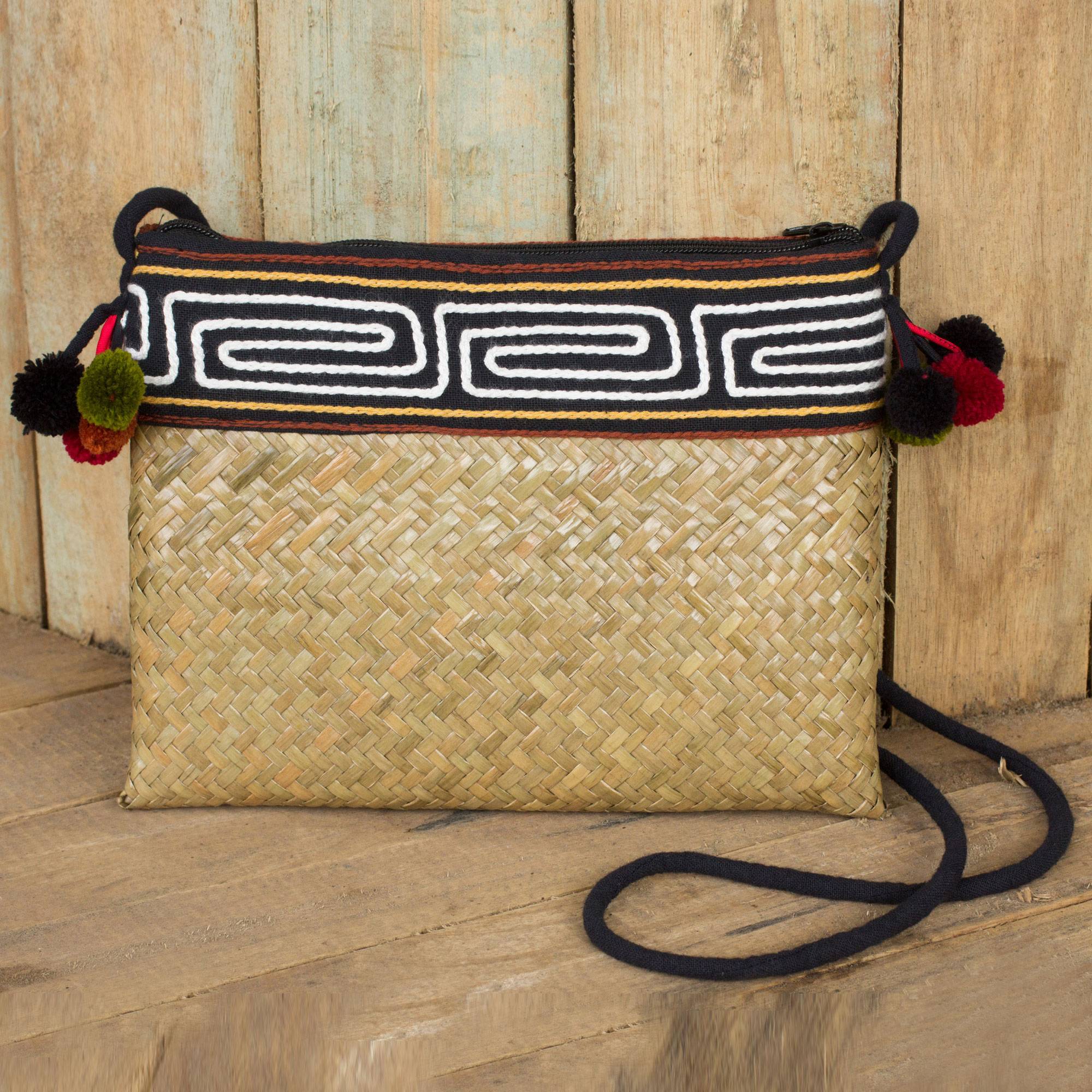 I continue by asking, "These days young people leave their hill-tribe villages, move to the big cities, seeking more modern employment and adventure. Is it difficult to find young Akha ladies and men to help in your business?"
"Finding qualified assistants to help with our hand-sewing, embroidery, lining and other production skills is no problem. Among the Akha, I find lots of young, willing helpers, eager to work and learn a new skill. Yes, many leave, but are retaining their identity and tribal culture."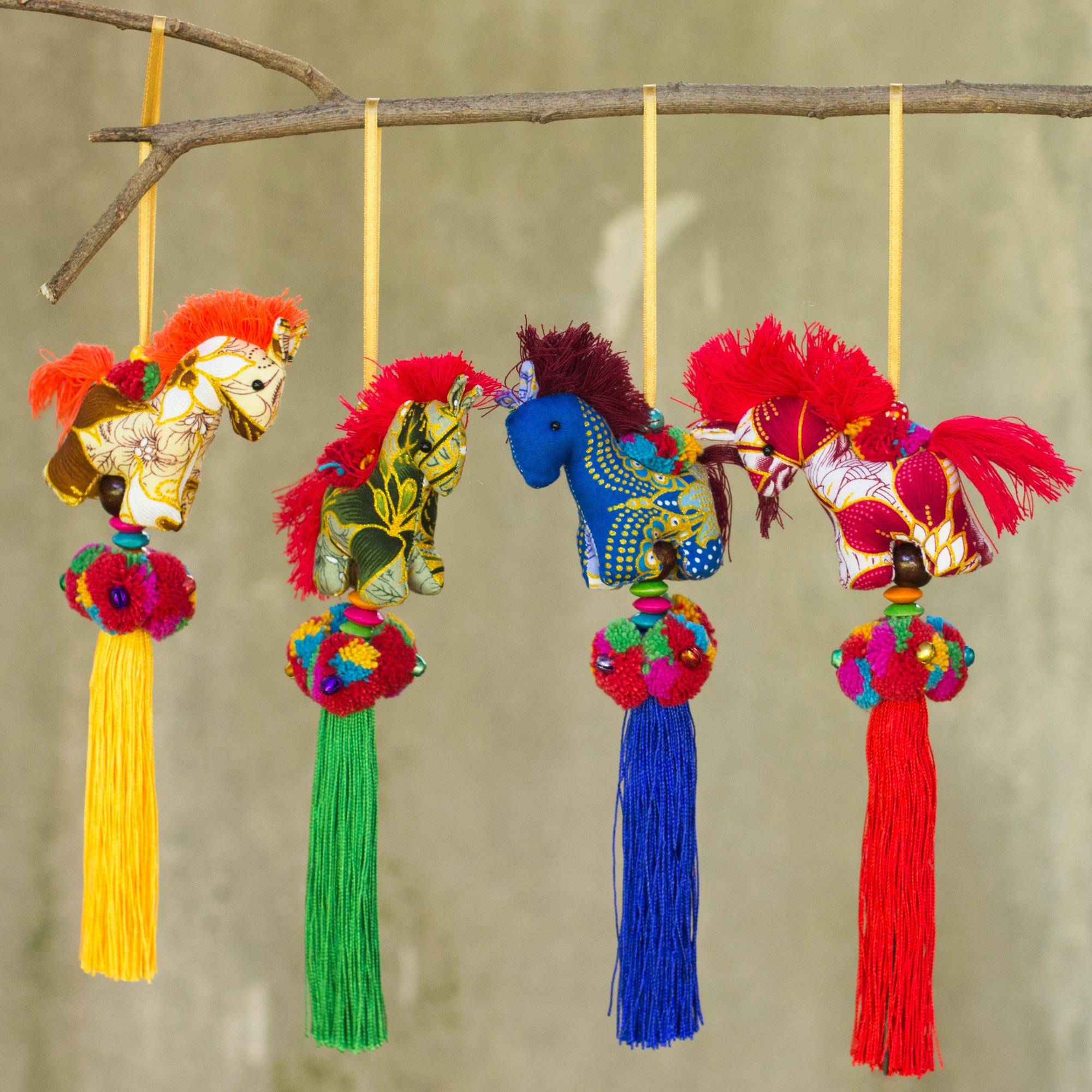 Tikaporn muses on her initial shyness of wearing traditional Akha wear in public.  However, today it has become quite "haute couture" among her own people. In years past, Akha women were bashful and reserved about wearing their ornate and dazzling ensembles outside their communities. Now they are worn with pride and with the awareness of the distinctiveness of their hill-tribe fashion and culture.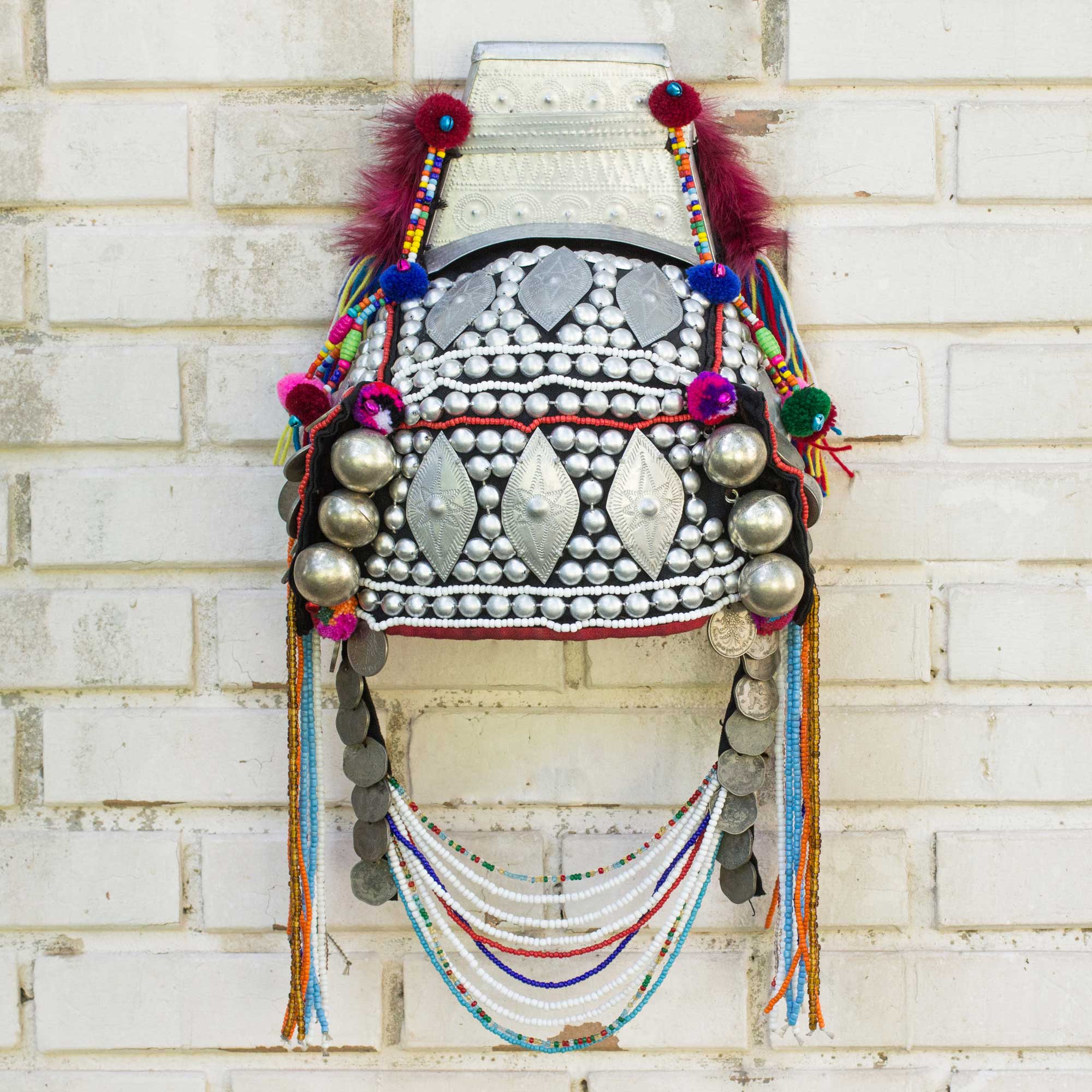 Recently, with support and direction from NOVICA, Thikaporn is working to expand her ornament product line.  The new ornament designs will be an exclusive NOVICA product and marketed in this manner.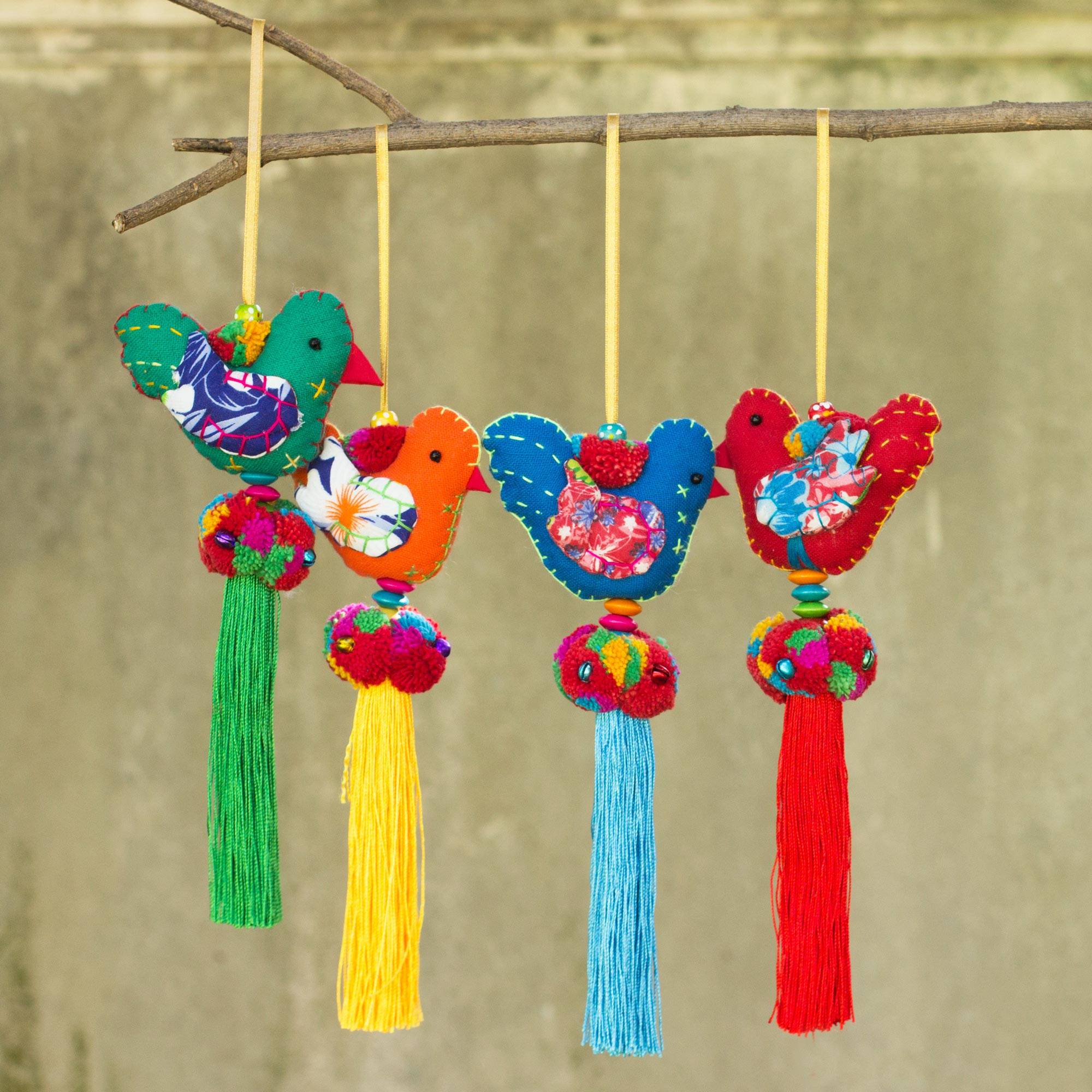 This is not a hobby to her! This is life, perpetuation, and the essence of existence; for her parents, herself and her husband, daughter, and her soon-coming baby.
From my vantage point, mother, daughter, and granddaughter have all formed a bond of love and entrepreneurialism in preserving Akha culture, fashion, and artistic design.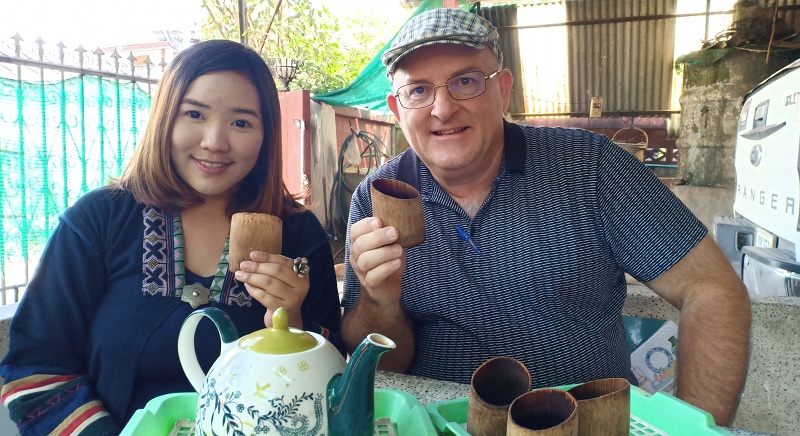 I close out our engaging conversation, "What would you like people around the world to know about you, your product, or your Akha heritage?"
"Be yourself, don't change!  Preserve your culture and traditions for the next generation – it's unique!  Don't be shy about who you are and what you possess. I am proud of who I am and the products I produce for the world market. If you are Akha and have lost your identity, come back! Be proud of who you are and who you are meant to be."
Well said!
NOVICA provides Tikaporn, a 7-year NOVICA veteran, not only an outlet for marketing and sales of her products but also a means of expression and a platform for under-girding the cultures of disappearing tribal entities and individualism.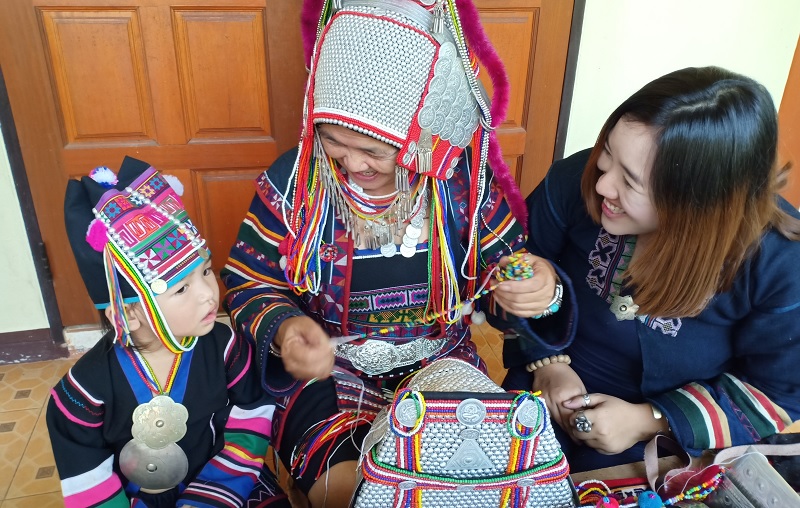 We are proud to present Tikaporn's full collection here.
Interview with Tikaporn conducted by Walter Nigh. September 2018
Rate this post:
[Total:

0

Average:

0

]