With their furniture damaged by floodwaters, their workshop in shambles, and their silver and jade lost to the storm, this husband and wife team of jewelry makers vowed to transform their fortunes.
As Gilda Perez remembers it, Ruben was sitting on their ruined sofa when he said it: "The credit card has a life insurance clause," he told her. "That money will help you get ahead with the children."
A 2005 tropical storm had upended their lives, and in those initial days of shock, dismay, and fear, Ruben saw no clear path out of the destruction.
They had already worked so hard to build a life for themselves, enduring significant hardships along the way. Gilda remembers their early struggles, years before the hurricane decimated their community.
Ruben would toil for long hours, following in the footsteps of his father, as he crafted silver jewelry. Gilda would undertake serious risk as she rode the bus into the city each day to sell his goods, hoping she wouldn't be robbed along the way.
Through their tenacity, they managed to build a life together, and items that once seemed like luxuries were suddenly within reach. They purchased diapers for their children. They invested in a workshop. They bought a fridge, a stove, a sofa.
It was on that very sofa that Ruben offered to take his own life to financially support his wife and children. But Gilda responded with a declaration that continues to shape their lives.
"Just as we'd made it once, we'd do it twice and more, if it became necessary." Gilda makes sure to add, "At the first opportunity, I threw that sofa in the garbage."
Ruben then taught Gilda how to work with gemstones. He showed her how to transform their rough edges into a vibrant shine. They developed a new rhythm to their lives.
Ruben would carve jade and forge silver all day in the workshop while Gilda cared for their young children. Then they would swap roles. When the children went to sleep, she would sneak off to the workshop to polish the stones that Ruben had carved earlier in the day.
In 2012, the couple met NOVICA, and their dream shifted. Their goal was no longer survival. Although the memory of the hurricane still haunted them, they envisioned a very different kind of future for themselves.
"We learned to dream in a bigger way," Gilda said.
NOVICA has worked to support them in their many successful forays into the microfinancing world.
Each loan represents a step forward in their lives. They are now able to purchase better materials and build out their workshop. With each loan repaid, they teach us a lesson in the value of microfinancing.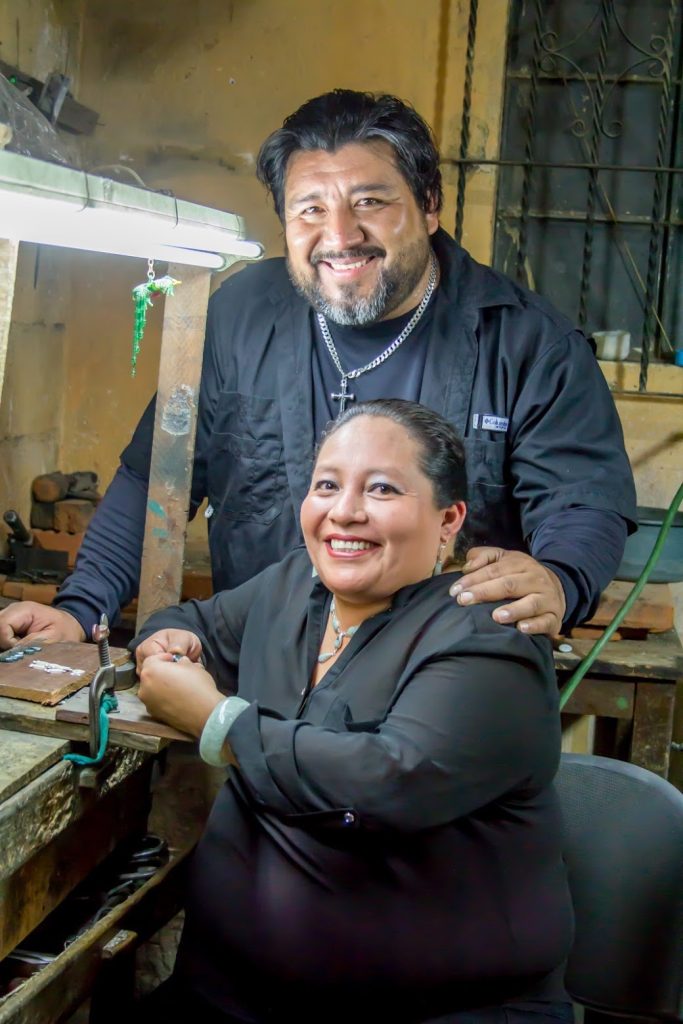 Most importantly, they improve their lives in the process.
Rate this post:
[Total:

1

Average:

5

]