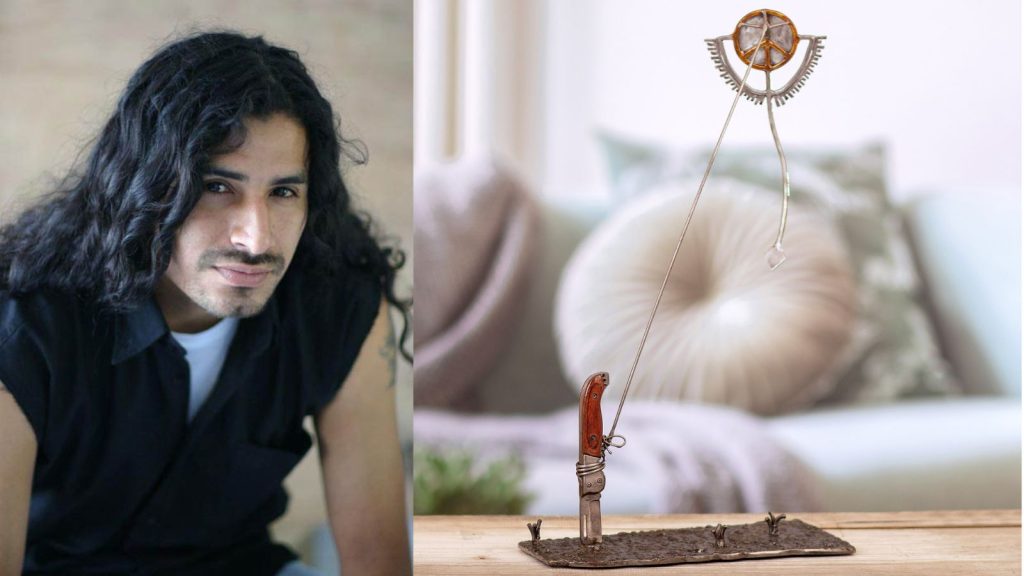 How Peruvian artisan Miguel Mejia reshaped a violent robbery into an inspiring message of world peace
Peruvian sculptor Miguel Mejia recently shared a dramatic and inspiring story. He was shopping for art materials in Lima, Peru when a man attempted to rob him at knifepoint. Despite the dangerous nature of the situation, Miguel attempted to talk with the stranger, initiating a long discussion about life and its struggles, and Miguel even offered to take his attacker to lunch nearby. The attacker accepted, and the crisis de-escalated. After lunch, when the men parted ways, Miguel purchased the man's weapon from him.
After returning home from such a unique experience, Miguel was inspired to create a sculpture incorporating that same weapon, with a "disarmament kite" rising from it, expressing the artist's profound message of forgiveness, peace and empathy.
This fascinating sculpture conveys the artist's powerful convictions. He explains: "Leave our arms aside, disarm ourselves, give up our weapons, and melt them down to use them in projects for positive development, to create a better style of life that is sustainable. Stop the destruction between people. This sculpture projects a knife that can serve to hold and lift up a kite. It incorporates the symbol of nuclear disarmament, representing peace.
"This sculpture is based on a reflection of life that is very important to me," the artist continues, "Having lived in a country where it is very easy to see violence, it opens my eyes and gives me clarity on the path that I want to follow and teach as I walk through life. Between human beings, we can shake hands for collective growth as a society and illuminate our path towards peace, without violence and with respect for everything around us."
Inspired, we wanted to know more:
Q: Miguel, will you please share more details with us?
A: The robbery occurred in August 2022. It happened very fast. I was walking through an area where they sell secondhand products, in the district of La Victoria, in Lima, an area called 'La Cachina,' which is known to be a dangerous area. When I approached some street vendors, I didn't know the robber had approached me until I had the knife in my neck and heard him say: "You've already lost." It took me about five minutes to convince him not to steal from me.
Q: How did you convince him?
A: I had an experience myself a few years ago, when the prosecutor's office, by mistake, put me in jail. Thank God I was able to prove my innocence. But nonetheless, I was forced to live the experience of being in jail, which led me to know the way of speaking, and the lexicon of that world. Although fearful, I talked with the knife attacker, who with harsh words answered me, saying that he was hungry. That is when I told him: "I'll take you for lunch then." We went for Peruvian chicken.
Q: At what point did you feel the situation de-escalate?
A: The first thing I did was to tell him that I've lived the experience of being in jail and that it is not a good experience. I used the attacker's dialect. Perhaps, feeling identified, he lowered his attitude. I do not want to say that this method can always work. In this case, he told me that his brother is in jail.
Q: Did he take anything from you?
A: He didn't steal from me in the end.
Q: What made you think of purchasing the man's knife?
A: Everything happened so fast that I didn't have time to realize what I was living through. When we were having lunch, the idea came to my mind that this person with whom I am eating could have killed me a few minutes ago. But thank God I managed to convince him to lower his knife. When I realized that, I felt that I was alive. That I had a new opportunity to live. I felt at Peace.
All those thoughts were running through my head when I remembered the World Peace Project. Everything we are collectively living through was represented in that knife. I was scared but glad I managed to handle the situation.
Rate this post:
[Total:

1

Average:

5

]