Let's make history
Being chic and comfortable are two concepts that historically, rarely coincided. Let's take a look at Victorian age Europe, circa the sixteenth-century, for example. Around this time, corsets made their debut on the scene and ouch, do they look uncomfortable. At the time, however, they were revered as feminine and beautiful despite the pain women endured as a result. Another example that we modern-day women can more closely relate to are high heels. Granted, a good pair of stilettos can make you feel like a million bucks but your feet are [usually] screaming by the end of the night.
With all of this being said, we move along to the main point: you can be stylish and comfortable. "What do you mean?" you ask? Well, thankfully we've reached a point where we don't have to abide by societal norms- you can be a  jet-setting trendsetter while being comfy cozy in your seat. "Tell us more!" you say? Of course! NOVICA has a copious amount of pleasant pieces you'll never embark on an airplane journey without again (hint: more modal and shawls, shawls, shawls.)
Mo' modal, no mo' problems
If modal is a foreign textile to you, you can thank me later.  Modal is a type of rayon; a semi-synthetic cellulose fiber that can be used alone or with other fibers like cotton or spandex. Long story short, it is one of the most comfortable fabrics out there. (For real!) It is the perfect option for your traveling outfit. It's easy to move in, flows nicely on every body type, and goes with everything. Whether you wear a modal top, bottom, or both– it's the way to go.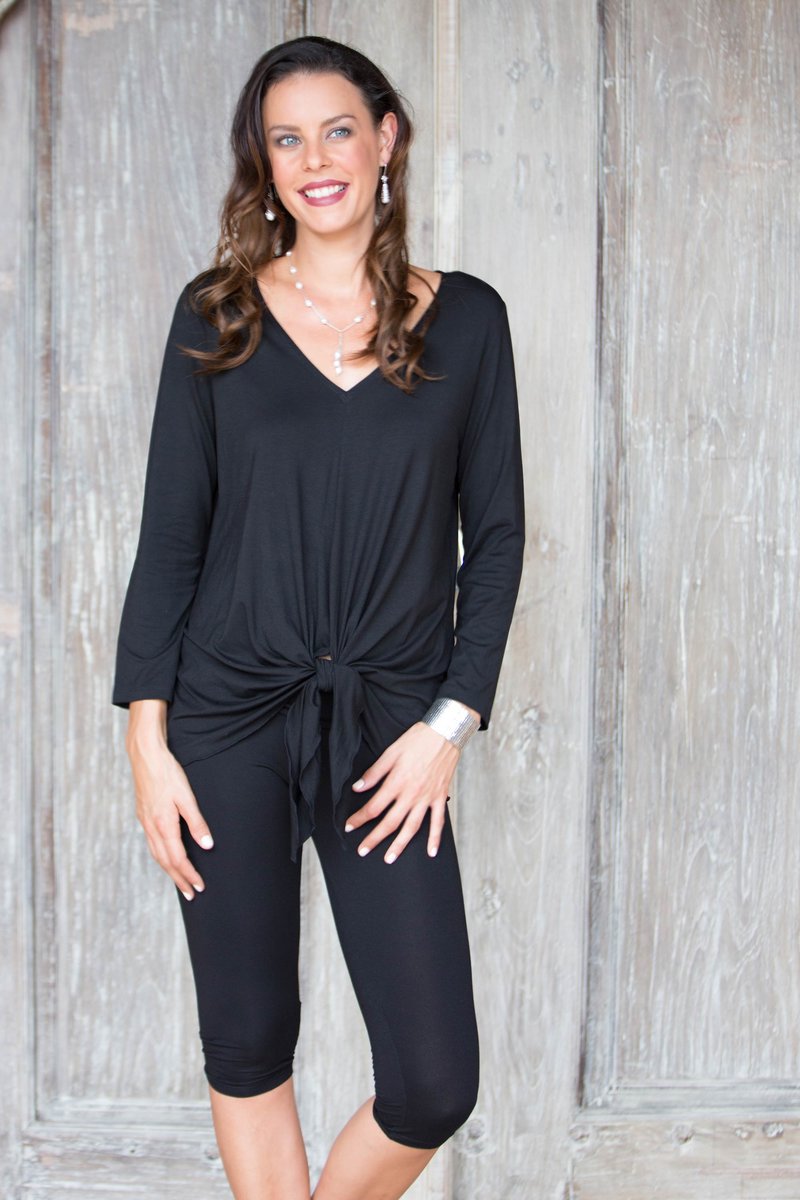 The leggings above are the staple piece you never knew you needed. Soft as can be and totally versatile- the best traveling buddy around.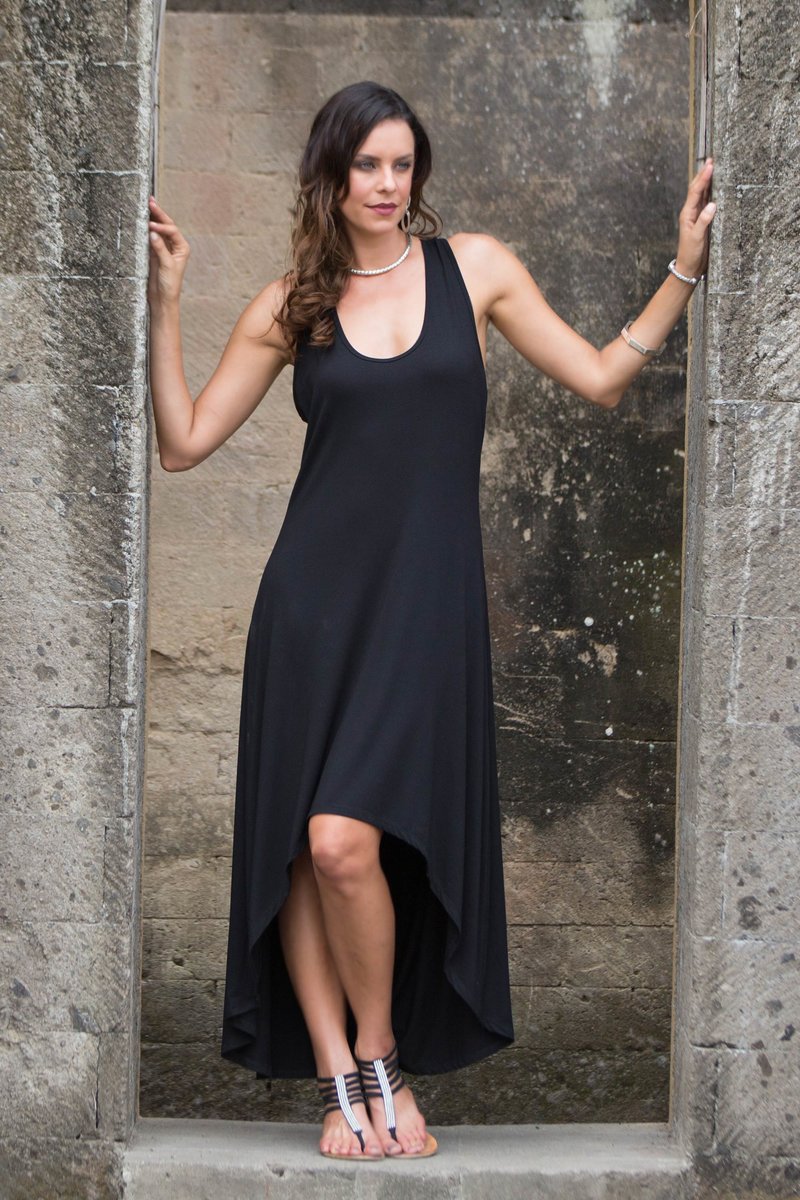 In my opinion, dresses are always a good idea, especially if you're traveling and inevitably confined to a small space. Whether you're on a  train, plane, or automobile, the modal dress above is your ticket to cool casual comfort. You can dress it up easily with a statement necklace and go for a more laid-back look by wearing it as is.
Shawls- they're a sure thing
During flights (or car rides) the AC is usually blasting, so it's smart to think ahead and pack a little extra warmth in your carry-on. Shawls are the simple solution to airplane chills. Not only are they toasty but they make every outfit look a little sleeker. There are countless ways to style shawls and depending on where your final destination is, you can go with a snug alpaca or wool number or a silk or cotton shawl, which are more airy alternatives.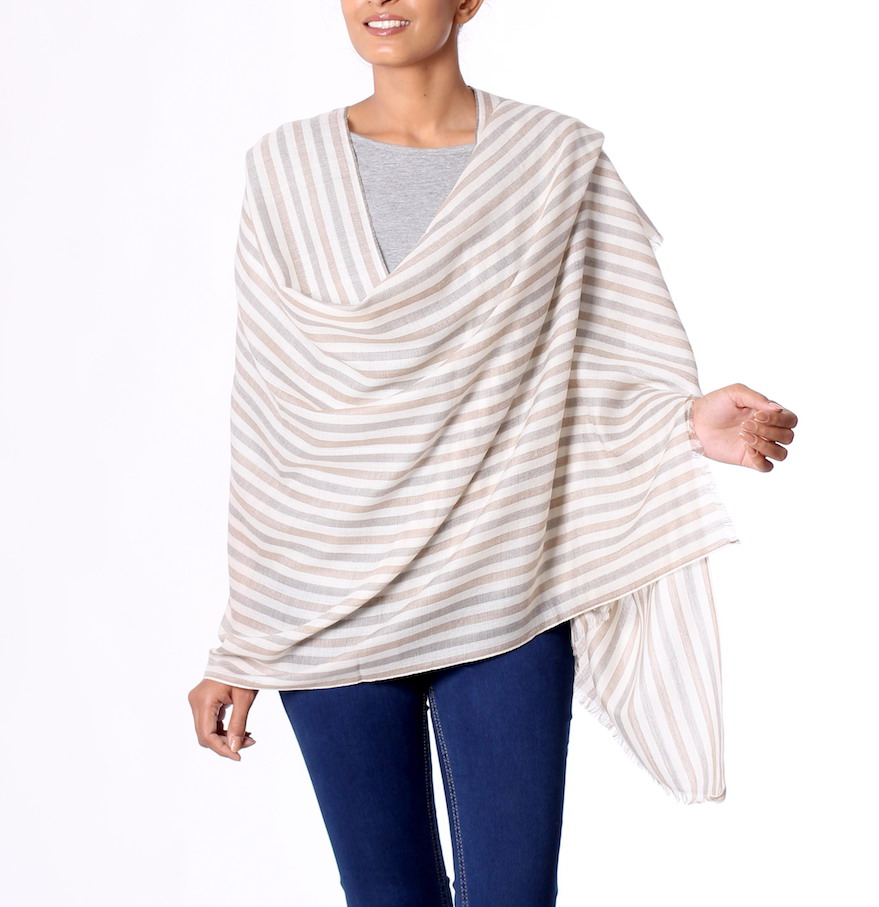 I don't know about you, but I am a solid believer that stripes are always the answer. The wool shawl above is a neutral no-fuss piece that you can throw on with any outfit to complete your airport look.
The cotton and silk shawl above is not only stunning, it also provides just the right amount of statement without being overwhelming. You might get bumped up to VIP if you work this beaut into your ensemble!
Time for take-off!
Although the pieces above are only the tip of the iceberg in terms of what NOVICA's women's clothing has to offer, they're making me want to pack my bags! Shawls and modal are two options that will make your travels easier and much more pleasant. Soft and super breathable, your fellow mile-high friends will be begging to know where you scored your outfit! Au revoir for now, time for me to book my next trip.
Rate this post:
[Total:

0

Average:

0

]