Mirrors are a great way to decorate the home. Not only do they serve a functional purpose, but also there are so many decorative varieties, that they can be displayed as art as well. There are endless ways to decorate with mirrors, but let's look at three popular ways that you can style to your unique taste.
Use a statement mirror
A statement mirror is a large mirror that is the primary decorative element of a space; a mirror important enough to garnish the attention of that design space. This can be a floor to ceiling mirror, a four foot or taller mirror that is set on the floor and leans onto the wall behind it, or a unique mirror that design-wise stands all on its own, such as a mirror with a distinctive texture or shape.
An example of this is the 'Andean Moon' mirror, a notable round wall mirror with hand tooled leather with a distinctive three-dimensional element. This type of piece makes its own statement and does not require another embellishment to that area of the room.
Create a gallery of small decorative mirrors
A gallery of mirrors is a grouping of mirrors placed similarly to a gallery of picture frames on a wall. Different shapes and sizes of the same theme can be grouped into odd numbers of three, five, seven, nine or eleven. A theme could be that they all have frames of the same color or are all framed with the same type of material such as tiles, metals, or mosaics.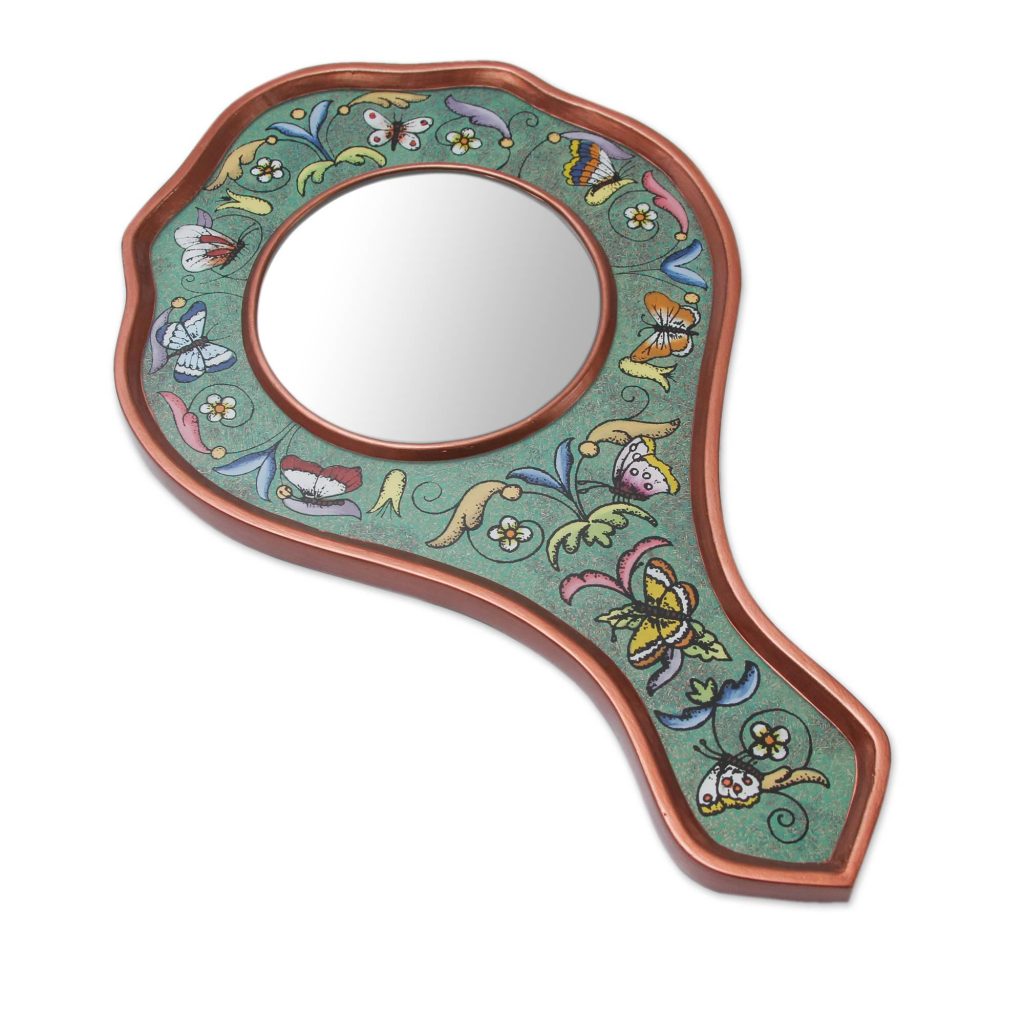 A gallery can be created with a thematic grouping, such as a collection of hand mirrors, like this aqua floral hand mirror, 'Aqua Butterflies" arranged with others of its type. This can also be done with mirrors of the same shape and design but in different colors or textures, like these reverse hand painted mirrors.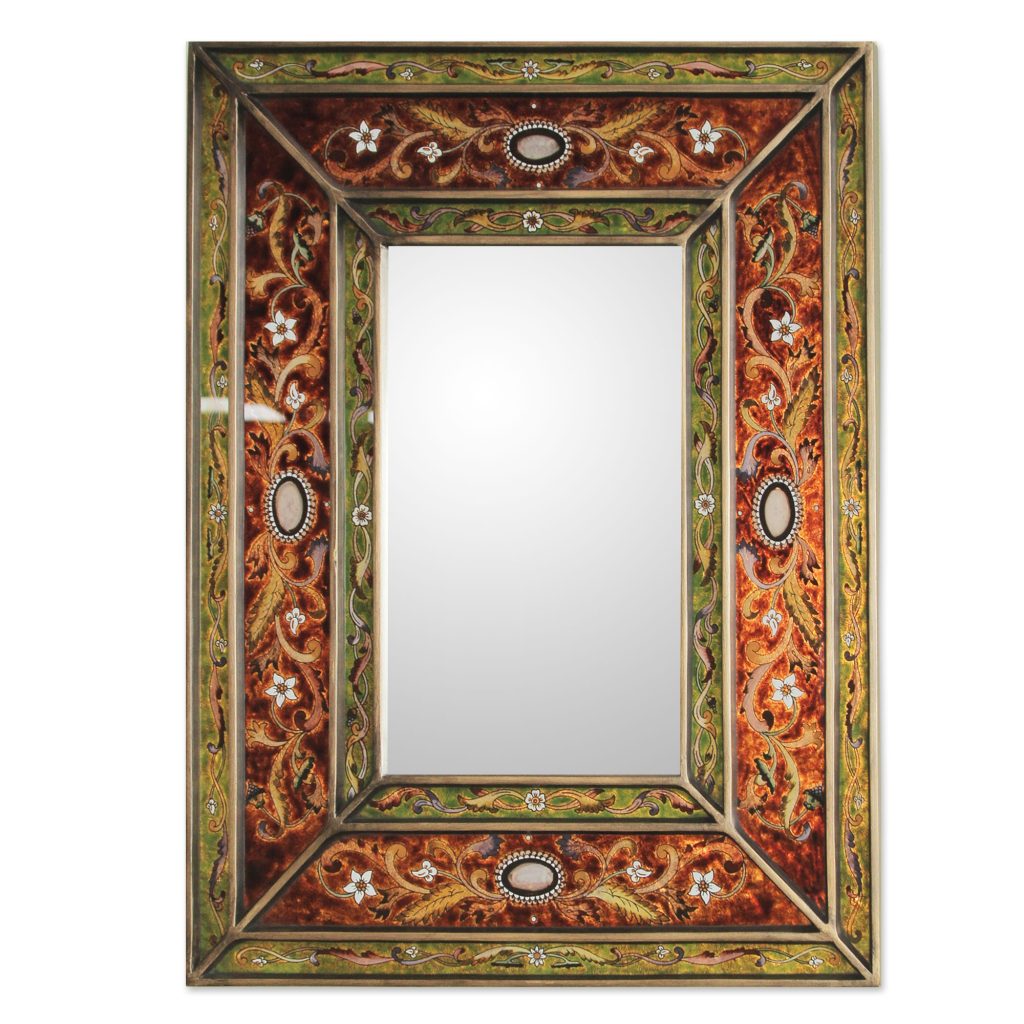 The mirrors gallery can take on a 3D effect by layering smaller mirrors atop of the corners of adjacent simple and larger mirrors. A mirror gallery can look wonderful in any place that a traditional picture gallery might be seen, such as on the full wall along a staircase or in an unexpected place such as a small out-of-the-way wall.
Generally, the larger the wall, the larger the mirrors in your mirror gallery should be. But for smaller spaces, small, intricate mirrors can have great visual impact. For a grouping of one type of mirror, such as using various smaller mirrors, consider the Mohena wood mirror, Sunflower.  This would look particularly interesting paired in odd numbers along a small thin wall in an unexpected place, such as a guest bath or powder room.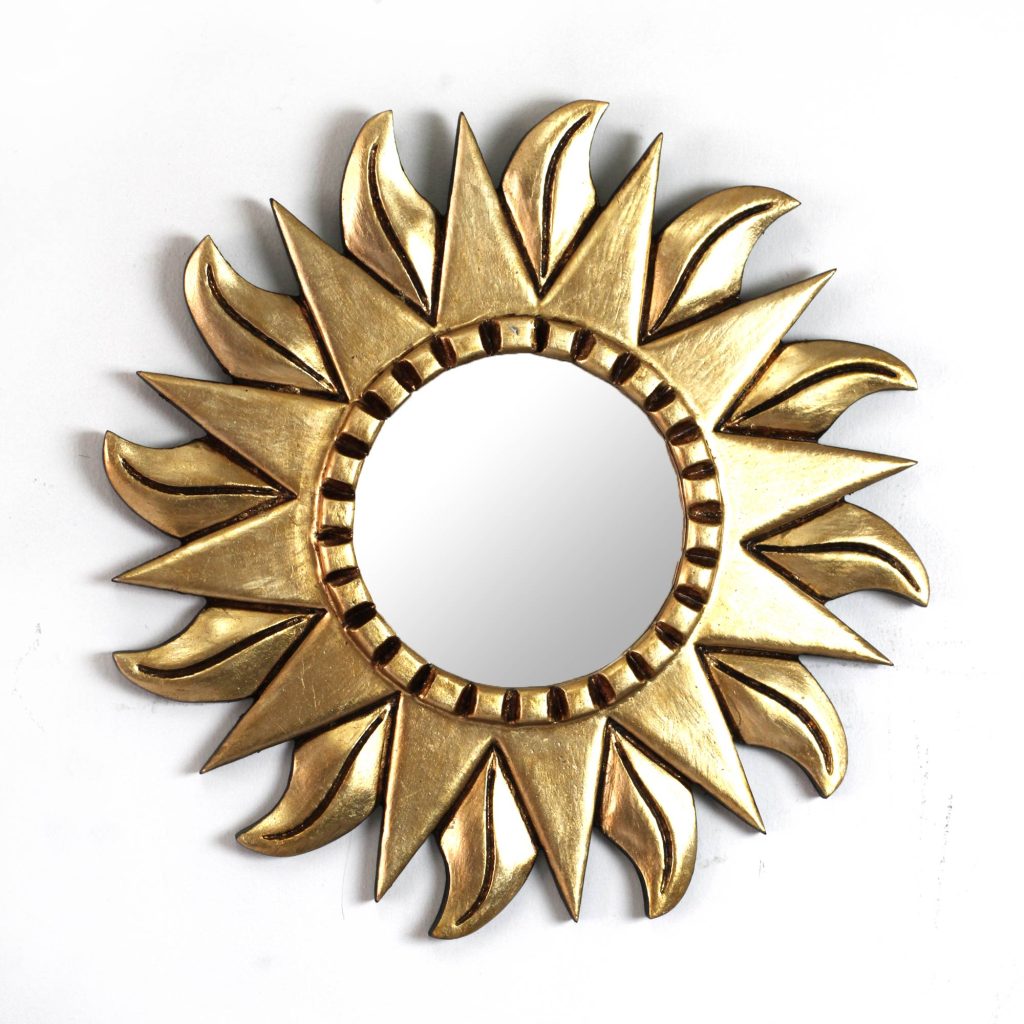 Using Mirrors to Capture the Light
Ideally, a room gets plenty of light, and mirrors can be used to reflect that light throughout the room. Well-placed mirrors with semi-reflective metal finishes or mosaic tiles of glass or mirror can transform the reflections of this light. This is especially beautiful during sunrise and sunset when mirrors are positioned to catch this light. The color of the reflection can transition to bronzes and fiery coppers throughout the day and cast that lovely light within the room.
But, what if you have poorly positioned windows in a room or in the entire home, such as in a walk-up or basement apartment? What if a room has no windows, such as in an entryway or foyer space? Mirrors can also be used to reflect the creative elements that do exist to provide texture and depth, like brightly colored artwork. Limited lighting options can be enhanced by the creative use of mirrors within the room to emulate natural window lighting by capturing light and casting it into the room like a window would. In these cases, position mirrors in a way to capture the limited light that does come in through the existing windows and expand upon that with mirrors placed to reflect the room's ambient lighting devices such as lamps and candles. Experiment with mirrors at different heights to maximize this trick which can enhance the lighting of the room. For this purpose, focus on mirrors that are not necessarily ornate in their frame styling, but maximize light reflection, as with reflective mosaic tiles or semi-reflective metallic surfaces.
The mirror below, entitled "Silvery Glamour," has both a base center mirror and border mirror tiles that reflect light in a kaleidoscope-like way, maximizing overhead light as well as from lamps and windows.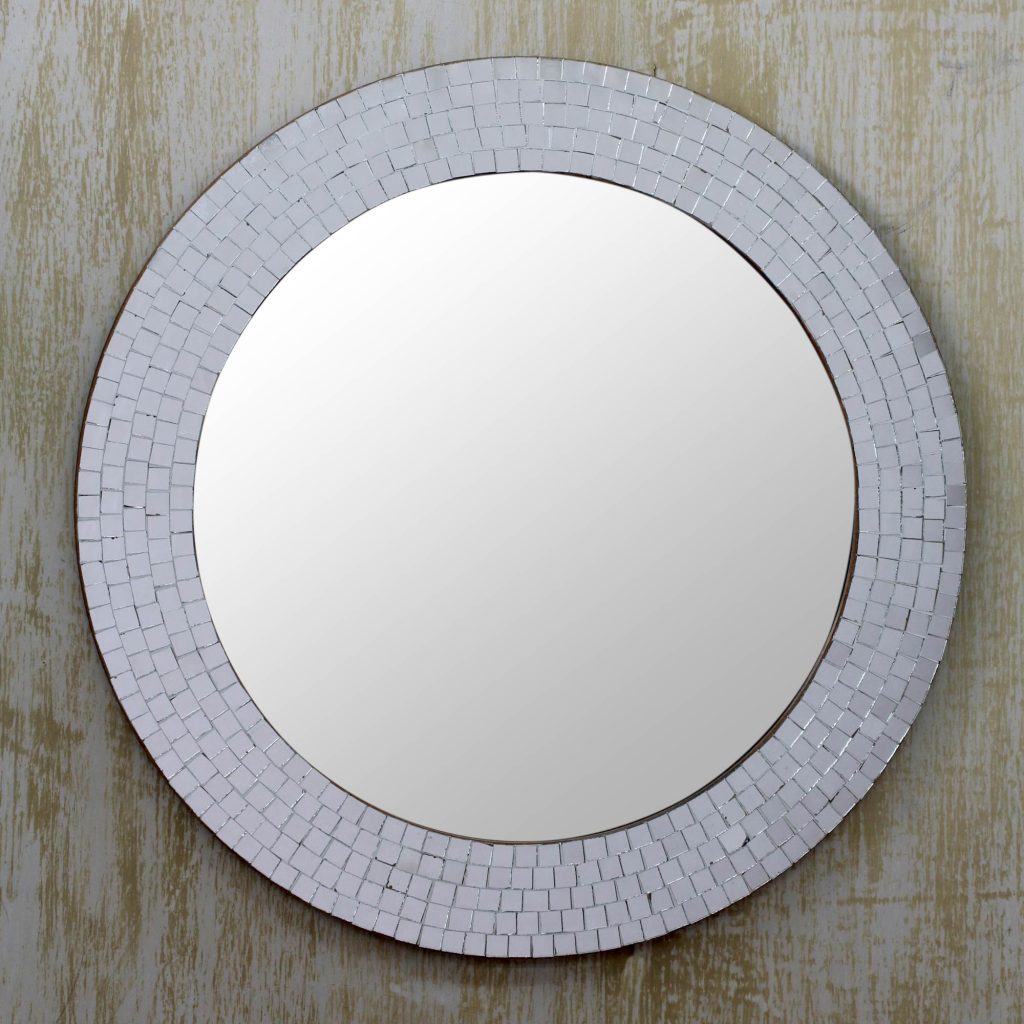 Another form of reflective mirror to compensate for a lack of windows would be a mirror that emulates a large window shape. A good example of this is the 43 inch wide and 2 foot tall minimalist hardwood wall mirror, 'Mexican Dawn'. This type of mirror works well placed above the visual midline of the room so that people see it when sitting. It is especially useful when placed above large, rectangular shaped pieces of furniture such as the couch or dining area tables. This gives a room depth and light to visually open the space.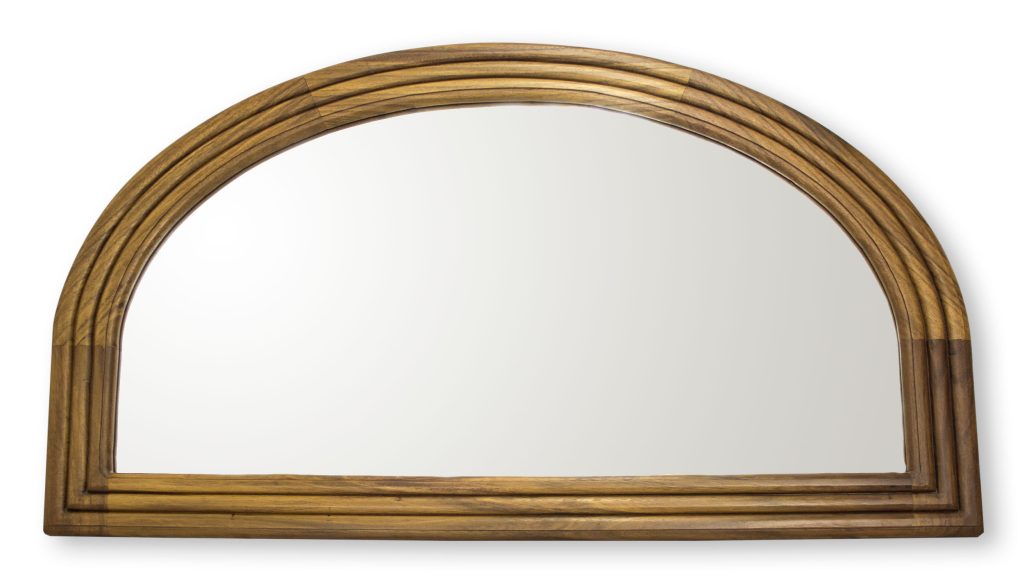 These are just a few ways that decorating with mirrors can enhance your home. Want to find more inspiration for using mirrors as artful décor?  Visit the NOVICA Mirror Section and the NOVICA Home Decor Section.
Rate this post:
[Total:

0

Average:

0

]