How do you help empower the women artists of the world and unleash their talent? Simple: you give them an amazing role model — or four — and a chance to to create a sustainable future for themselves and their families through their skills.
NOVICA recently caught up with four extraordinary women artisans who are making waves in India, Indonesia, Ghana, and Guatemala and inspiring the women of their communities to achieve greater success and happiness through art. Meet Indraani, Eka, Ernestina, and Doña Maria, read their incredible stories, and see how they are creating a new sisterhood of empowered women around the world.
Learn more about empowering women through fair trade 
Captain Indraani Singh — India
Captain Indraani Singh refuses to accept the conservative notion that Indian women must stay home and look after the family. She's the first woman to pilot an Airbus-300 for Indian Airlines. She is the recipient of the Lifetime Achievement Award by the International Women's Congress in 2009, among other accolades. And as if that wasn't enough, she continues to fight for meaningful economic opportunities in India for her fellow women.
In November 2004, Indraani helped organize a self-help group for women in villages around Gurgaon (Haryana), enrolling over 100 women for vocational training. The organization has since trained over 200 skilled women workers and over 1000 semi-skilled workers, helping them achieve greater financial independence. Indraani's organization has been so successful that it has expanded to Rajasthan, West Bengal and the Delhi metropolitan area.
"In the nine years of the organization's existence we have been able to touch the lives of scores of women, lifting them out of poverty and giving them a reason to smile," says Indraani. "Our mission is to empower communities by strengthening their local skills and providing links to markets to attain financial sustainability, thereby encouraging youths to take up these skills too, so traditions do not get marginalized."
Indraani enjoys seeing Indian women enjoying greater economic opportunity, but she's after even greater change than that. "Women in many villages of India are not respected and are even treated as door mats, which we believe leads to a severe identity crisis," she says. Her organization therefore also runs workshops specifically designed to empower women, inviting women role models in to talk about their lives and bringing the organization's members to various companies to expose them to life outside the home.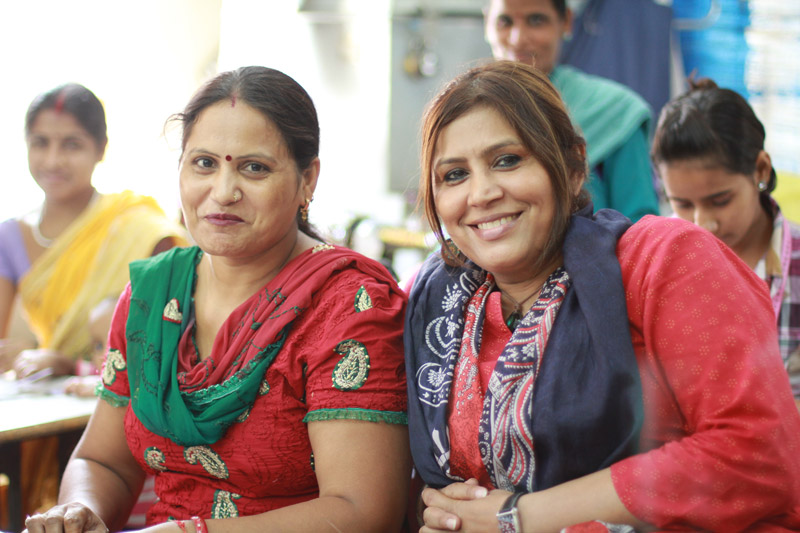 Whether she's flying a wide-bodied Airbus-300 or developing new handmade products, Captain Indraani continues to inspire women in India and worldwide with her vision, her professional success, and her passion for helping others.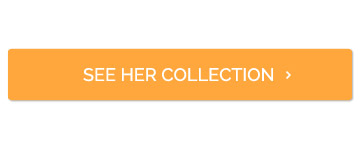 Eka — Indonesia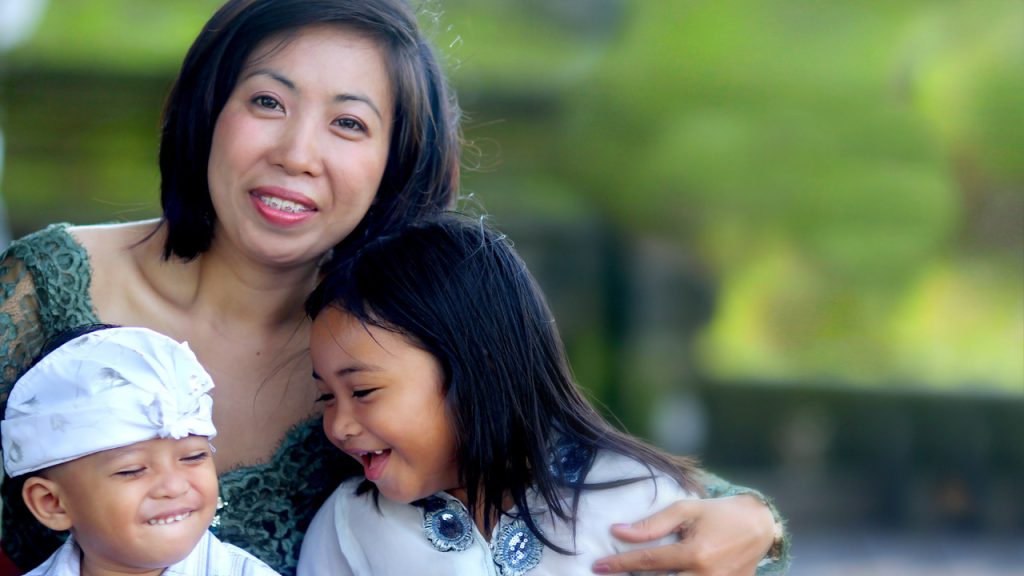 Sometimes we only become aware of how strong we really are during life's greatest challenges, and nobody knows this better than Eka. A Balinese mother of two, Eka was widowed in 2009 ten days after the birth of her second child. The loss of her husband Putra Suteja left her not only without her closest companion, but also without the steady source of income that his coconut shell carvings provided. The only thing Eka seemed to be left with was the massive hospital bill for Putra Suteja's medical services.
But Eka wasn't about to let her husband's death or her financial situation limit her children's chance for a happy future — or her own. Honoring his memory, she began making her own coconut shell carvings, eventually expanding her offering to include intricate suar wood carvings.
Eka's become renowned in her own right for her sculptures depicting romance and the strong bond between mother and child, demonstrating remarkable growth as an artisan and finding an expressive outlet for what's important to her in the years since Putra Suteja's passing.
"My children are my biggest motivation to work and to move on," says Eka. "Even though now I am alone, I always keep my spirit up and go on strong for my children. Thanks to them I do not falter."
Meet Eka and see her make her carvings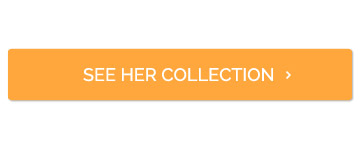 Ernestina Oppong Asante — Ghana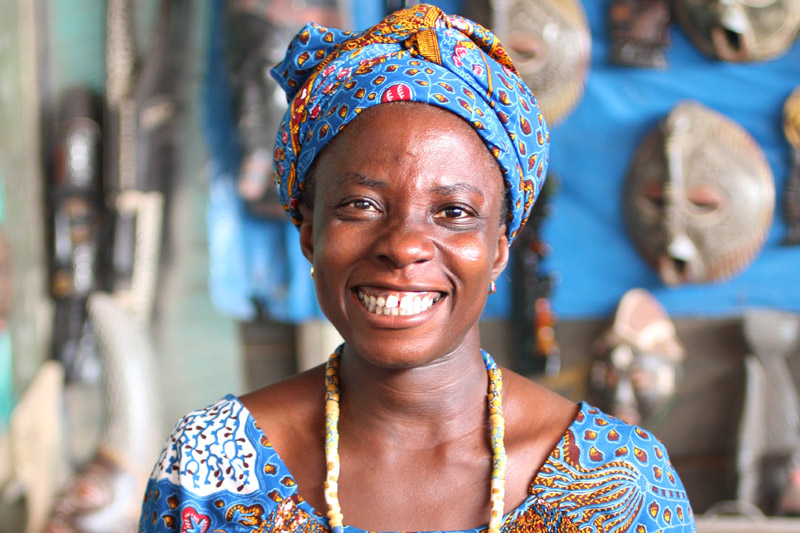 Ernestina Oppong Asante was one of NOVICA's first artisans — NOVICA co-founder Charles Hachtmann recalls meeting her in 1999 on his first trip to Ghana, impressed by her tenacious desire to thrive in the traditionally male-dominated craft industry of carving masks and djembe drums. Even then, she had already been running her own workshop for several years, with four people working under her.
Ernestina herself also takes great pleasure in her professional success. "Though carving has long been regarded as the preserve of men, I am glad that I have been able not only to infiltrate but to also make an impact on the trade," she confides.
As NOVICA has grown, so Ernestina has grown as an entrepreneur, expanding her business and taking on apprentices. Ernestina even persuaded her husband Daniel, a taxi driver who had experience in carpentry, to join NOVICA as a carver. Together, they have trained over ten people to carry on the woodcarving tradition, with their students going on to become well-established artists in the field.
Ernestina's drive to succeed at her craft is the product of both her artistic vision and her love for her family. She and Daniel have four children together, but also look after five more. "We do so many things so that we can get whatever they need," she says proudly.
Ernestina and her art have been featured in periodicals ranging from Red Herring Magazine to The Christian Science Monitor and are also featured in NOVICA's own book Keepers of the Arts.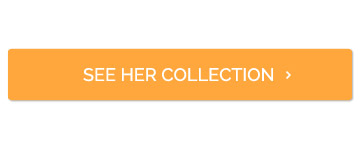 Doña Maria Ixtamer Mendoza — Guatemala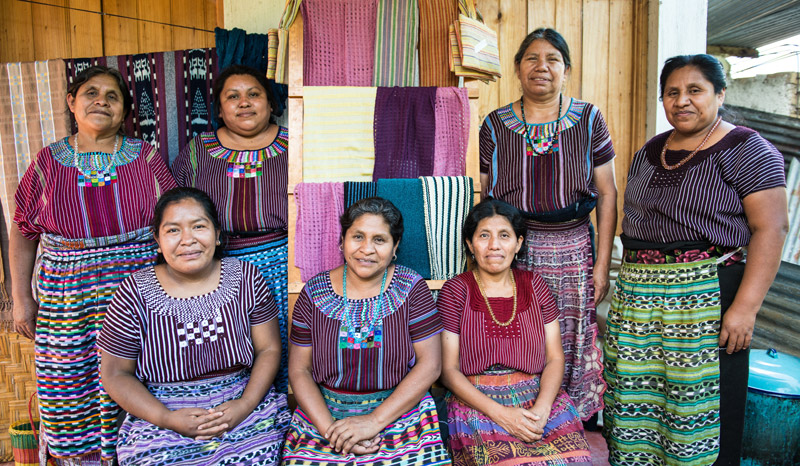 Doña Maria of the San Jose Women's Artisan Association has never been one to listen when people tell her what a woman's job is, and what it isn't. Like many Guatemalan women, she learned to weave textiles on the traditional backstrap loom from her mother and grandmother, and has been practicing the craft almost her entire life. But unlike many others, she saw the incredible potential that textile production had for women in her community — and she wasn't afraid to step outside of tradition to make her vision a reality.
Doña Maria founded the Association in 1996 in humble surroundings, beginning by exchanging food for the women's handcrafted work.  What was truly revolutionary, though, was her decision to weave on the foot loom, a task reserved only for men. Out of nowhere, she astounded her family and the rest of the group by producing textiles in this manner, going on to teach her daughter Elizabeth to weave textiles on the foot loom too.
Now the group has a wide variety of textiles woven by the foot loom, and they keep on working with new combinations and textures to add to their products. They've also kept working with the traditional backstrap loom.
Despite Doña Maria's pioneering use of the foot loom for women, the traditions of the Association's Tzutujil ancestors still remain central to its creative process, and Doña Maria is not alone in taking great pride staying true to the artistic techniques developed by the Maya. The women produce their own sustainable prime materials — seeds, silver, leather, natural fibers and dyes from the tropical jungles of the Maya heartland — and operate with the motto "Passion for people and passion for the land."
Dona Maria's verve and visionary spirit continue to energize the women of the Association, and they hope one day to train and coordinate with new women's groups in their region.
Read more about the San Jose Women Artisan Association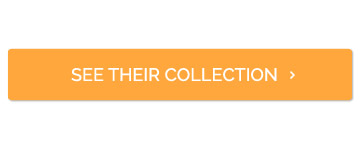 An empowered future for women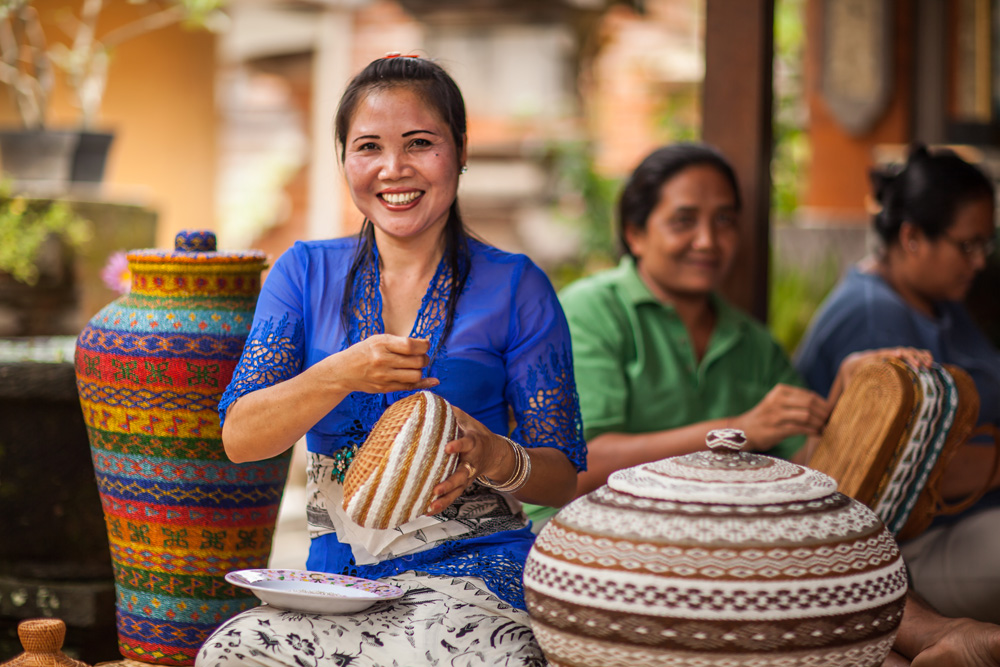 These four women artisans may lead vastly different lives on three different continents, but the things that they share — their tenacity, their drive to succeed even in the face of naysaying or adversity, their fierce desire to pass on their skills and their vision — are what make them so special. If more women lead their lives like Indraani, Eka, Ernestina, and Doña Maria and continue to build a global sisterhood of empowered women, maybe girls really will run the world one day.