Summer is here which means it's time to turn up the heat on some fabulous fashion. There's plenty of fun and flirty dresses that are hot this season, with plenty of designs for any body type. Don't stop there, pair your dress with a cute little cardigan for those air conditioned occasions, or a lovely shawl for an evening around town. To add a little sparkle, decorate with some of the latest trends in women's jewelry this season.
Fit and Flare
The fit and flare style has to be one of the hottest dress trends of the season. The silhouette shape of the style is flattering on every body type. Since the bodice is fitted and the skirt flares out, it can accentuate any body shape. If you are more on the slender side, the dress brings attention to the waist region. As the skirt flares out, it may create more of a curve to the shape. If you're more of a plus sized woman like myself, a fit and flare can actually help camouflage the problem areas.
Swing or Shift
You may be wondering what a swing or shift dress is? There are exactly as they sound; dresses that swing or shift as you walk. These dresses that add a little bounce with every step, making them perfect for the summer months. Fresh and flowing, they are somewhat similar to a fit and flare, though the bodice isn't as snug against the body. Since there's a little more give with these styles, they are perfect for those hot days in the sun. Go simple with a crisp white color to cool down, or be more daring with a bold print. This style is perfect for daytime, and can be dressed for any night time occasion.
T-Shirt and Shirt Dresses
Every woman should own at least one t-shirt or shirt dress. Nothing says comfort better than a shirt that is long enough to be a dress. These are perfect for those casual days when you don't feel like getting all dolled up. T-shirt dresses fit snugly while the shirt style is cut along straighter lines to hang loosely. Wear one of these to go shopping, lounging around home, or running daily errands. They look stylish enough to go out after chores are done, without having to go home and change first. You can even find some business-like styles of shirt dress, which are becoming more popular around the office. Shirt dresses which have a collar and buttons would make a great addition to any women's business attire.
Cocoon
You may be wondering about the meaning of the term "cocoon dress," something I questioned myself when I first heard it. It's a relaxed style dress, that can be both casual and dressy. The overall fit of this style is loose, and can sometimes taper towards the bottom. Another characteristic of this style is that it's shorter in the front than in the back. Not everyone is able to wear this style as it's best for someone with a less curvy silhouette. I think the only way I'd be able to get away with something like this is if I paired it with a belt.
Maxi
I have to say that this is my second favorite style of dress, especially for the summer months. The long, maxi style is an informal dress that is ankle or floor length. It's often more form fitting at the top, with a free flowing skirt portion. What makes the maxi perfect for the summer months are the many bright colors and patterns made in lightweight fabric.  I never used to be able to pull off this style as it used to make me look a little dumpy. Pairing a long dress with a stylish belt can easily fix that problem. I also find that a nice bright pattern can help camouflage any extra problem areas you might want to hide!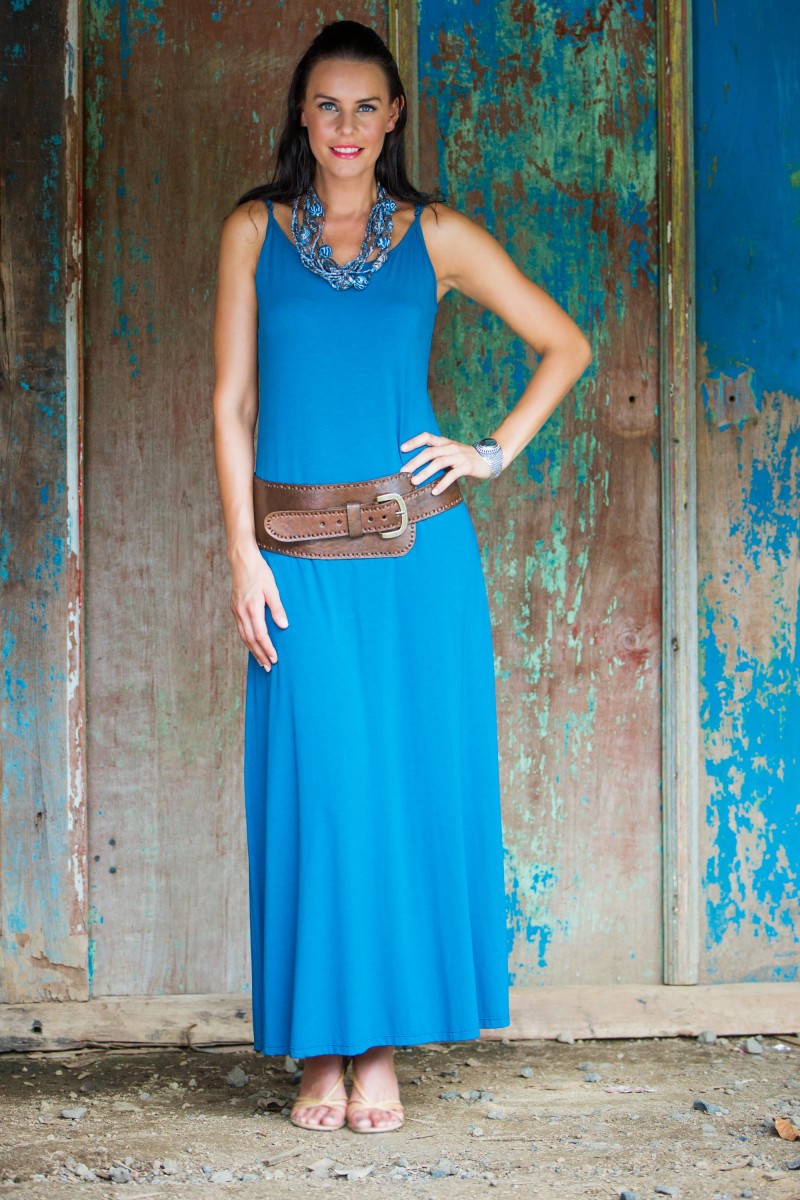 With so many great shapes and colors to choose from, there's a summer dress for all body types this season. Be sure to have fun trying something new, and enjoy those beautiful summer months!
Rate this post:
[Total:

0

Average:

0

]