It's not necessary to understand the production methods, technical sequences, and design process of a product to enjoy it. Comprehending how your wristwatch is manufactured isn't germane to knowing what time it is. However, when it comes to batik, discovering how traditional batik is created enhances its beauty and your appreciation.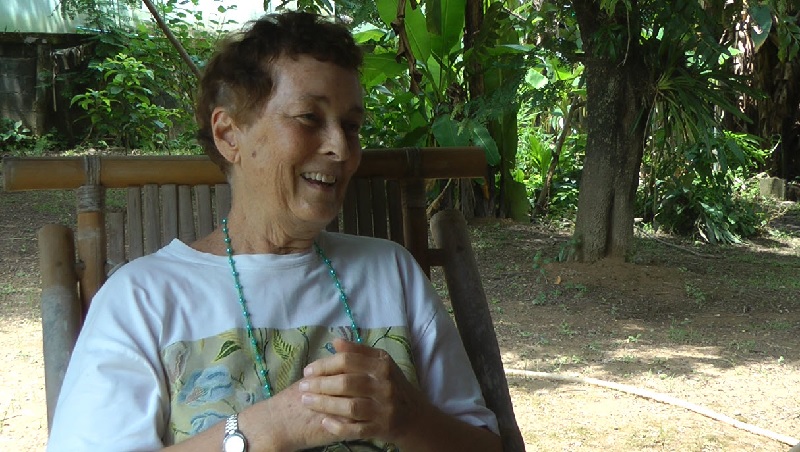 Simone Buys, a 10-year batik entrepreneur and one of NOVICA Thailand's best-selling artisans, has invited my wife, Anna, and myself into her home, design studio, and warehouse. She's an easy-to-engage conversationalist, Belgian by birth, with old-world ideals and integrity, especially when it comes to artistic skills and artisan creativity. She has also arranged for us to meet her assistant and business partner, Nulee, a lovely, 25-year-old Hmong entrepreneur. Taught by her mother and father with skills handed down from previous generations, Nulee is the next generation of batik artisans and producers.
Simone's journey to Pua began after leaving Belgium and landing in Kenya, East Africa to help and instruct tribal communities in the creation of woven sisal baskets. Later, her journey took a leap north to Chiangmai, Thailand, the ancient capital city of the independent northern Kingdom of Lanna. A local trade show featuring Thai handicrafts sparked her interest in batik and batik production. A trade show contact introduced Simone to the Hmong batik artisans from Pua, Thailand. After a few years working in Chiangmai, working to improve her batik design skills and working from a distance with her production team, Simone decided to move to Pua to be closer to her partners as well as enjoy the quieter pace and scenery of a rural area.
Simone's intuitive ability brings together all the needed elements to produce original geometric batik textiles. She has enabled her associates and partners to meld their Hmong cultural and artistic nuances into her batik designs, adding greater character and depth.
Our journey to interview Simone starts from our home in Chiangmai and takes us through gorgeous mountain ranges in the Thai-Laotian border region. Although curvy for much of our trip, the road to Pua (pronounced "Boo-ah") opens into a wide, straight thoroughfare for the last 50 kilometers. Lush green rice fields border the road and stretch as far as you can see to the base of rugged, purple-colored mountains which disappear into white clouds high above. Descending gently into the Pua valley, we are in awe of the beauty and splendor that lay before us. When we finally arrive at her home, Simone greets us warmly, leads us into her backyard, and serves us each a cool beverage.
"How'd you make the transition from sisal weaving to Hmong Batik?" I ask Simone, while sitting comfortably surrounded by flowers, plants, and native trees.
"It started with my interest in what Thai people do for handicrafts. Originally, I was more interested in weaving and textiles. My focus in Kenya was only for woven sisal products and how to improve the lifestyle of the artisans there and develop a sustainable income for them. When I arrived in Thailand, my eyes were drawn to batik, and especially the batik produced by hill-tribe artisans – the Hmong. Their batik reminds me of Africa – simple, geometric, and very expressive – and magnetically drew me in. I was also fascinated with Hmong hand-drawn batik. The skillset for hand-drawn is far greater than traditional stamping."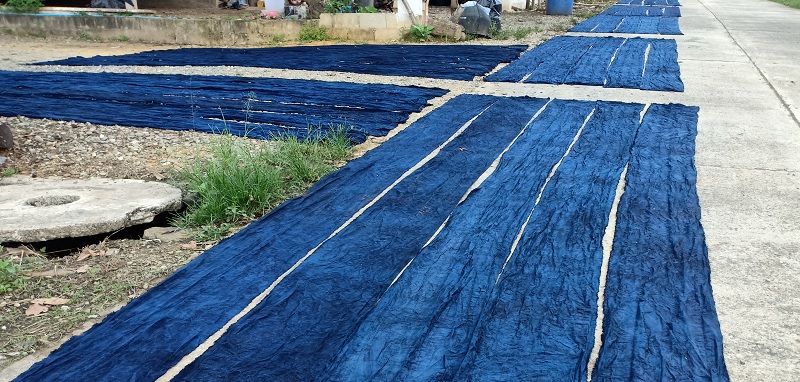 "Simone, why is pure, original batik dark blue in color? Is that a traditional style?"
"Many people wonder about that," Simone replies. "The dark blue or indigo color is created by a natural dye derived from the leaves of three plants – Indigofera, the Polygonum, and the Woad, which is a member of the cabbage family. Through the extraction process, the dye is allowed to ferment, increasing the concentration of the dye into a strong dark blue color. Since it's availability is limited, many manufacturers use synthetic ingredients to enhance production. We use a local dye manufacturer so I can control anything they add."
"Geometric designs are so prevalent in your batik. Is that kind of a 'Simone trademark'?"
"Traditionally," Simone explains, "the Hmong designs incorporate intricate geometric lines and patterns. Freestyle hand-drawn designs are seen within their culture, but geometric is core and centric in Hmong artistic styles. This fact is very likely the reason Hmong batik is so distinctive and contrasts with other batik producing countries such as Indonesia and India.
"My own design compositions are rooted in Kenyan art, melded with my imagination, but produced with ancestral Hmong processes and production methods.
"I mix a bit of contemporary interpretation, and the use of stripes, into time-honored Hmong patterns. I don't want to lose the Hmong artistic nuances and style."
After the hour-long interview, Anna and I leave her home/office to visit the production and manufacturing areas. Long rolls of batik material have been laid out in the streets of the village to dry in the sun. We're fascinated by what we see! In the production area, Simone and Nulee walk us through the measuring, stamping, and dyeing processes.
First, the intricate designs are hand-drawn on the off-white material with pen and a ruler. Once an entire roll of material has been measured and the designs have been drawn, it is taken to the wax stamping area. Here, hand-stamping tools shaped into the complex design patterns are dipped into a pot of hot melted wax. Then, using the drawn lines as a guide, the stamping tool is positioned on the batik material. The wax is transferred (physically hand-stamped) onto the material. Next, the whole roll of off-white batik is dipped and soaked into large barrels of indigo dye. When this process has been repeated, the long roll of indigo batik is rolled out to dry in the sun. Once the material has dried and the dye has set, it is boiled to allow the wax to melt off the fabric and rise to the surface of the water to be scooped out. Without the wax, the beautiful batik designs and intricate patterns are revealed.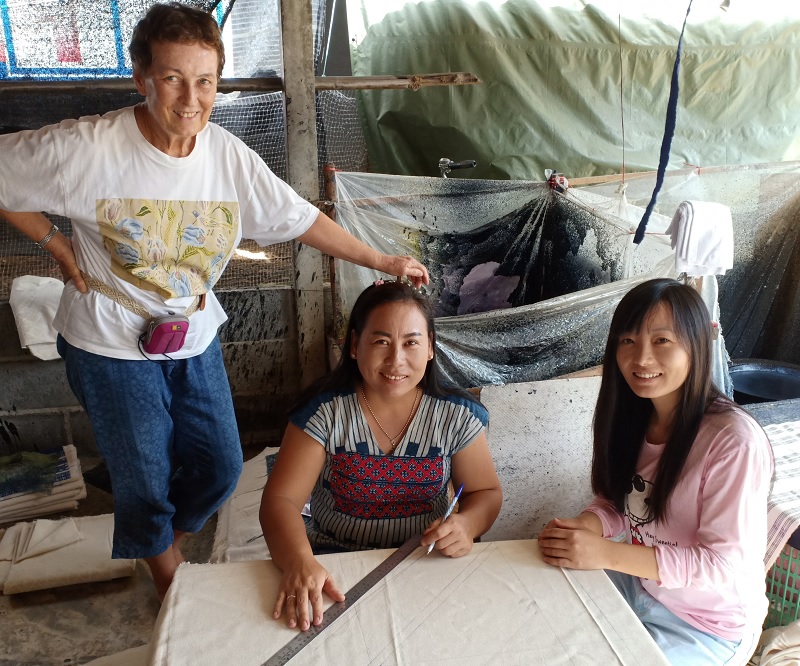 Anna and I are amazed at the high level of skill and concentration needed in order to draw and wax stamp a ten-meter roll of batik material!
"Nulee, what happens when someone makes a mistake in the drawing or the wax stamping?"
"Well, Khun Walter," she says, "that portion of the roll of batik will then be cut out and removed, and all the measuring, drawing, and wax stamping is lost."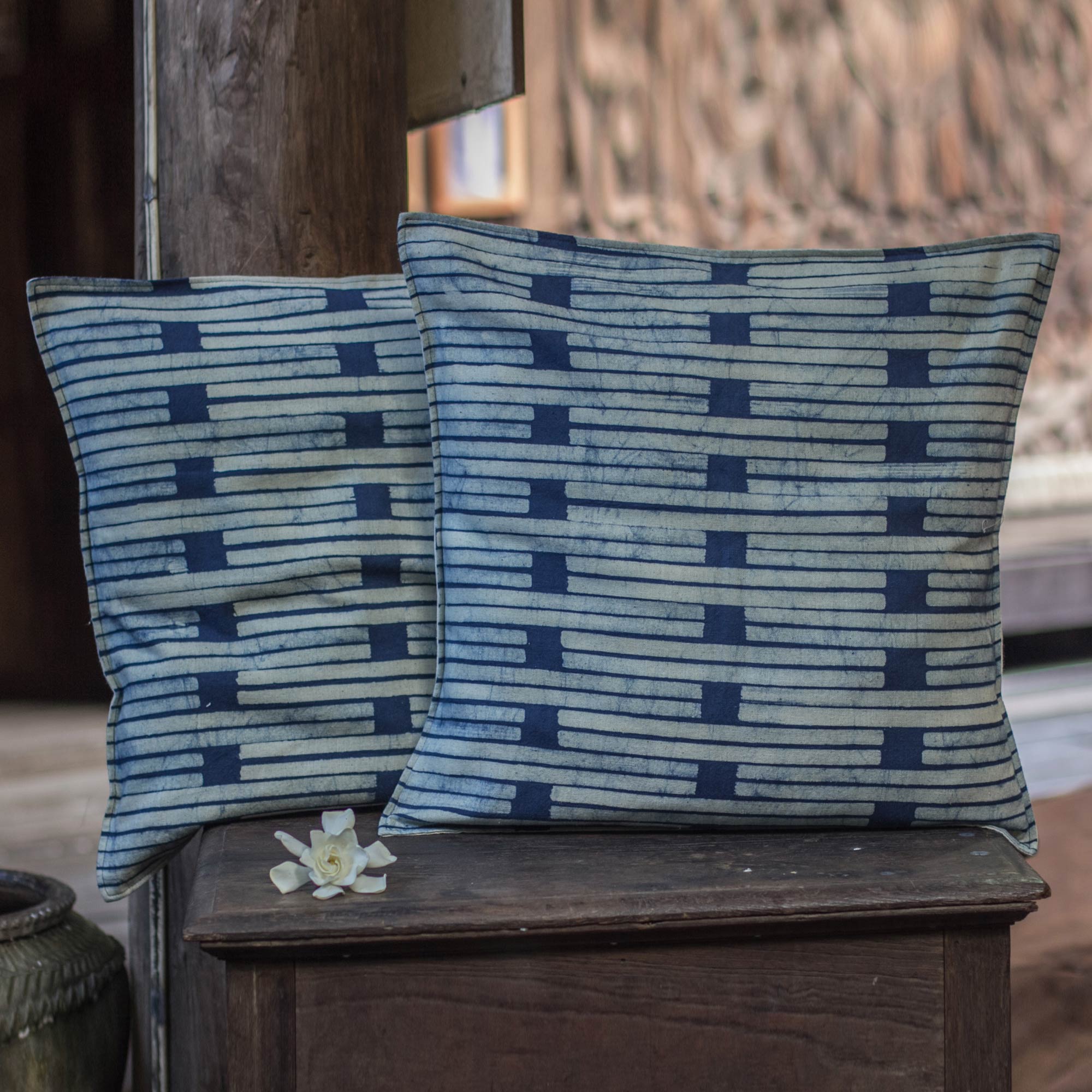 Seeing how hands-on and detailed the Hmong process is, I wonder about the sustainability of her venture.
"How do you plan to keep the Hmong impact in the world of batik alive when outside influences toward modernization and mechanization are so strong?"
"This is a big concern for me," Simone says with a sigh. "I'm afraid it's fading away. Very few families now have the vision and passion to carry these artistic skills to the next generation. My colleagues and partners live in this village with other ethnicities where each are working to preserve their way of life and carry on their pure batik skills.
"If Nulee cannot make a living at doing this, then she will seek enterprise elsewhere. It's only natural. I feel it's very important for artisans to get the respect they are due and get paid for what they are doing. This encourages them to continue working to keep their culture, their distinctiveness, and their art alive!"
In her own way, Simone attempts to hold back the inevitable tide of mechanization and mass production which brings a sense of loss of cultural form and tribal identity.
When this subject is brought up, indignation arises in Simone, and her passion for her work and artistry shines forth.
"Right now in this village are people who have brought in automated embroidery machines. This automation is breaking down the fiber of these people's lives. Jobs are being lost and authentic features of the Hmong lifestyle and culture are disappearing. I'm shocked and offended by these machines mechanically copying what generation after generation of Hmong artisans have beautifully and artistically created by hand. It's tragic and just not the same!"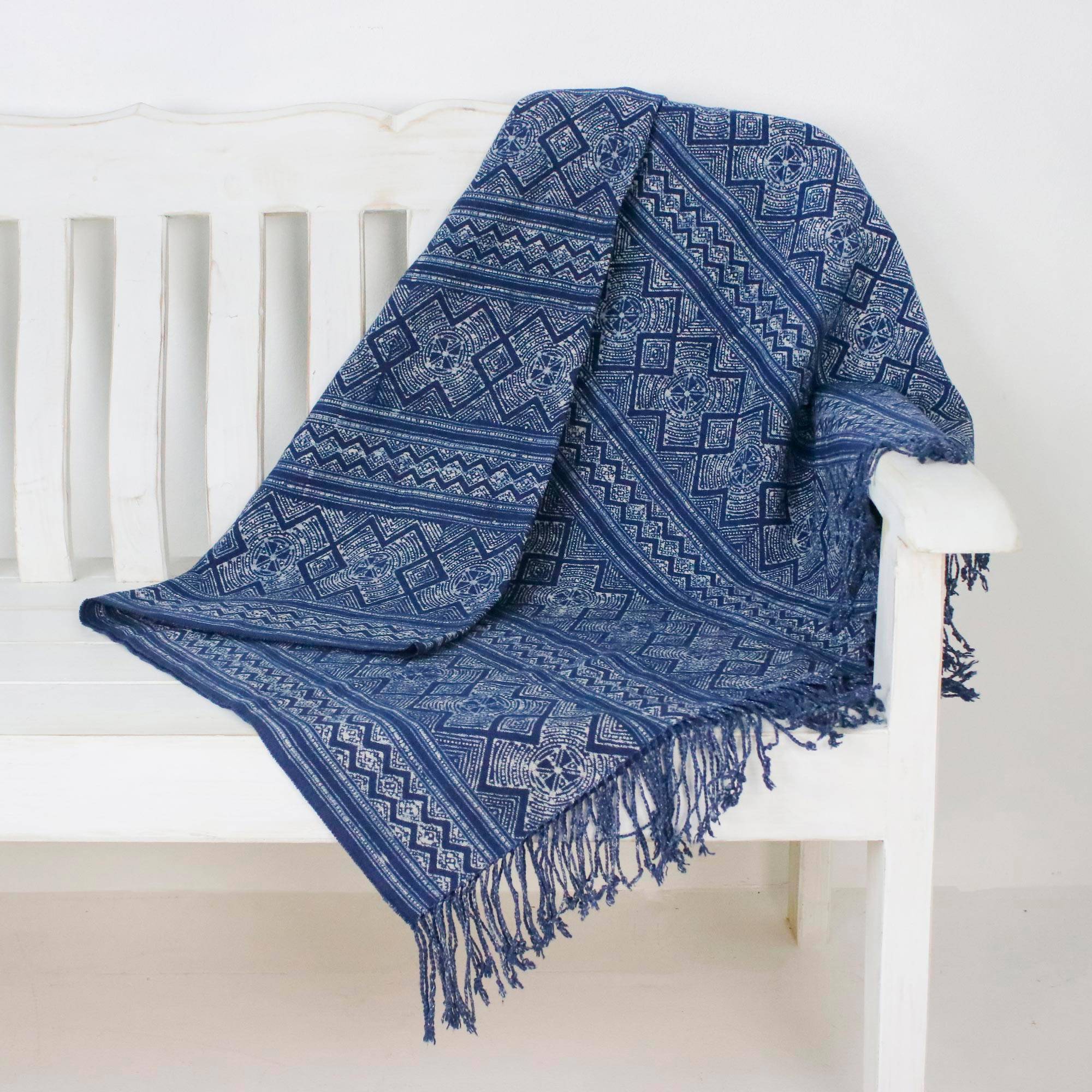 Simone readily admits to idealizing the pure Hmong batik styles and realizes the business side of batik – mass production – is steadily creeping in. Unfortunately, and contrary to her ideological views, the reality is that Hmong batik is not easy to produce.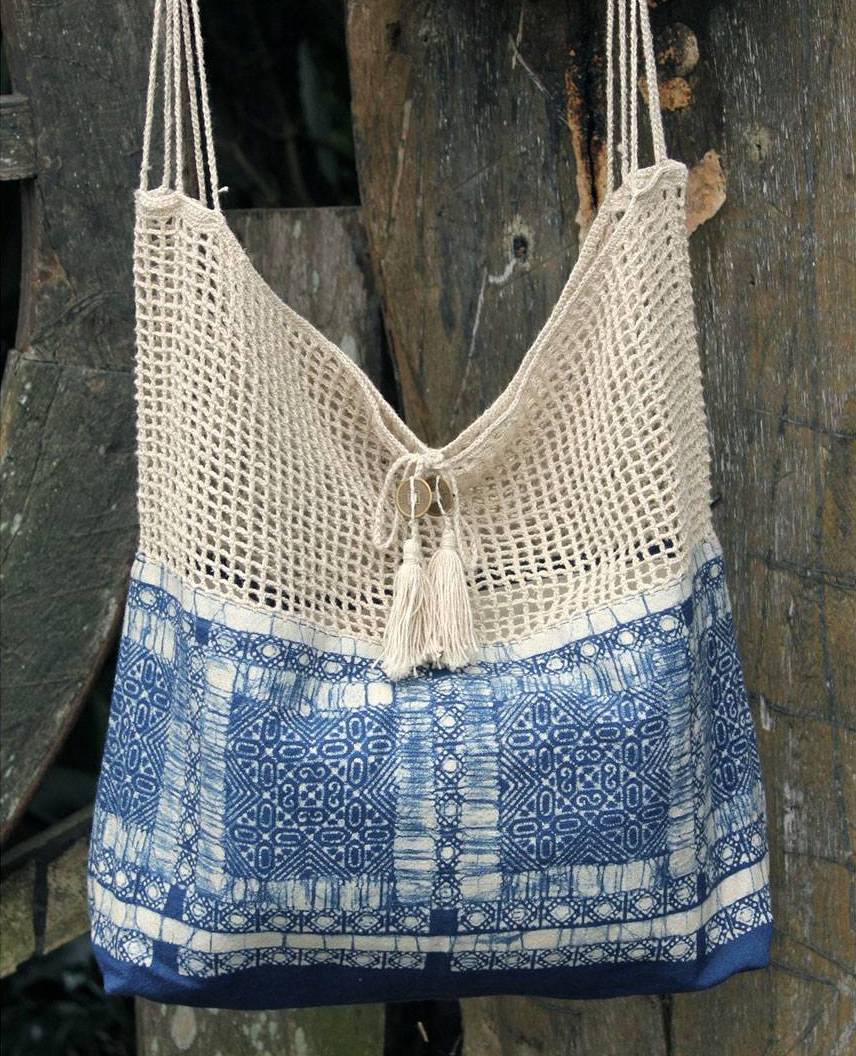 As Simone and Nulee walk back to our car with us after the tour, I ask one final question before we venture back into the bustling mechanized world.
"What has partnering with NOVICA enabled you to do?"
"I'm very enthusiastic about my partnering with NOVICA! It's a new way of marketing and encourages Hmong entrepreneurs and artisans to be more intuitive about online selling. Newfound computer skills offer them an opportunity to create an income previously unavailable to them. NOVICA has certainly improved their lifestyle, given them the outlet for their artistry, and has shown tremendous support for home-centered tribal art and handicrafts."
NOVICA is proud to present Simone Buys' entire collection here.
Rate this post:
[Total:

1

Average:

5

]