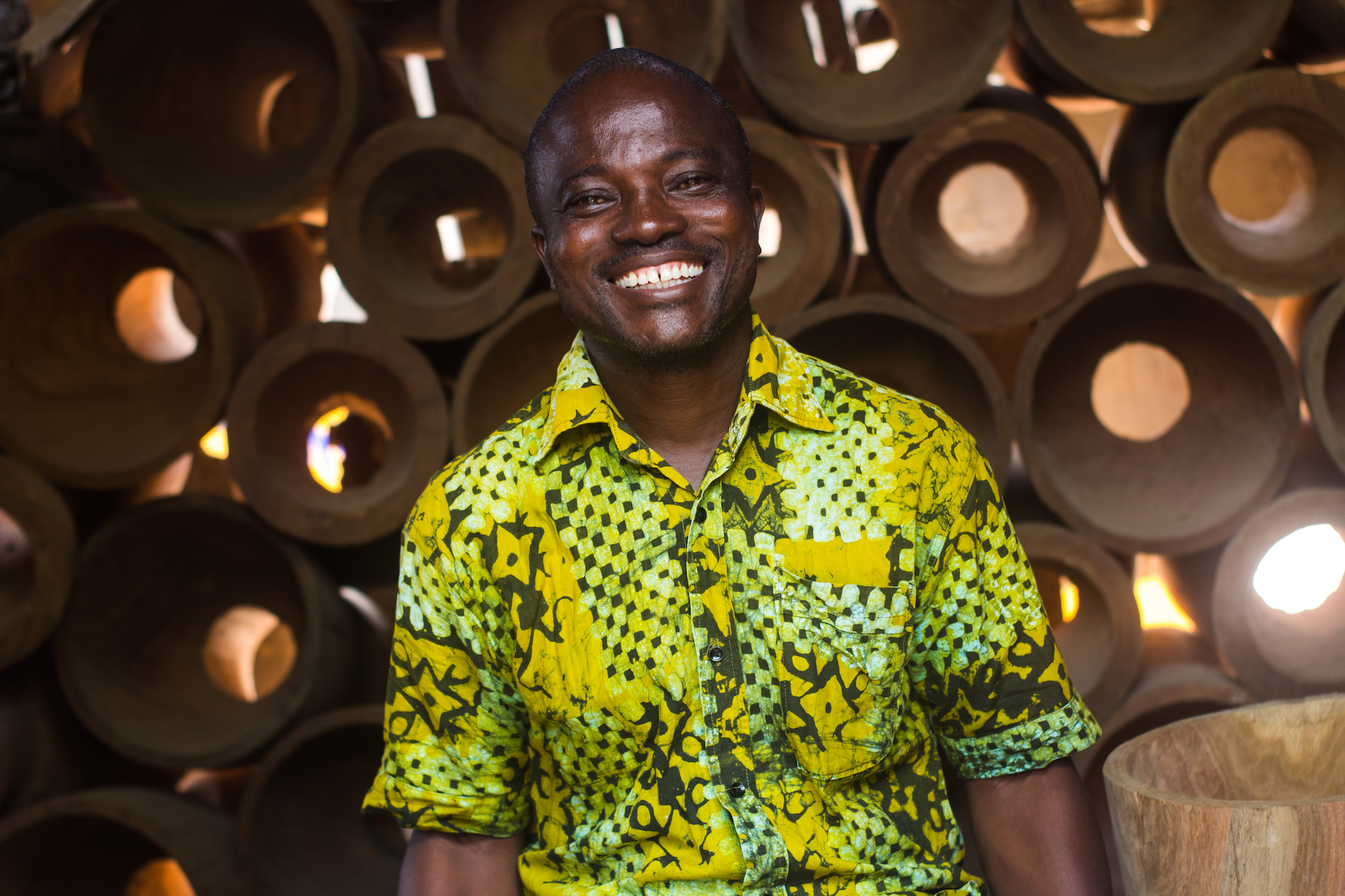 Daniel Asante is an artisan who has been selling on the NOVICA platform for close to twenty years. His art pieces caught our attention in Accra and we decided to pay him a visit.
We caught up with him at his workshop at Aburi in the Akuapim hills, some forty kilometers from Accra. Set in the heart of the town, atop a hill, the workshop consists of three workrooms and a storage area. For a showroom, he rents a facility at the Aburi Industrial Center.
As we approached the workshop, we saw some products arranged neatly outside in the sun. When we got nearer, the items turned out to be a variety of drums being dried for delivery to a customer. Each drum had different designs carved into the wood and was decorated with beads, colorful cords and kente fabric. I spent time admiring each one.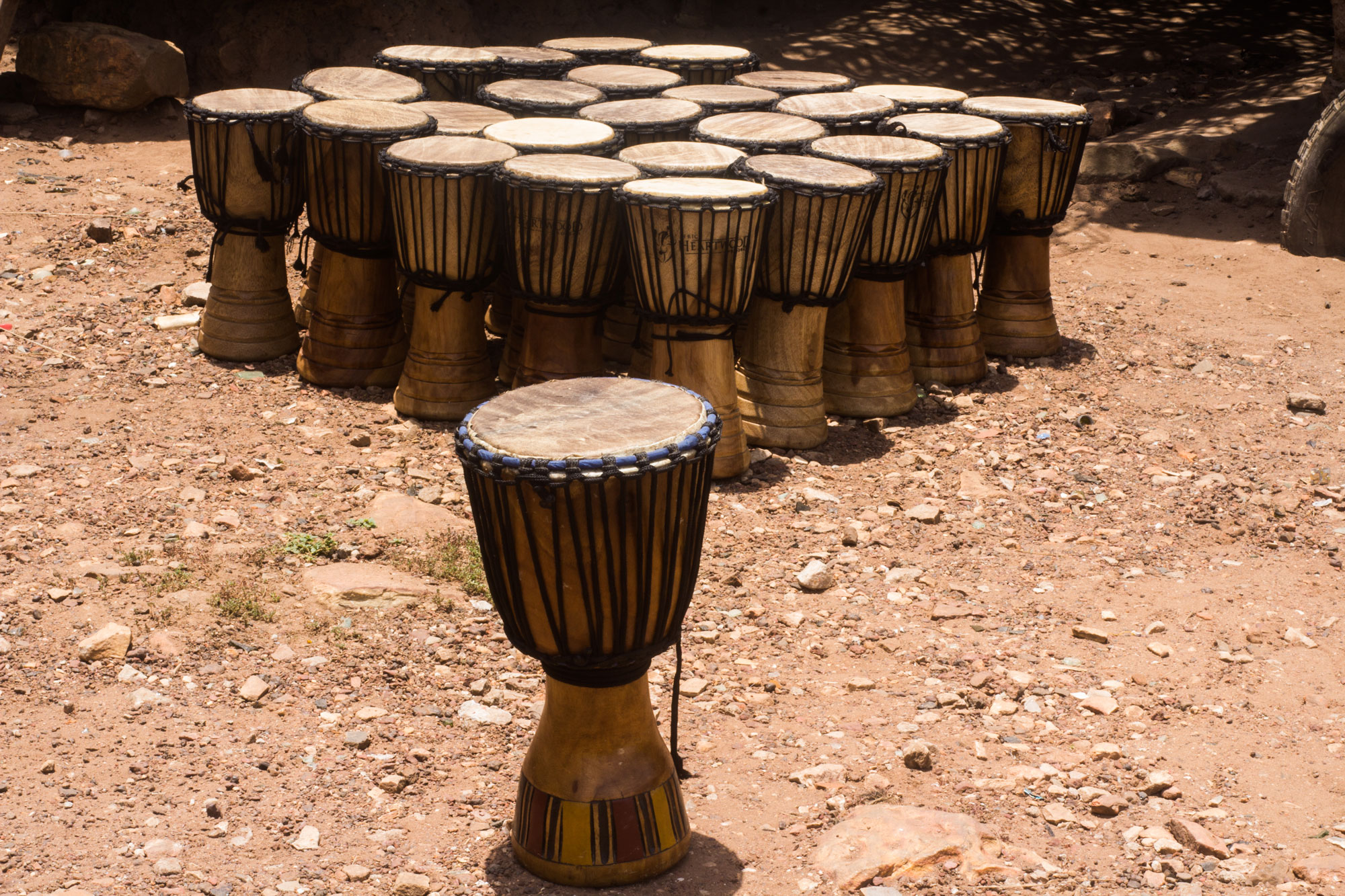 When we eventually sat down to have a chat, my first question for Daniel was whether he had learned his art at school. Dan answered this question and subsequent others in Akan.
"I did not go through formal education. I learned to carve here in Aburi and made art my vocation. I have been producing and selling art pieces since 1998," he said.
I asked Dan what he was doing before he learned to carve.
"I was born in a village near Nsawam. My father was a native of that village but my mother hails from Aburi. I grew up wanting to be a carpenter. After my apprenticeship, I moved to Accra and learned to drive. I became a bus driver for some years. Life in Accra was becoming increasingly expensive and the quality of my life was not improving. One day I made the decision to come home and settle. So in 1997, I returned home to my mother as an adult child." Dan smiled.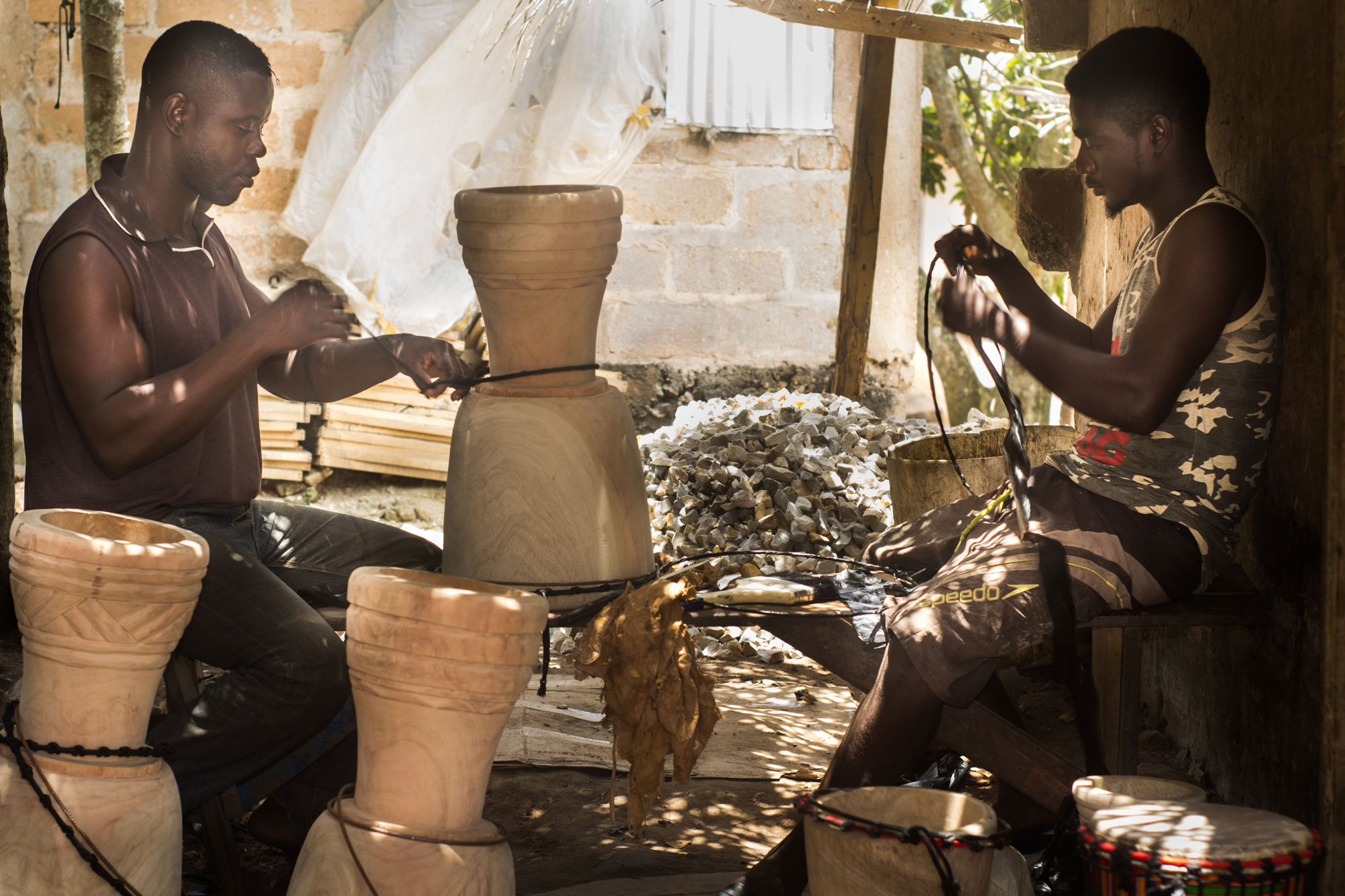 "Soon after arriving here in Aburi I engaged myself in farming. It was around that time that I met and fell in love with a lady named Ernestina, who later became my wife. She was trading in wood carvings and her brother was her major supplier. She encouraged me to learn at the feet of her brother. Somehow, I developed a keen interest in the craft. I started doing less farming and more carving, and here I am today."
"Do you think you are naturally talented?" I asked. I thought so because apart from the drums, there were other art pieces, carvings of animals and various masks, all exquisite, which to me, could only be made by a talented artist.
"I don't know," he said and continued. "What I think is that when I met my wife, I was determined to make something out of my life. Since she was there to encourage and support me I had no excuse to fail."
"I am highly impressed by the quality of your work, your beautiful designs and the variety you turn out," I told him.
"Thank you," he said with some delight and added, "I have always believed in quality, I try hard to maintain high standards and avoid turning out sub-standard products. To come out with unique pieces, I keep experimenting with ideas all the time."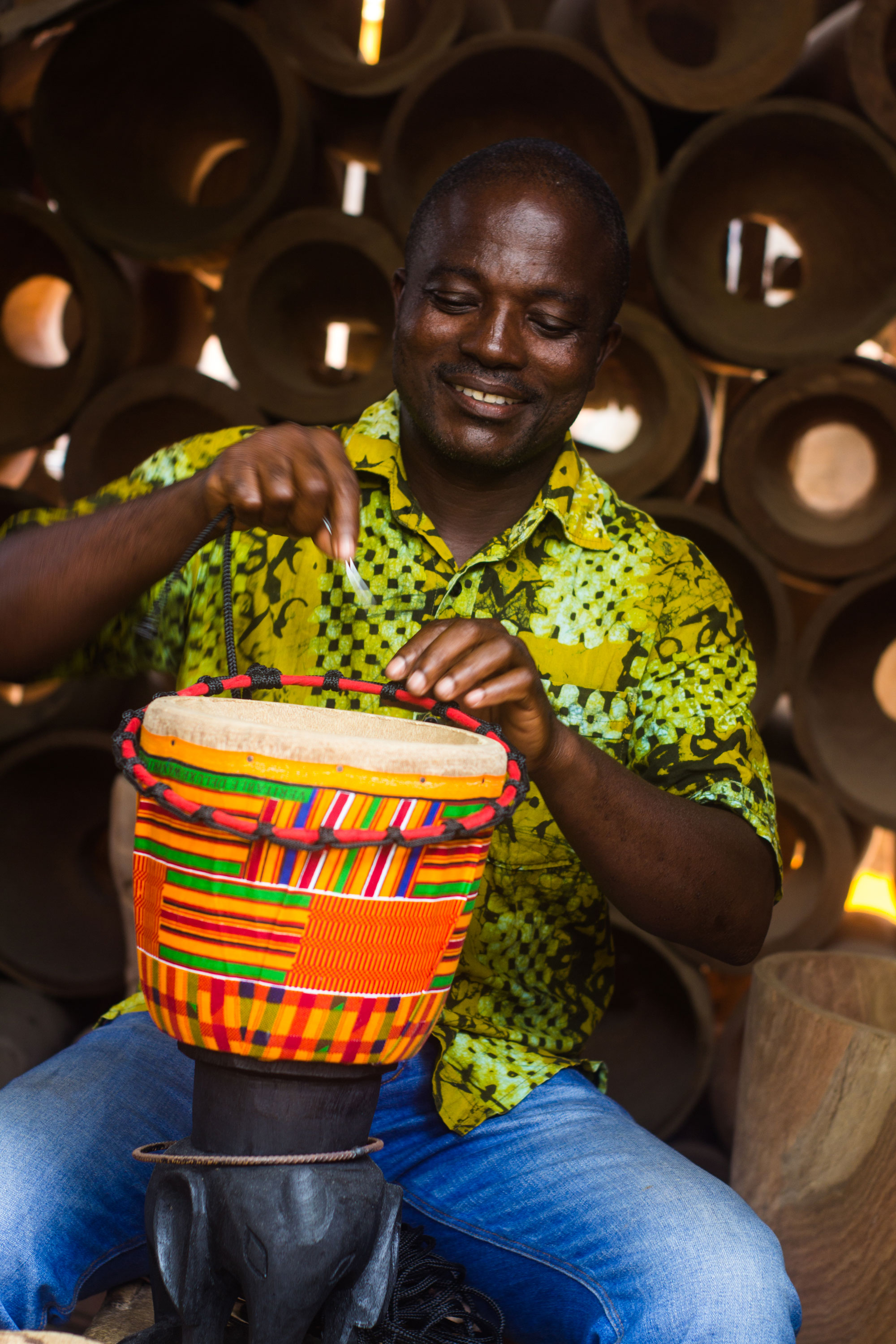 At this stage, I asked about the various products Dan makes.
"I started with masks, and over the years I have added a number of other products which include profiles as well as these drums."
I asked him for the names of the beautiful array of drums. One of his assistants brought to me five different types and gave me their names, all in Akan, as: 'Fritete', 'Ti koro nko agyina', 'Osono', 'Okoree', and 'Obaa Feefe'. Respectively, these mean: 'From Ancient Times', 'Two Heads are Better than One', 'The Elephant', 'The Eagle' and 'Beautiful Woman'.
I shifted attention to his background.
"Do you see a lack of formal education as a handicap?" I asked.
"Yes indeed, a huge handicap. I regret I didn't get the opportunity. That's why I took all four of my children to school and made sure they stayed to complete their education. Some of them wanted to become artisans, and I did encourage them, but not before they had acquired formal education. One of them is a NOVICA artisan just like me, but he is educated." He said with pride.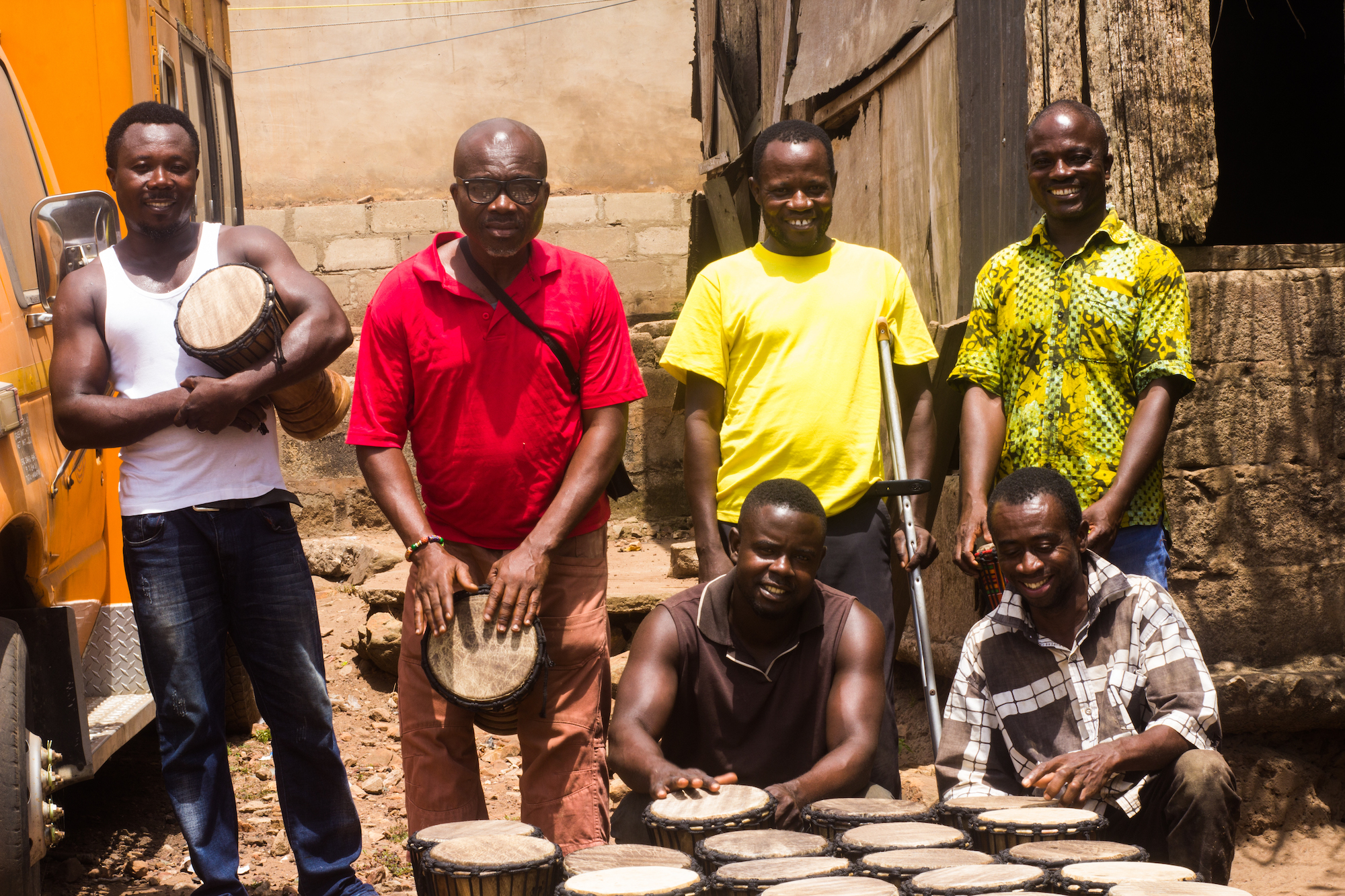 "Do you still do some carpentry and farming?"
"Though everything I learned in my youth has been useful to me, at a certain stage I had to focus. In the past twenty years, almost all my income has come from my carvings.
"It was from this trade that I was able to build my house and adopt over ten children to look after and give an education."
"Did you say you adopted and looked after ten children who were not your own?" I asked.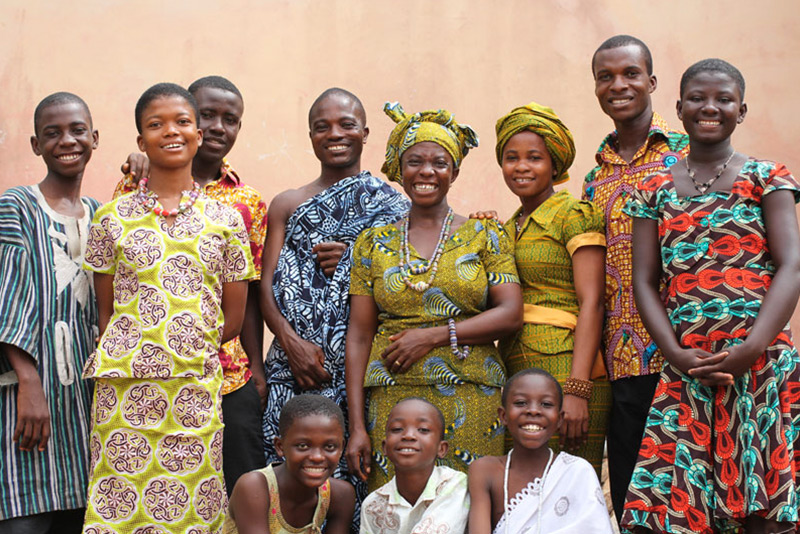 "Yes, sir. It is a source of pride to me. Out of the ten, only three were relatives. The rest were kids who wanted to be apprenticed to learn to carve. I took it upon myself to ensure that they at least completed Junior Secondary School before deciding on a trade. They all lived under my roof. Some of them are still in school pursuing higher education. I want to do more, that is why I work so hard. I intend to carve well into my old age making a variety of unique art pieces that will sell. This will enable me to take care of more needy children."
I was impressed. I congratulated him and wished him success in his endeavors. The interview was done, and I told Dan I wanted to try my hand on one of the drums. With his permission, I picked up a tune followed by another, drawing applause.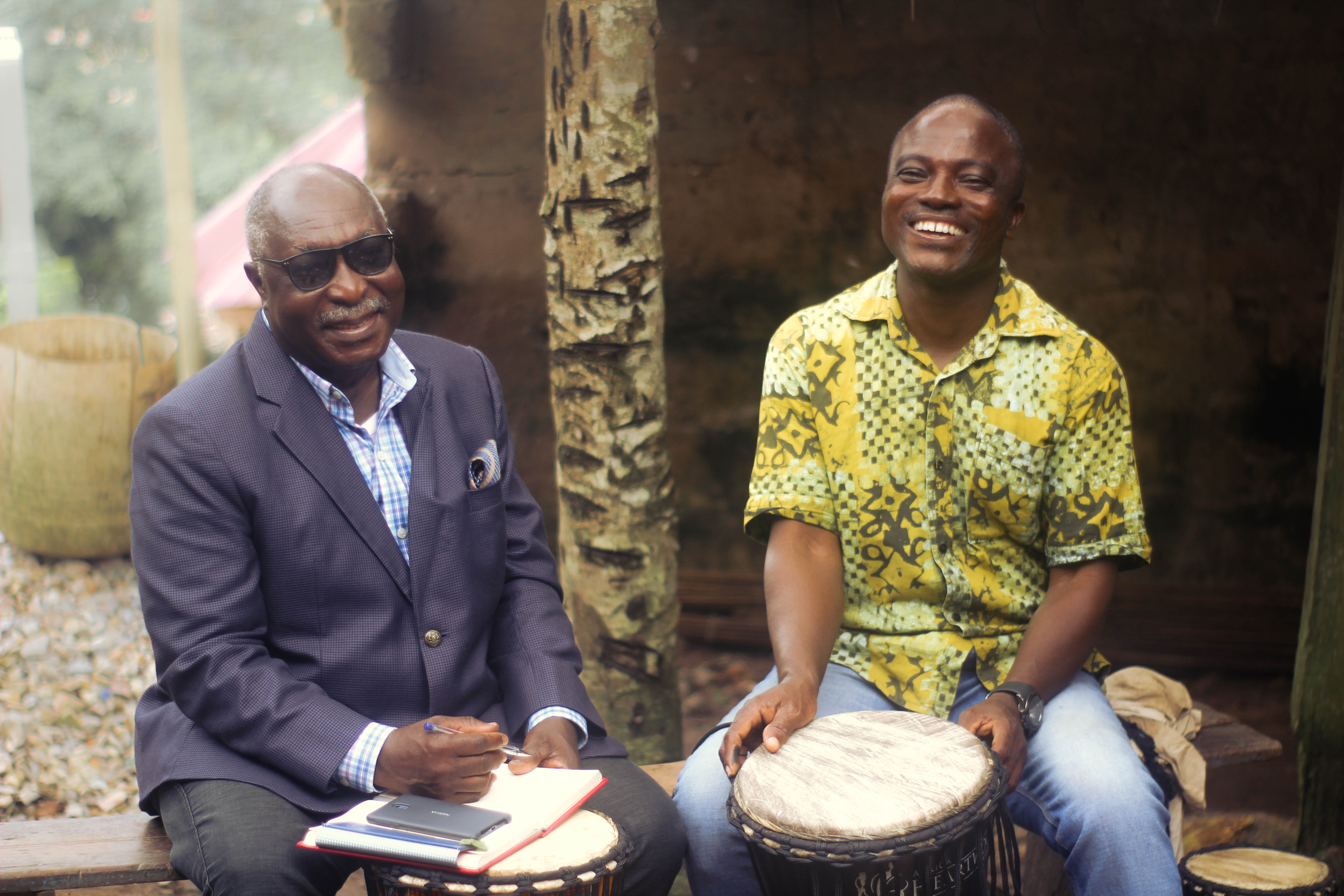 As we prepared to leave, Dan looked in the direction of the National Representative of NOVCA, who was with me, to catch his attention. He then turned to me and whispered into my ear:
"Tell him to help me sell more of my products. There is a lot some of us can do to help street children and school drop-outs. That is where I want to turn my attention to next, but my products must first sell."
"Keep up the good work. I am sure the market will respond to your unique pieces and variety." I told him with admiration.