Often I will come across evocative yet charming instruments from Africa. One instrument that truly grabs my attention is the Djembe drum. Created over 700 years ago by the Mandinka people, conquerors of West Africa, the Djembe drum was favored by King Sundiata who ruled over much of West Africa, (think Guinea, Mali, Burkina Faso, Gambia, Senegal, and of course, Côte d'Ivoire). Although, between you and me, legend has it that the drum was actually invented by a woman who broke through the bottom of an older mortar while she was pounding millet. Creative and resourceful, she decided to place skin on top of mortar and create a drum! Today, the Djembe drum conquers the heart of West African culture, a centerpiece to many homes and communities, it remains a star of leading musicians and ensembles throughout the region. While these drums are famous for their commanding and riveting sounds, they are also visual artworks of expression.
Today, we will introduce the Djembe drum to our living room as an end table, a table sure to strike up a conversation when hosting guests.  What you will need:
One or more eclectic Djembe Drums
One 14" Round Glass Table top ( We recommend a ½ inch thick round tempered glass with a beveled edge.)
When shopping for our newest table we want to look for height, contour, texture, and artwork. Why do we start with height? Because for our new end-table to play a supporting role to our sofa, it will need to be equal to or just below the height of the sofa arms. An end-table that rises above the arms of a sofa is a fashion faux pas (but of course you already know that!). The standard sofa arm is about 25 inches tall while the standard height of a Djembe drum ranges from 20 to 25 inches, so we are in luck!
Next we look at the contour. The contour of a Djembe drum can vary greatly, but we are looking for one where the stand has a more slender shape. This slender shape will help bring the artwork on it to life as the inward indentation rising to the top of the stand offers greater depth to the carving.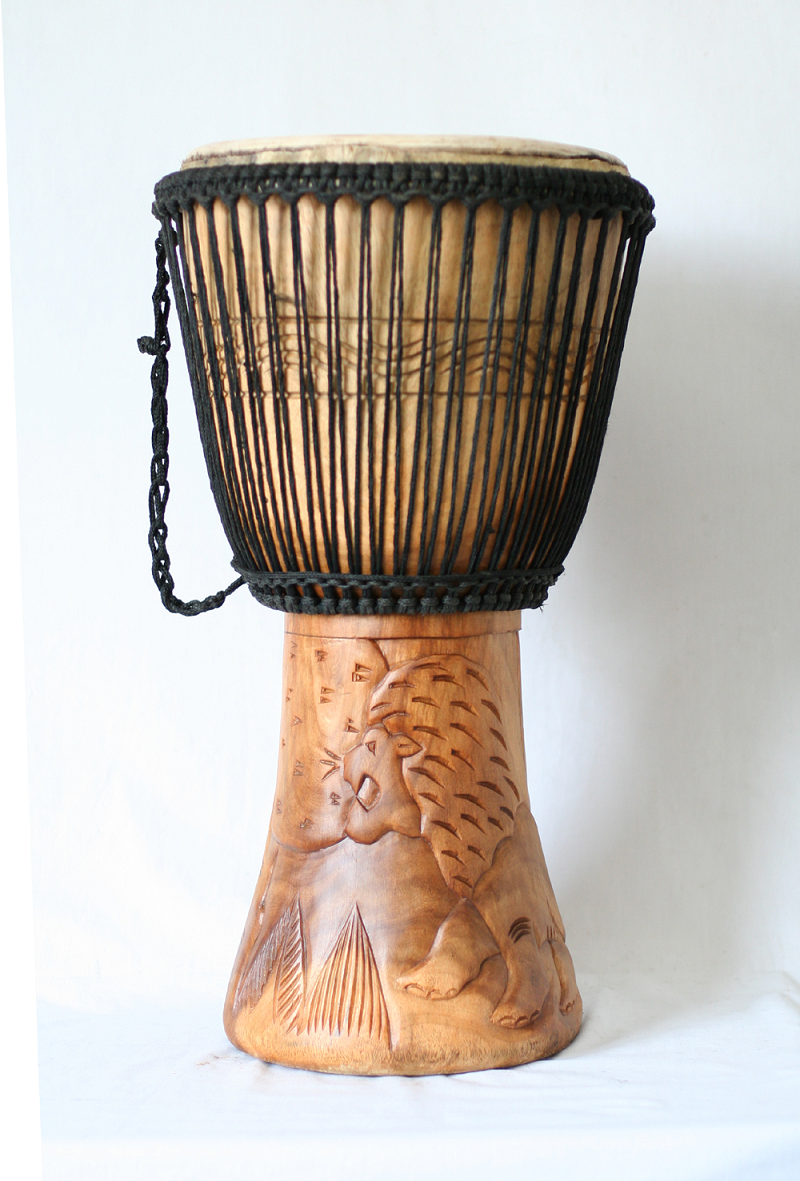 We also want to  look for texture on the drum. Interestingly, a professional Djembe drummer, or a Djembefola ('one who plays the Djembe'), looks for texture inside the shell. More texture gives greater bass to the sound. However, we are looking for texture on the outside. Each of us will have our own preferences, but I like to see many layers of texture. I want a drum that remains fascinating every time I see it.  Notice the interaction between textures and designs from stand to head of this Djembe by Samuel Coleman.
Finally, we arrive at my favorite part of the shopping process. We look at the artwork of the Djembe drum. These drums are very expressive and range from understated elegance to statement-making.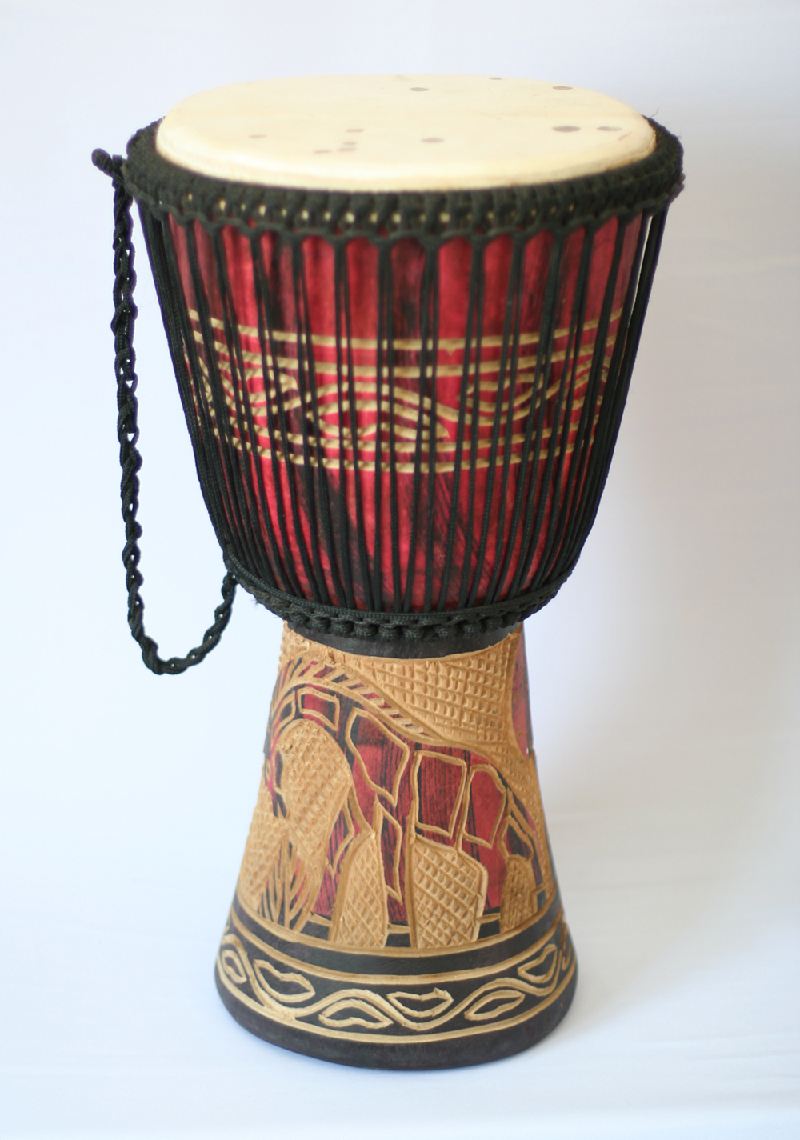 Make a statement and bring the safari home by introducing exotic animals like the Giraffe into your home, with this Wood Djembe Drum from West Africa, 'Giraffe Beat' handcrafted by Salihu Ibrahim.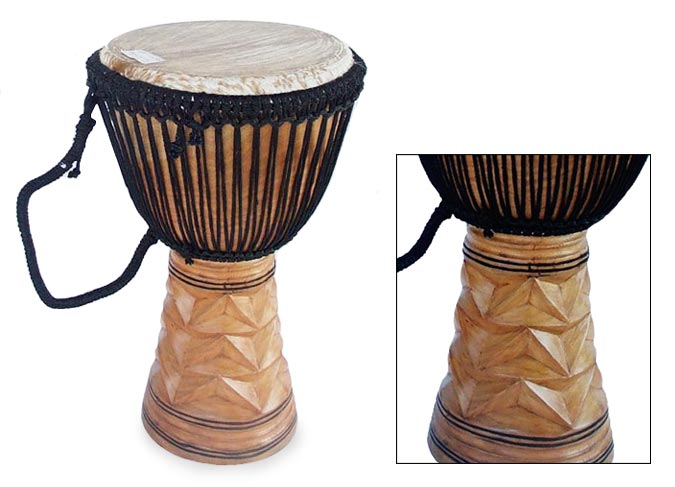 Sometimes the subtle nature of a Djembe Drum featuring detailed and intricate carvings can both complement its surrounding environment while still maintaining itself as a beautiful piece of artwork, such as this Wood Djembe drum, 'Kete Dancers' by Samuel Coleman.
Alright, now we have our Djembe drum, we've dedicated our favorite side of the sofa to our new table, we simply need to place our glass table-top on the drum and voila. You can use this table for anything you would use an end-piece table for, the glass will evenly disperse the weight across the structure of the drum to help support everything from a lamp to your book of the week! (Tip: keep something light on the drum that you can easily remove, don't be surprised if you occasionally hosts guests who are curious how the drum sounds. And remember, it's not a piano, enjoying the sounds of a Djembe drum is something that even us beginners can do.)
Rate this post:
[Total:

0

Average:

0

]