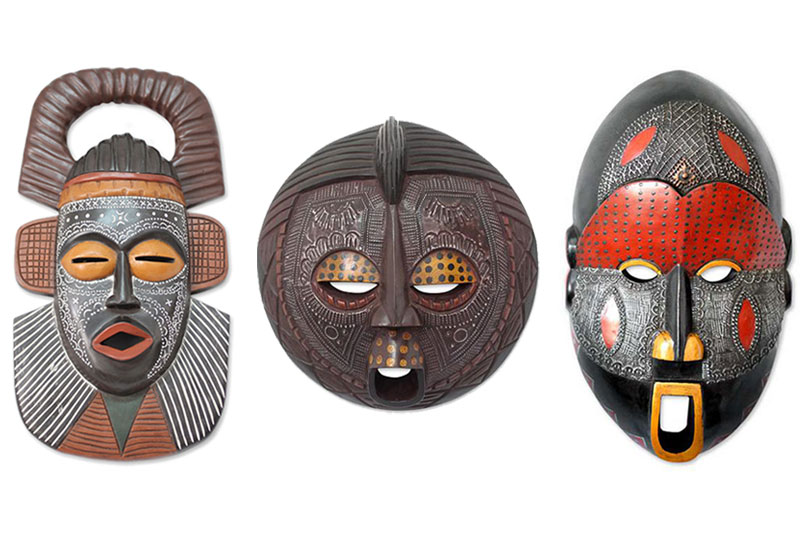 There are Christmas gifts for Dad, and then there are good Christmas gifts for Dad. Save him from the usual ritual of unwrapping ties and 3-pack golf balls with a forced smile and wow him this year with our top 10 Christmas gifts for Dad.
1. Hammocks and robes
Dad's worked hard for years to help provide for the family. Pay him back a little and help him unwind after a stressful day with a comfy men's robe or hammock to relax in.

2. Reclaimed metal sculpture
A unique sculpture made from recycled metal is something Dad definitely doesn't have already. He'll love adding an industrial decorating touch to his space, and the no-nonsense approach of recycling metal is right up his alley.
Go the extra mile and choose one related to his hobby, whether it's golfing, fishing, or playing the guitar, and watch him smile when he unwraps your gift and places it in a special location.

3. Cufflinks and men's jewelry
An unusual pair of cufflinks or an understated piece of men's jewelry is just what Dad needs to invigorate his style and keep him looking sharp for years to come. Ladies especially, take note: since jewelry is a very personal gift that requires a bit of know-how to pick out, manly rings, necklaces or bracelets make ideal Christmas gifts for Dad from daughters.

4. Archaeological replicas and masks
This year and any year, Dad wants something authentic and well-made. Add character and old-world appeal to any of his spaces with an original African mask or an archaeological replica — and watch him glow with pride when it becomes a conversation piece showcasing his cosmopolitan tastes.

5. Cocktail gifts
Whether you're helping him start his own home bar or giving him extra ammo for his entertainment arsenal, a gift of glassware or bar accessories is just what Dad needs this year to make him feel like a high roller.
Cocktail accessories also make great Christmas gifts for stepdads, fathers-in-law, or any man who likes to enjoy his spirits in style. 

6. Gifts for his office
He spends a lot of time in his office, so well-chosen decor accessories that match his tastes can be good Christmas gifts for Dad. For the intellectual dad, a pair of hand-carved bookends or leather desk accessories will make his office feel like home. For the more playful dad, chess sets or other table games will make a great addition.

7. Sweaters and scarves
Dad might desperately need new knitwear to keep him cozy during the colder months, but he'd never buy it for himself. (Or admit that he needs it!) Solve his problem and swap out your usual "shirt or tie" gift with a masculine sweater or scarf and relax knowing you've given him something dapper and practical.

8. Travel accessories
This year give Dad what he really wants — a weekend to himself — and send him off in style with new travel accessories. Or for his everyday travels, up the ante from your usual mall-bought billfold and give him a unique handmade wallet or money clip.

9. Furniture gifts
While a bit unusual, handcrafted furniture pieces are perfect Christmas gifts for Dad. You can find one as strong and dependable as he is, plus any handyman Dad is sure to appreciate a functional gift with high-caliber craftsmanship. Furniture pieces are also something everyone can throw in on and make great Christmas gifts for dad "from the kids."

10. Gifts that give back
For the minimalist or environmentally-conscious Dad, skip giving him extra "stuff" just for the sake of it and pick a gift that supports a good cause, or make a donation in his name to a charity he cares about. (Presents that give back are also great Christmas gifts for the dad who has everything!)
If you're not sure where to start, why not give him a Kiva gift card that provides microfinance opportunities for deserving entrepreneurs and let him have the fun of choosing his recipient, tracking the loan, and receiving feedback along the way.
Give Dad what he really wants this year
Choosing Christmas gifts for Dad can be tough, but it doesn't have to be. With just a little bit of out-of-the box thinking and a refusal to settle for the usual ties and power tools, you can find something that he'll really treasure.

Have you given your dad a gift that made him smile? Are there any ideas we missed? Tell us about it in the comments!