Since moving to Hawai'i, we've been looking for ways to make our rental home a little more homelike and with a more natural look. Especially with our current rental. We have a beautiful little "cabin" like home that that is in the middle of a natural rainforest. We love that the property still has some natural features to it, like the lava caves and lava rock borders around the gardens. That's why when I saw the Handcrafted Gemstone Pyramid Paperweight Sculpture I just had to have it.
The natural gemstone paperweight is part of Novica's sculpture collection and is made of natural gemstones with coloring that is perfect not only together but also for our home! With being in a rental we can't do any painting, so we are when decorating we're going for the more natural colors and this sculpture is perfect because of the coloring. It not only has all of the colors in our home, but it also adds a little extra color to the room.
Another reason I love this natural gemstone paperweight is because it is the perfect size for my little desk in our living room. We've gone from a three bedroom home that had a large kitchen, living room, and a dining room to a much smaller two bedroom home with a much smaller living area so we're a little cramped at times.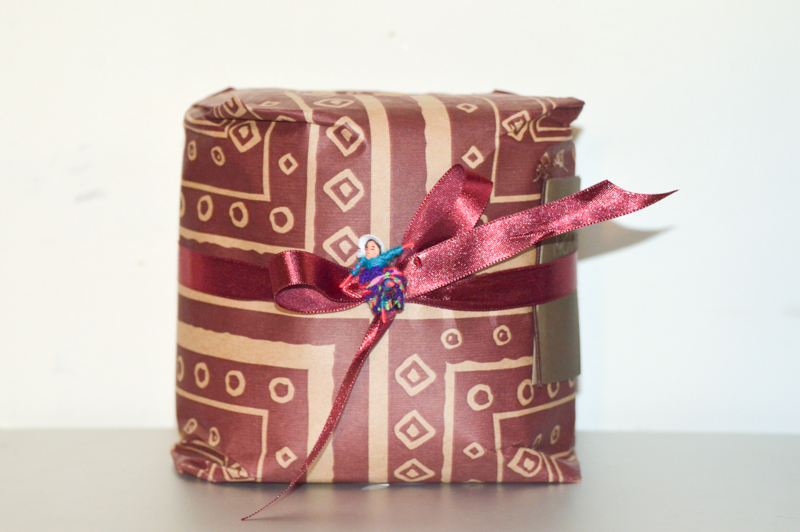 I loved the packaging of the natural gemstone paperweight sculpture.  It was like receiving a present in the mail and it included a cute little figurine on the bow.  I was actually a little concerned with ordering the sculpture because it was created from natural gemstones and I was afraid that it was not going to make it to Hawai'i in one piece.  However, it was packaged so well and I would definitely purchase more items from the artist!
Natural gemstones combine their innate beauty with their mystical energies in a colorful pyramid. Meticulously sculpted by Cesar Gonzáles, it features blue sodalite, white calcite, brown calcite, onyx, jasper and serpentine, displayed from top to bottom. Gonzáles recommends having two or three pyramids oriented toward the north or east near a window, for light. In this way, the earth elements balance the energies in the environment.
If you like the Handcrafted Gemstone Pyramid Paperweight Sculpture as much as I do than you'll probably like many of the items in the Geometric Sculpture and Natural Gemstone Sculpture categories.
Rate this post:
[Total:

1

Average:

5

]