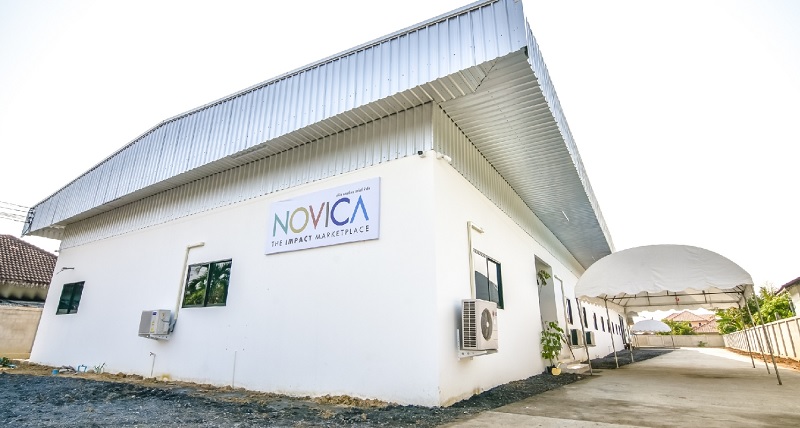 On May 21st in the small village of Borsang, famous for handmade mulberry-paper parasols painted with beautiful designs and landscapes, the temperature had already hit a steamy 90 degrees by 9:30 am. An even hotter excitement filled the air throughout NOVICA Thailand's new, 13,000-square-foot facility located near Chiangmai, Thailand.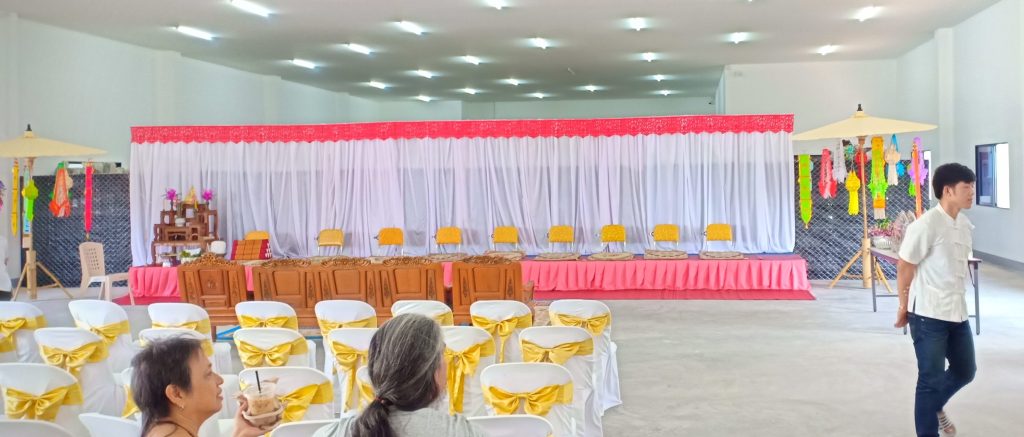 The expansive warehouse area was artistically decorated with colorful parasols, adorned with multicolored flags, courtesy of NOVICA Thailand's own parasol artisan, Nikom. Upon arriving, guests were photographed, given souvenirs, and invited to leave congratulatory remarks on a large canvas board. A local vendor served iced coffee, chilled bottled water, and snack sandwiches.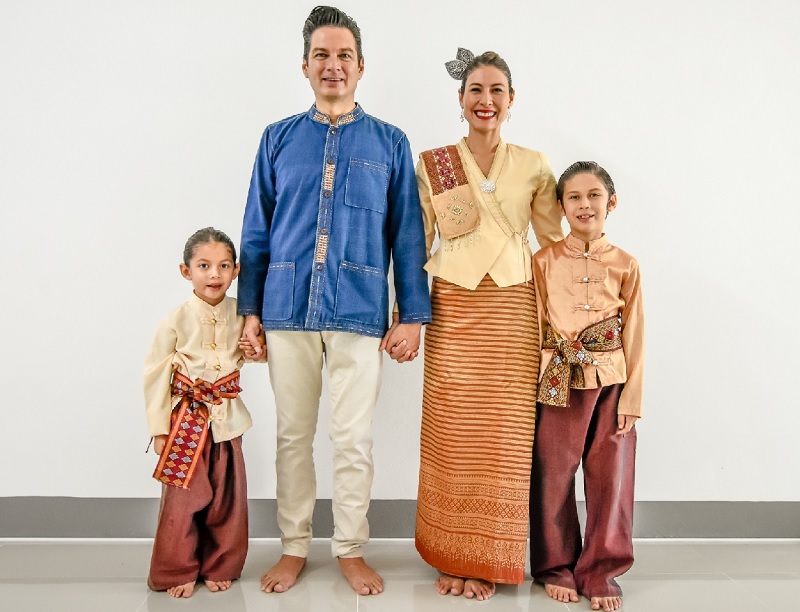 Along with his wife Angie and their two sons, Jose Antonio Echeverria – NOVICA's Vice-President of International Operations – attended as featured participants and wore traditional Thai costumes.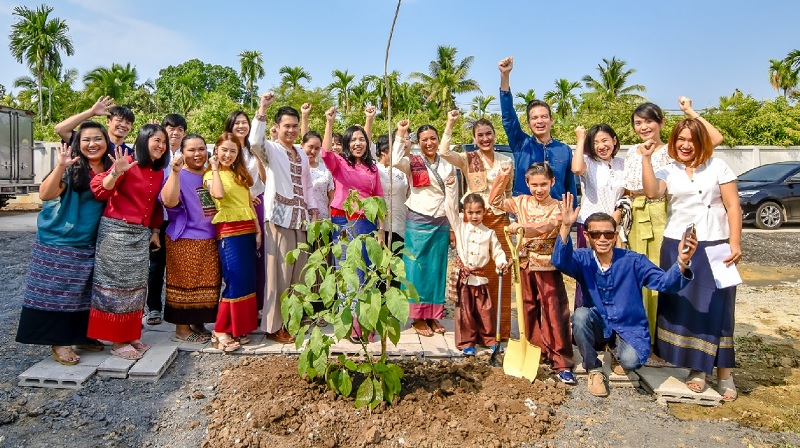 The management and staff kicked off the momentous day by planting a Pink Trumpet Tree to celebrate NOVICA's 20th Anniversary and the dedication of their new office and warehouse.
Promptly at ten o'clock, the monks arrived, led by their 91-year-old elder. The Thai moderator made brief introductions before Antonio lit the traditional candles and incense.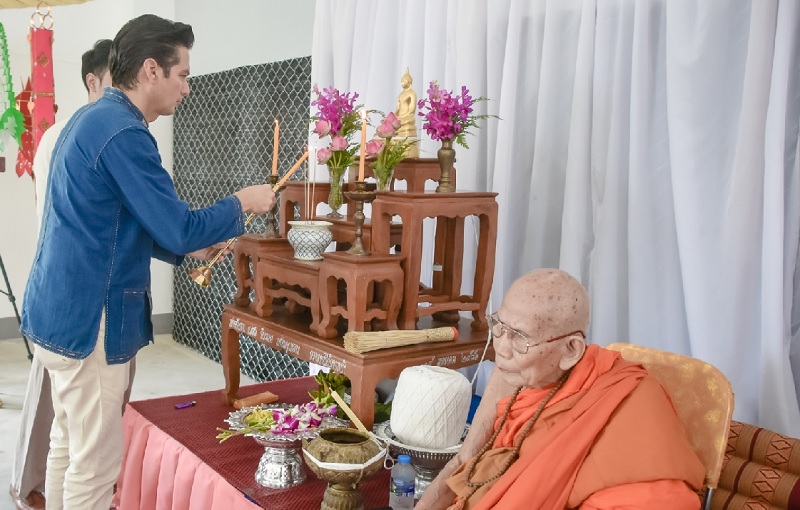 The head monk had determined that 10:29 a.m. would be the official blessing time, and the monks began their prayers and chants for the dedication right on cue. Following the ceremony and their acceptance of gifts, the monks sprinkled lotus water for good luck in each room of the building and on every attendee.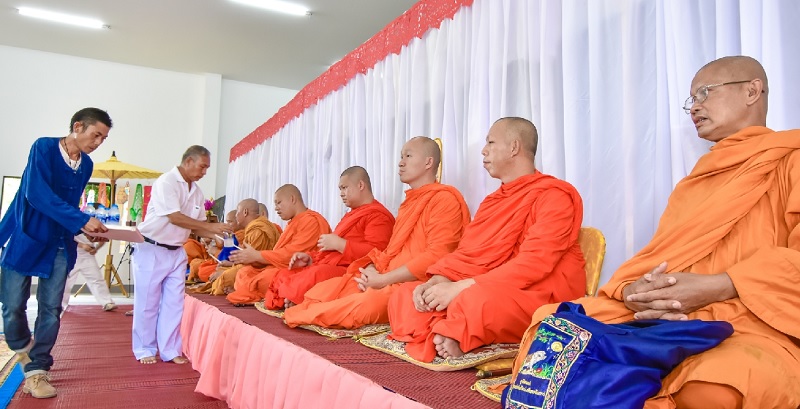 At the end of the dedication and ceremony, Antonio said a few warm words to the sixty or so NOVICA artisans and invited guests.
"It's such a joy for us to be here, and we are very honored to be a part of this exciting celebration. We're in Borsang to commemorate a new office that Khun Tawee, our landlord and construction manager, has designed and constructed to help us realize our dreams. It's exciting to see how NOVICA is growing and expanding. It's a privilege for us to be involved in Thailand, empowering your artisans and our artisans to be a part of a bigger world. We are also celebrating 20 years since this NOVICA dream started. For us, today is a great moment in our history to be sharing this with all of you. Thank you so much for being here, for being a part of NOVICA, and for allowing NOVICA to be a part of you."
At the end of his short speech Antonio performed the official inauguration of the operation center by striking a massive, five-foot brass gong three times. The booming sound reverberated throughout the entire building and local area notifying all residents – NOVICA Thailand is here, and here to stay!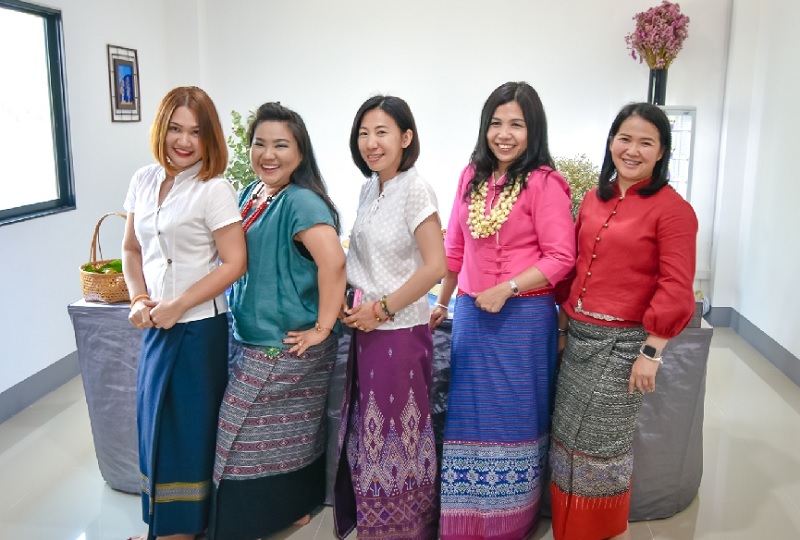 Then Duangreuthai (Goi) Tongpetch, the National Representative for Thailand, welcomed all the guests on a tour through the building, guided by staff and managers.
For over ten years, NOVICA Thailand's operations had been in a multi-room home-estate. Short on space for offices and product storage, the dedicated staff members worked elbow-to-elbow with their colleagues. To house the regional growth seen over the past few years, NOVICA Thailand urgently needed new facilities. NOVICA, its employees, and the Borsang community had been looking forward to this festive occasion for several months. Plans made in early 2018 were finally being realized!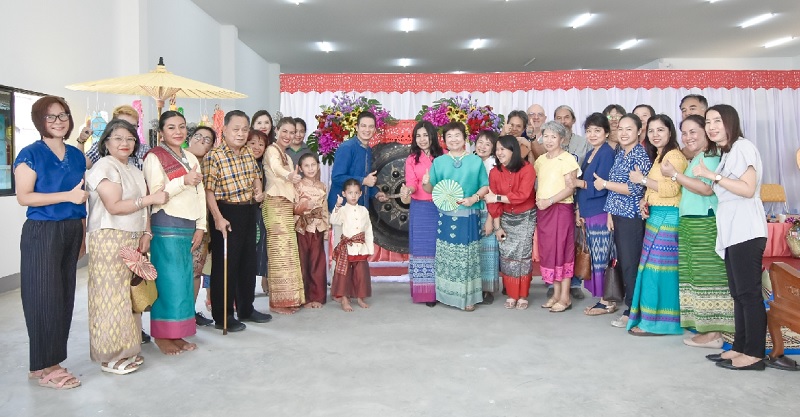 Pulling Antonio aside, I had the chance to ask him questions about the NOVICA Thailand operation. "What are your feelings or thoughts about today's celebration?"
"It's exciting for us," he replied. "NOVICA is growing! This location is the first office complex we designed and had built for us from scratch, for all our needs, preparing us to be better and bigger."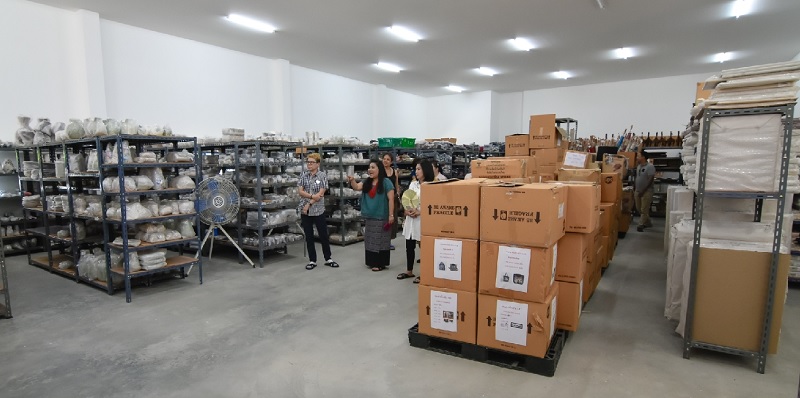 "How has the company been performing worldwide?"
"NOVICA Thailand has always been a very good office," Antonio said. "It's been growing since the beginning and has become one of our largest offices worldwide. NOVICA is expanding, and this is the next big step."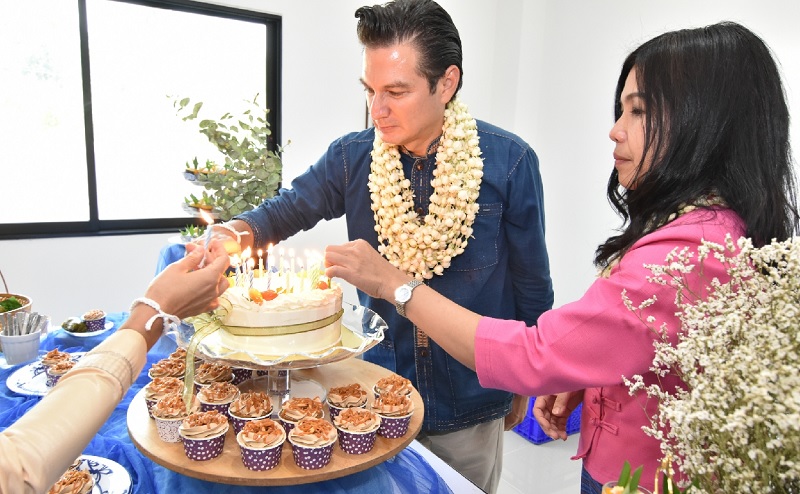 "I understand the construction and enlargement of this Thailand office is very timely, considering NOVICA's plans for the next year. Any comments?"
"Yes, our first kickoff was in Mexico three years ago," Antonio responded, "and as we enter our 20th year, we're having a kickoff here in Thailand. This time is a chance to get all our offices around the world together so we can all be on the same page and prepare for the future."
"Antonio, I hear you've been in Thailand for about a month with your family. Has this been a good experience for them in another culture?"
"Very good!" he said with a smile. "My wife has been traveling with me around the world for a long time now. She supports me in every way. We don't work, we have fun!"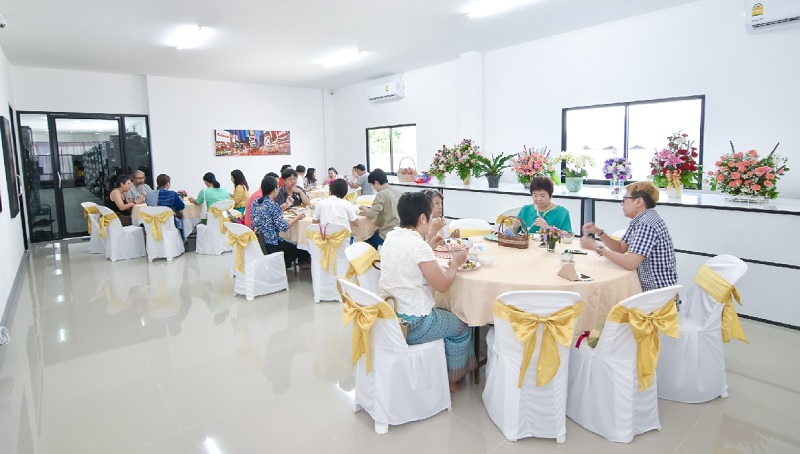 "What have your two boys enjoyed in Thailand? Riding an elephant, petting a tiger, or holding a cobra?"
Antonio and I laughed at my suggested activities that are so easy to encounter near Chiangmai.
"Oh, yes! They love the elephants! They're learning about the culture. We believe everybody is one – we come together here and blend with the Thai people. For us, it's a wonderful experience, and our kids are loving it!"
Joining the other artisans, guests, his wife and boys, Antonio and I feasted on a sumptuous meal of delicious Thai cuisine – tom yum plakapong (spicy snapper fish soup,) hawmok (steamed fish curry,) namprik (chili paste dip) with tempera vegetables, moo tawt (fried pork with salty fish) and concluded our delectable experience with Thai desserts – melon in iced coconut milk, sticky rice with mango, custard in pumpkin shells, and butterfly pea manicotti with cantaloupe. Dried bael juice was the beverage of choice on that hot and sticky day.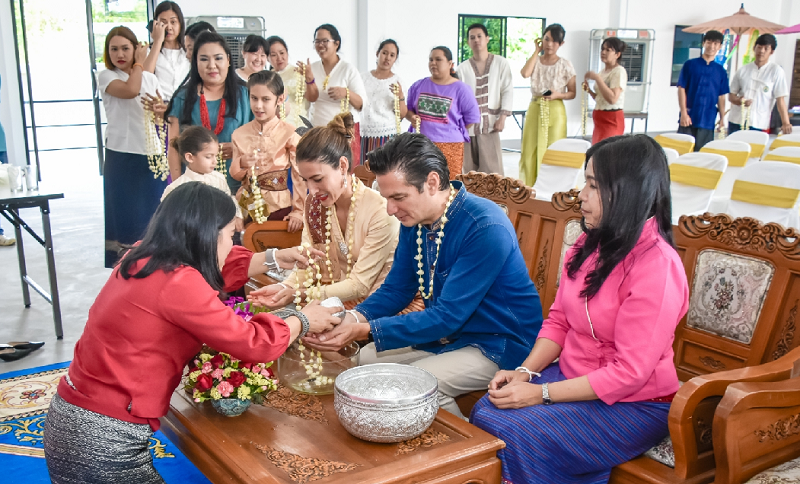 After all the guests had departed, all NOVICA Thailand managers and key employees paid their respects to Antonio and his wife by kneeling and pouring lotus water over their hands, as is the Thai custom. This act of honor is representative of Thailand's New Year holiday, Songkran, celebrated in the month of April.
It was a wonderful festive occasion to be remembered by all – a great company with great people celebrating a historic milestone in a charming Thai community!