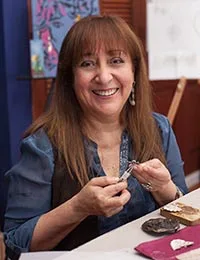 "My inspiration comes from my beloved Peru: its colors, its past and its proposal for the future."
"As the daughter of a silversmith, I had the privilege to grow up among sketches and designs, cutouts, molds and all the tools of the silversmith trade. All of these where to be found in the home and workshop of Jacinto Guzmán, my father.
"In 1994 I suffered from Malta fever and when I finally came out of this crisis I decided to leave law as my life's project and instead follow the path of research into Peruvian materials. I studied design and jewelry making and I learned from my experiences in the field of jewelry and restoration, taking part in every step of the process. I also got involved in cultural projects inspired by my father's impassioned life.
"This is the natural thing for me to do. I have always been impressed by shapes, harmony, the arts and the dramatic creation of a new piece. Peruvian silver and its crafting are an invaluable legacy of the ancestral techniques by our ancient Peruvians, the days of the colony, and of contemporary times. I particularly like aged metals because it gives them character, it defines them – it's the symbolic language of its creator.
"This is an art form that I learned at home, watching my father at work and accompanying him. I've been taking part in live exhibitions since 2009, sharing with the public everything that has to do with our art, from the inspiration and its design, to the silver grit, making metal sheets, hammering and chiseling.
"At the moment I'm working with silver and copper, though silver grit is easier to get. My inspiration comes from my beloved Peru: its colors, its past and its proposal for the future. I work alongside silversmiths who are hard workers, committed and loyal, and we work as both artisans and apprentices. We work together creating the samples for the designs that I create.
"I dream of the day that any of my children, nieces and nephews decide to join us. They would be the third family generation. They don't know of my dream yet, I have to place it myself. My motto is, I have to believe in it so others believe it.
"Let me tell you about the time when I was doing a restoration, back in 2011, when I lived between Arequipa and Lima due to my husband's work. I was constantly traveling and I needed to get back in time for a ceremony where I was presenting. The flight was closing, I almost jumped over passport controls and my hands were completely black from assembling some products we had just made. The people at the counter looked at me all funny, but I didn't have the time to stop and explain! Once on the plane I smiled to myself: I had nothing, not even my makeup, only my laptop. When my husband picked me up all he could do was to laugh! He got me to the ceremony on time, after I had washed my hands and face, of course. And… without makeup!"
Cause Badges

Preserving Traditions

Empowering Women
Customer Reviews
Purchased this? Leave your review.