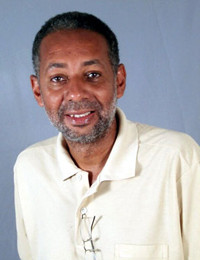 "Movement is a trademark in my work. I worry less about form...."
"I grew up in Morro de São Carlos, in the outskirts of Rio de Janeiro and near Praça Onze - an area intimately associated with Brazil's samba history. Some of the first sambistas, or samba dancers lived around here at the beginnings of the 20th century, and now carnival parades pass through here.
"I was born in 1954 and during my youth I was fortunate to experience the different artistic and political movements seeking to bring popular culture to the forefront. I started to paint with pencil and pastels when I was 15 years old. Eventually I switched to oils. Basically I learned on my own, but I spent four years with Antenor Finati to perfect my technique, though I always preserved my own style.
"My work is easy to understand, I like to represent traditional feasts, especially the Brazilian or carioca carnival, which is a spectacular feast of color. I also enjoy painting landscapes, still life and seascapes. Movement is a trademark in my work. I worry less about form than I do about colors and movement.
"I've exhibited my work in many galleries and exhibitions around Rio de Janeiro. I've been awarded First Place at some exhibits, like FAPERJ (1986) and RioArte (1985).
"I feel happy that, after many years of selling at street art markets, I have the opportunity to exhibit my work through a new communication medium which enables my work to reach a vast audience."