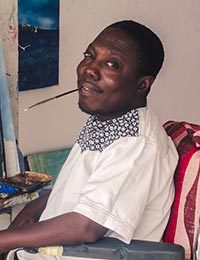 Joel is a mouth painting artist, a lovely person, and above all, a Christian. Joel lives and works in a village called Onyadze. He was born at Kwadaso in Kumasi, Ghana, some forty-five years ago. He remembers going to kindergarten as a normal, healthy child. He loved to play around with his friends and experiment with crayons on any piece of paper in sight. He was fascinated with colors, and loved to see colors on paper. The change came rather suddenly. One moment he was playing and laughing; the next moment he was ill and receiving an injection purported to heal. Then, he was bedridden. He began to lose the use of his limbs. After several attempts at being healed at all manner of health facilities, including Prayer Camps, his parents gave up and hid him from the public. He had no friends; he no longer played, and he no longer did crayon work.

In those days, he would crawl from the hut into the dusty compound, clear a bit of space, and create various images in his inner mind with charcoal on the ground. "My entire world was the people around me, animals and the forest. I'd seen vehicles before, but they were no longer part of my daily experience. Once in a while an aircraft would fly overheard. There wasn't enough strength in my arms to wave at them. In an environment such as I found myself, you can guess what I was sketching in my imagination with charcoal-- mostly animals.

"One day, my mother brought good news. She'd met a gentleman in Kumasi who was going to take us to meet a specialist to help me walk. We went to settle in my mother's hometown Nyankyerenease, near Kumasi. A few weeks later, I was taken to the orthopedic specialist. He resided in Nsawam, but visited Kumasi on occasion to train the disabled to use various aids. On my first visit for training, he tried me on crutches. It didn't work. However, I was able to use a four -wheeled walker. I managed to use it for three years. The walker improved my movements significantly. The village had a school, and as I could now move around I made friends very quickly among the pupils. Interestingly enough, every pupil who couldn't draw came to me for help.

"One day I got a visit from a gentleman who introduced himself as an artist. He had seen some of the things I'd painted for the other pupils and was impressed. He said I had talent. He brought me an art book and colored pencils for me to practice. He made friends with me and started convincing me to go to school. It was a very difficult decision to make. Firstly, I was old--in fact I was nearing twenty-four. Secondly, the thought of traveling slowly everyday on my walker to and from school scared me. It took me quite some time to brave it. I felt too old to join the primary school pupils, so I negotiated to start in Junior High School. The Headteacher was supportive. She took me through various tests, and recommended that I make a start in class six. I accepted and started schooling.

"In the beginning it was not easy at all; I used to write with both arms, which was difficult and slow. One day I just decided to try using my mouth instead, and that was how I started. I have painted a number of scenes which I sell. My aim is to help other people with disabilities to establish themselves. My main inspiration for painting is nature, and I make use of canvas, acrylic paints and water."

Joel is now married to his beautiful wife, Ruth. They met at church and fell for each other. They have two lovely kids. Joel aims to show the international world not just his painting, but the beauty of art.