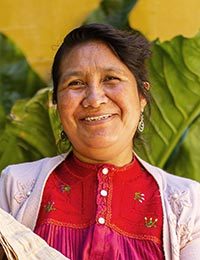 Maruch Santiz
Handwoven wool apparel and accesories in Mexico
"When you believe in yourself, you can achieve whatever you want."
"My mother was the one who taught me to weave wool on the loom. From a young age, she wove a lot, but she knew how to do a lot more than just weave.
"From a young age, most indigenous girls learn to weave and embroider textiles, starting from the preparation of the fiber, which includes combing and decoloring. The majority of the textiles produced are for local use, from simple designs for daily use to more complicated and decorative designs.
"My designs feature strong colors such as red, yellow, blue, turquoise, white, purple, pink, and dark green, but there are also some pastels that I combine with them. The motifs I like are flowers, butterflies, and jungle birds.
"My primary inspiration comes from the tradition that we are helping to preserve. It is a job that moves me, and it transforms that which surrounds me into designs that are very beautiful.
"What I enjoy the most about my work is decorating bags and shawls, as well as working with wool. This is very challenging, because you have to know how to make tints and dye the fibers. It is a process that requires you to know the plants in your region and what you can achieve with each one of them.
"When it comes to weaving, you have to think of the colors and how to distribute them. It requires you to think about two things at the same time and is a beautiful challenge. Seeing how each design transforms into a reality is very cool. When you believe in yourself, you can achieve whatever you want.
"I hope to continue meeting more marvelous people who allow me to continue learning from them. We carry on working to market our pieces, hoping that they reach places that we have never even heard of. Thank you very much."
Cause Badges

Empowering Women

Covering Basic Needs

Profound Impact